September 1, 2017
Volunteering is a win-win for seniors and organizations in need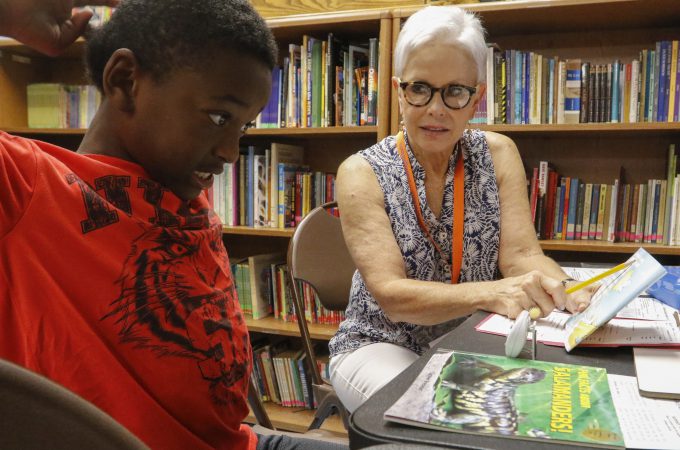 Originally posted on Dallas News. Images courtesy of Robert W. Hart and Ron Baselice.
By Sheryl Jean
Dwaine Finseth didn't have a clear picture of retirement, but he never thought it would include fixing leaky toilets or building ramps.
Yet, when he retired, he found he had a lot of free time. A friend introduced him to Plain-O Helpers, a Plano faith-based program of seniors who do free home repairs and maintenance for other seniors and disabled people. That was five years ago, and he's been volunteering ever since.
Many people want to volunteer when they retire and have more time. Some want to give back to their community. Others want to regain a sense of purpose or learn a new skill.
"I really started because I had a bunch of tools in my shop that I liked to use," says Finseth, 71. "It seemed like a good fit. And you always put a smile on people's faces."
Many nonprofits have small budgets and staffs and rely heavily on volunteers. Needs range from services offered by doctors and museum docents to office helpers and drivers.
Ready to fulfill that long-held desire to volunteer but not sure how to start? Free online volunteer clearinghouses can help you with the daunting task of vetting thousands of organizations. You can search volunteer opportunities in Dallas-Fort Worth or farther away based on your skills, interests, location and other criteria.
By the numbers
Government statistics show that people 65 and older spend nearly twice as many hours a year volunteering as those who are younger.
VolunteerMatch.org, the largest online volunteering network, has seen its website visits grow in Dallas-Fort Worth and nationally over the past year.
Spokesman Basil Sadiq attributes that growth, in part, to a newfound sense of action since President Donald Trump's inauguration.
"People get connected in ways that transcend political debate," Sadiq says. The top areas of interest — community, children and youth, education and literacy, and health — are the same."
Eunice Lin Nichols, director of Encore.org's Generation to Generation campaign, says she experiences "a real sense that people are looking for ways to make a difference today." The Generation to Generation effort mobilizes adults age 50 and older to volunteer with needy children. "We're finding a large cadre of older adults running toward youth" to share their experience and skills, she says.
It made sense for retiree Connie Koehler of Fort Worth to start volunteering in January with Reading Partners, which provides one-on-one tutoring for students in kindergarten through fourth grade who aren't reading at grade level. She always worked with children in her 30-year nursing career and as the founder of a pediatric hospice nonprofit.
"Dealing with children who are dying is somewhat stressful," says Koehler, who retired in November. "I had a lot of time and thought I could work with children who are healthy and advance them in some way."
Youth services, education, literacy and community services are the most popular volunteer activities, according to data from the government and volunteer clearinghouses.
Finding purpose
For Leonard Davis, volunteering at the Dallas Historical Society lets him learn more about the history of Dallas, where he's spent his entire life, and preserve that history for future generations. He usually works a half day in the basement archives, scanning photographs into a database and writing descriptions.
He says volunteering has been a great and valuable experience. "If it wasn't cataloged and available, it wouldn't do any good," says Davis, 70.
Officials with the Dallas Historical Society and other organizations say retired volunteers with flexible schedules are crucial to helping fulfill their mission.
Reading Partners' minimum time requirement of weekly tutoring sessions scares off some potential volunteers, said development director Mary Freeman. "That's why retirees and professionals are our biggest groups," she says.
"Retired volunteers bring so much maturity, knowledge, skills and life experience," says Tammy Richards, chief executive of Dallas-based VolunteerNow, which runs the City of Dallas' volunteer program. "Their contribution is highly valued."
Explore your volunteer options online
Search online to find the volunteer opportunities best suited for you based on keyword searches, such as skills or location. In addition, many nonprofit organizations and other groups have volunteer pages on their websites.
Generation to Generation's Opportunity Finder: This 10-month campaign of the nonprofit Encore.org aims to match adults age 50-plus with needy children through more than 100 organizations nationwide, such as 4-H and Afterschool Alliance. Each quarter, it highlights a cause, such as literacy this fall. generationtogeneration.org/volunteer-opportunities.
Volunteermatch.org: A total of 7 million registered volunteers go through this online volunteer clearinghouse, which operates in nearly every U.S. ZIP code. You can search more than 100,000 volunteer opportunities at more than 115,000 organizations in the U.S. and beyond, including those specifically for ages 55-plus. Organizations must provide certain credentials to be listed.
Voly.org: Dallas-based VolunteerNow operates this website for the city of Dallas' volunteer program. Search opportunities at 2,700 nonprofits, mainly in Texas, by skills, interests, location, dates and those deemed senior-friendly. VolunteerNow validates each nonprofit's credentials, performs quality-control checks and conducts regular background checks on volunteers.