August 8, 2017
Ballmer Group issues $1 million grant to Reading Partners to support proven early literacy program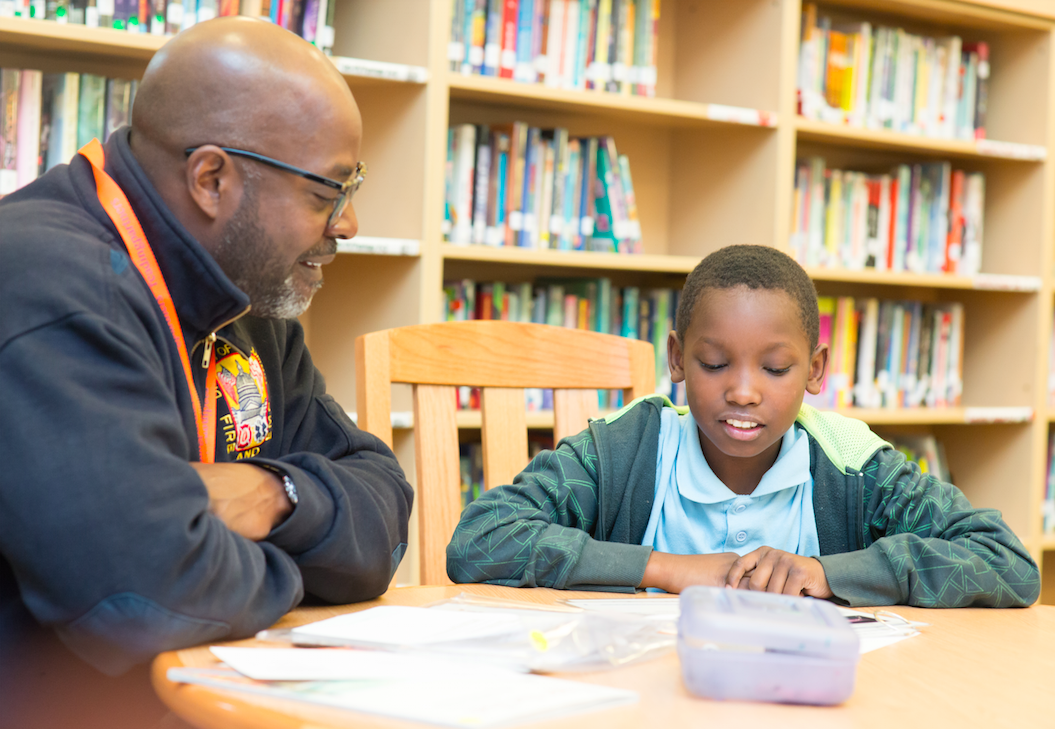 FOR IMMEDIATE RELEASE
Contact: 
Michael Todd, National Director of Marketing & Communications, Reading Partners
(415) 225-9139  |  michael.todd@readingpartners.org
The Ballmer Group's investment will boost national nonprofit's ability to help low-income students gain the literacy skills they need to be successful in school and life
(Oakland, CA) August 8, 2017 – Reading Partners received a $1,000,000 first-time grant from Ballmer Group to support the organization's evidence-based early literacy intervention program in the 2017-18 school year. Founded by former Microsoft CEO and Los Angeles Clippers owner Steve Ballmer and philanthropist and advocate Connie Ballmer, Ballmer Group strengthens promising and proven approaches that increase economic mobility for children and families in the United States. Ballmer Group's support for Reading Partners is consistent with their work making substantial unrestricted investments in nonprofit organizations that have demonstrated impact at scale.
Reading Partners is a national nonprofit organization that collaborates with local public schools and mobilizes community volunteers to provide students in under-resourced schools with the proven, individualized reading support they need to read at grade level by fourth grade. Students reading behind grade level are identified for the program in collaboration with teachers and principals so they can receive valuable personalized literacy instruction. To deliver its program in schools, Reading Partners transforms a dedicated space into a reading center, complete with a library and teaching tools managed by a full-time AmeriCorps member or staff member.
"This generous investment from Ballmer Group will help enable Reading Partners to match over 12,000 community volunteers with 11,000 struggling readers nationally during the upcoming school year," said Karine Apollon, CEO of Reading Partners. "By tutoring a student one-on-one for as little as one hour a week, volunteers across the country will make an impact that can literally alter the course of a student's life."
Nationwide, only 20 percent of low-income students, and barely a third of students overall, are reading proficiently by the fourth grade. This translates to nearly nine million low-income elementary school students who are not reading at grade level. Reading on grade level is the foundation for all future learning that allows kids to have an equitable chance to succeed in school or in life. Ultimately, students who can't read by fourth grade are four times more likely to not earn a high school diploma. Thanks to the efforts of Reading Partners' dedicated tutors in the 2016-17 school year, 90% of Reading Partners' youngest students mastered key foundational reading skills needed to read at grade level.
Ballmer Group's support will enable Reading Partners to build organizational reserves and augment operational functionality to ensure the program continues to deliver strong performance results for students and is well-positioned for future growth. Ballmer Group's grant will also immediately bolster Reading Partners' efforts to inspire more volunteers to sign up to work one-on-one with low-income students learning to read. To become a volunteer with Reading Partners, please visit readingpartners.org/volunteer today.
###
About Reading Partners
Reading Partners empowers students to succeed in reading and in life by engaging community volunteers to provide one-on-one tutoring. Since its founding, the national nonprofit organization has provided proven, individualized literacy tutoring to nearly 45,000 elementary school students in under-resourced schools across ten states and the District of Columbia. Visit readingpartners.org, or connect with us on LinkedIn, Twitter, and Facebook to learn more.
About Ballmer Group
Ballmer Group strengthens organizations and initiatives that increase economic mobility for children and families in the United States. Founders Steve and Connie Ballmer envision a country where the promise of the American Dream – that every child has an equal opportunity to build a better life – is within reach.