May 25, 2017
A new way to serve students: Interview with former teacher Sharonda Scott-Lawrence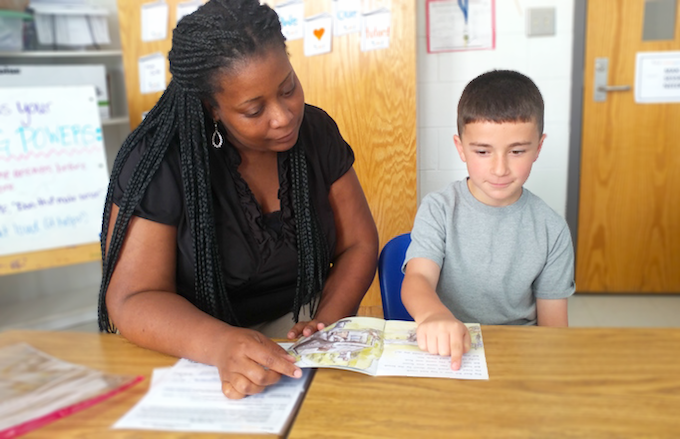 Reading Partners' diverse cohort of AmeriCorps members come from different walks of life. For some of us, serving through AmeriCorps was part of our plan, while for others, like myself, discovering opportunities to serve a year with organizations like Reading Partners happened by chance. After meeting fellow members and workers in my region, I became curious about why and how they got involved with Reading Partners.
One of the most surprising stories is the journey of Sharonda Scott-Lawrence. She is currently completing her second year of AmeriCorps service as a regional site coordinator in Charleston, SC. Unlike myself, Sharonda came from a background in education and is one of the few AmeriCorps members I know who transitioned from the classroom to Reading Partners. I got a chance to ask her some questions about her decision to leave the classroom to serve with AmeriCorps.
ZW: Before you became an AmeriCorps member you worked in education at what capacity?
SL: I taught middle school social studies for four-and-a-half years and taught self-contained special education (SPED) for a year.
ZW: How did you hear about Reading Partners?
SL: After teaching for more than five years, I noticed there was an issue with students reading below grade level. I wanted to be a part of the solution, to make a change, and I voiced that often to others. One day, I was looking into literacy programs and Reading Partners came across my search. The program seemed familiar, so I decided to dig deeper and learn more about it.
ZW: What drew you to the organization?
SL: The mission to help struggling readers close the achievement gap, which we see too often in Title I schools. Reading below grade level is one of the major causes of the achievement gap.
ZW: As a former educator, what skills helped you the most when transitioning from the classroom to Reading Partners?
SL: My knowledge and training in classroom management; experience building relationships with students, teachers, and staff; and being familiar with the data and language used in an education setting.
ZW: What do you miss most about working in the classroom?
SL: As a regional site coordinator, I travel to our different school sites and visit reading centers around the community. What I miss most about the classroom is the connection with my students—being the teacher they saw every day.
ZW: What do you like most about working with Reading Partners?
SL: I love seeing struggling students succeed and the look on their faces when they too see that they can make progress and become better readers.
ZW: What advice do you have for a fellow AmeriCorps member who is planning to transition from Reading Partners to becoming a teacher?
SL: I think that most teachers who are planning to transition would already have a lot of useful knowledge. Take what you know and combine that with what you learn in training, then use that knowledge to help your students become better readers.
ZW: If you return to a classroom setting, what helpful skills or experiences would you take with you from Reading Partners?
SL: I have gained so many practical skills by working with students and helping them become better readers. Oftentimes, educators take course work, but being able to apply reading strategies to an actual student is an experience that I couldn't get from a course.
ZW: Lastly, what keeps you motivated as an educator?
SL: Children! What motivates me to continue in education are the children.