Apply for AmeriCorps
AmeriCorps Service at Reading Partners
Reading Partners is powered by AmeriCorps. We mobilize AmeriCorps members in our 12 regions and national team to recruit and coach volunteers, support students during and outside of tutoring sessions, work on capacity-building projects, and so much more. This page will tell you everything you need to know about how you can apply for AmeriCorps service with Reading Partners.
Benefits of AmeriCorps service
Living allowance
Professional development opportunities
Network with professionals in the nonprofit and education sector
Health and dental benefits
Education Award upon successful completion of term
Loan deferment and interest forbearance
Active alumni network
A chance to serve on a diverse, passionate team
And more!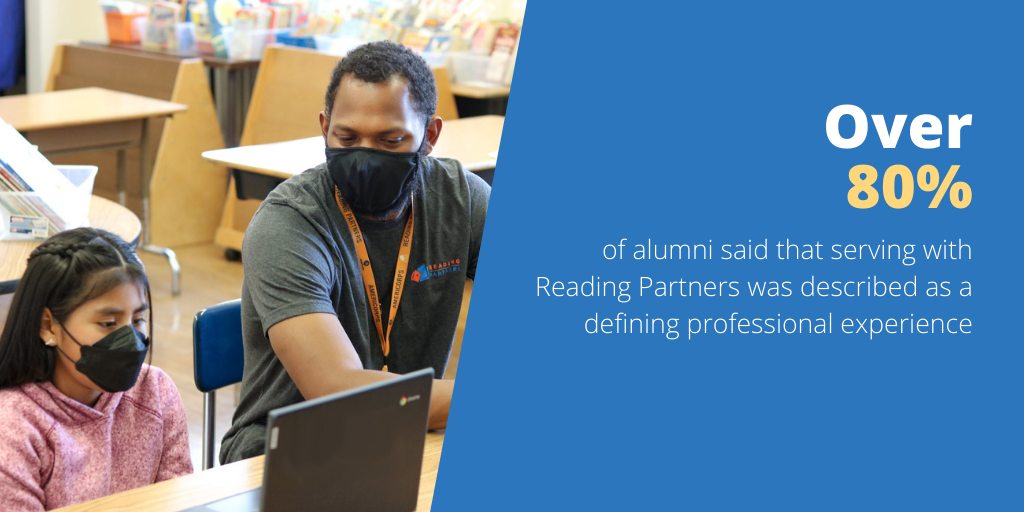 Living allowance
Your living allowance will vary based on what region you serve in. Here are sample pre-tax living allowance amounts for each of our regions in 2022-23:
Tulsa and South Carolina: $22,000 (semimonthly before-tax payments of $1,047.62)
Baltimore, Colorado, North Texas, and the Twin Cities: $23,750 (semimonthly before-tax payments of $1,130.96)
DC, Los Angeles, and Seattle: $25,700 (semimonthly before-tax payments of $1,223.81)
San Francisco Bay Area, Silicon Valley, and New York: $28,000 (semimonthly before-tax payments of $1,333.34)
Hear from our AmeriCorps members
With such a variety of AmeriCorps service roles offered here at Reading Partners, it's helpful to hear from the folks who have been there, done that.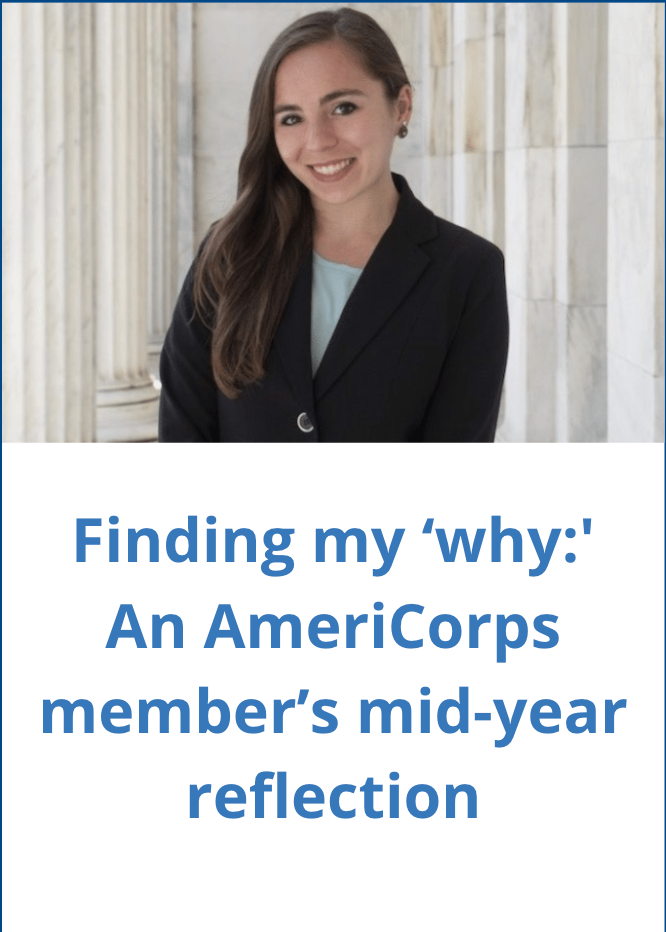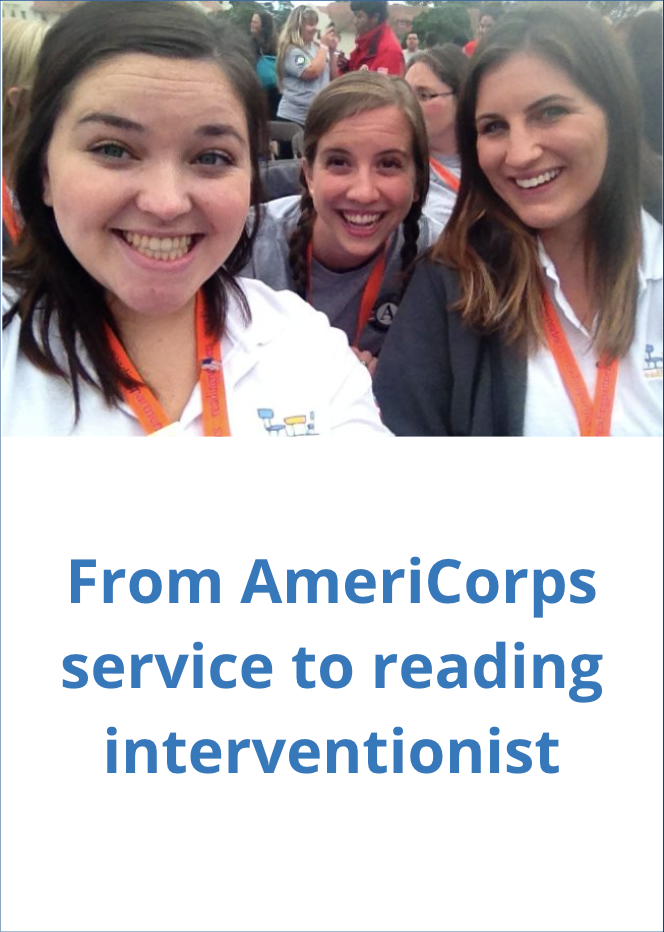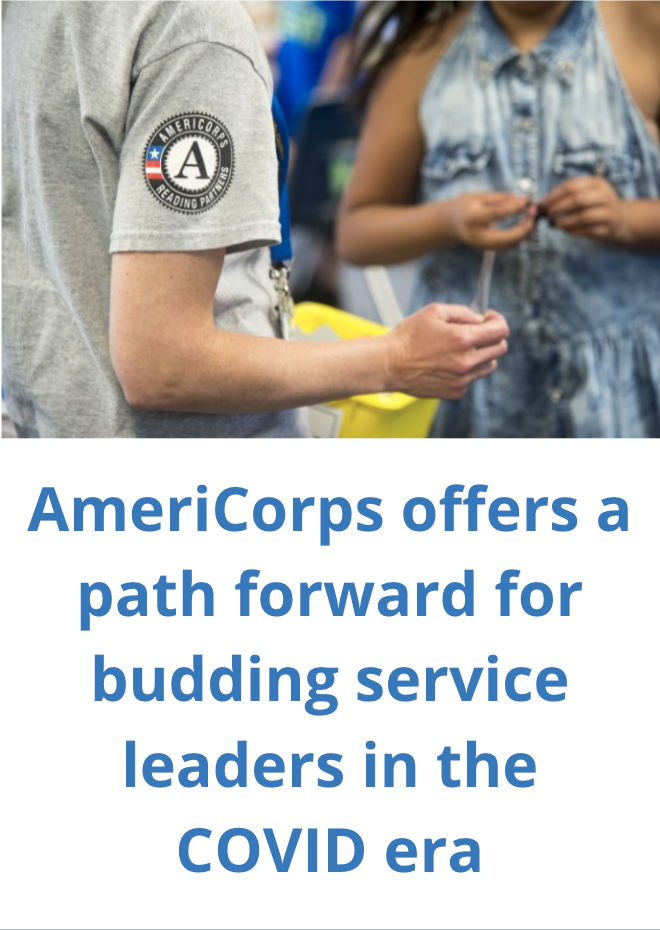 Find more service stories on our blog.
FAQ's
What can I do as an AmeriCorps member?
Members serve directly in a partner school site or within a region for a full time, 11-month term totalling 1700 hours. Because we work with elementary schools, our AmeriCorps opportunities typically run from August–June each year.
What AmeriCorps roles are available?
School-based roles: tutor students and coach volunteers

Program coordinator
Literacy lead
Community engagement role: recruit and engage volunteers
Learn more about each role here.
What happens after I apply?
Once you apply for an AmeriCorps position, you'll follow these steps: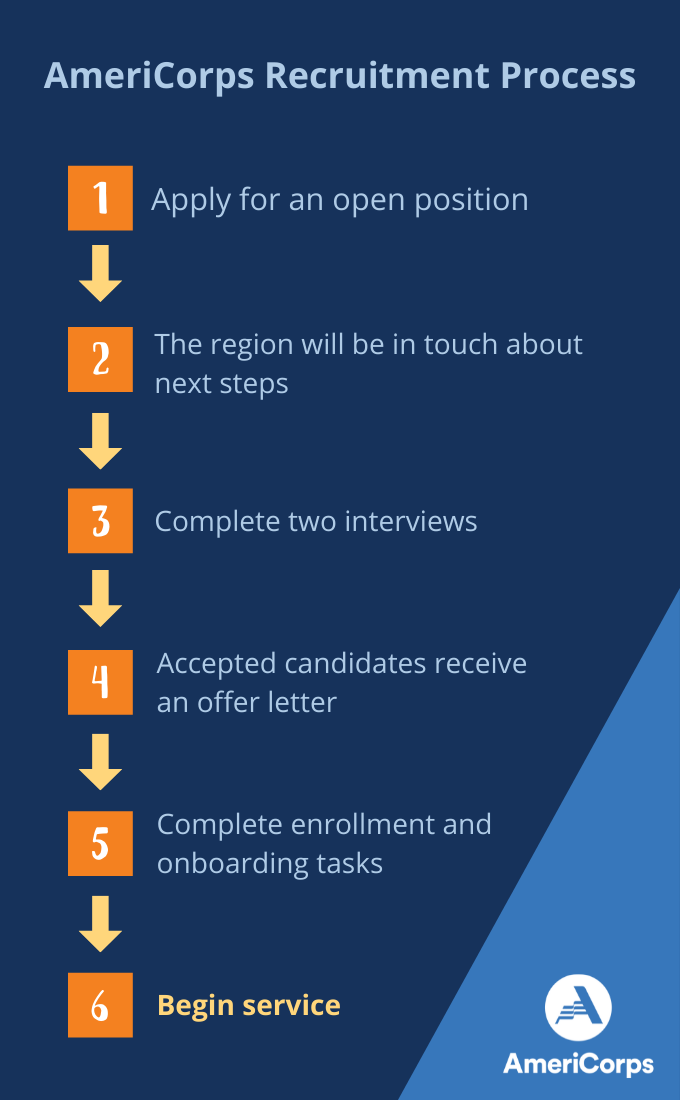 Do I need a degree to serve in AmeriCorps?
No, you do not need a college degree to serve.
Can I be a student or have a job during my AmeriCorps service?
Yes, as long as it doesn't interfere with the roles and responsibilities of your full-time service term, you can attend school or work a job.
What's the deadline to apply for an AmeriCorps position with Reading Partners?
We accept applications on a rolling basis, but the deadline for serving a full term in the 2022-2023 school year will be in August of 2022.
Do I have to serve a full, 11-month term?
Later in the school year, we'll begin recruiting for HT (Half-Time) and TQT (Three Quarter Time) members. These members will serve a total of 900+ and 1,200+ hours, respectively, during their service term.
Who can I contact with more questions?
Fill out this form to connect with our AmeriCorps team or someone on our staff about serving with Reading Partners.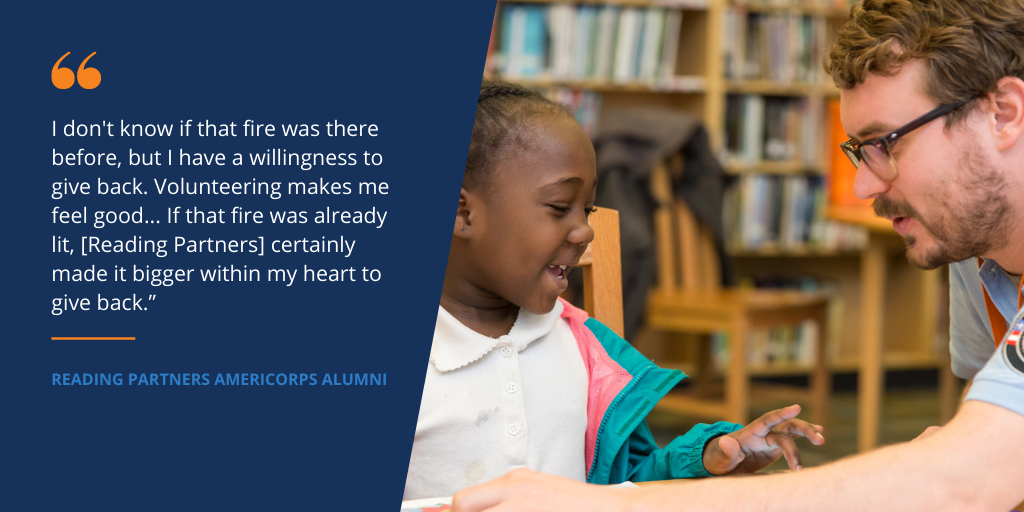 The power of AmeriCorps
During a year unlike any other, our AmeriCorps members stepped up to serve students in their communities. Here's what we accomplished together: