February 11, 2014
Miss Baltimore Focuses on Enriching the City Through Early Literacy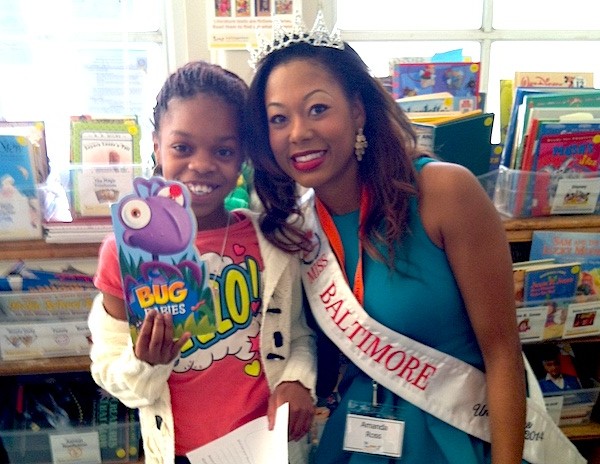 Pageant "newbee" and Raven's cheerleader, Amanda Ross, was crowned Miss Baltimore in 2013. She is a graduate of Morgan State University, where she studied physical education with a concentration in sports administration. Miss Baltimore is also a regular volunteer at Reading Partners Baltimore, an advocate for early literacy and non-violence, and hopes to create a more positive image of Baltimore.
Ross's passion for literacy stems from a self realization that her ability to read well has enabled her to successfully pursue a postsecondary education and to communicate effectively in her roles as a Raven's cheerleader and Miss Baltimore.
Miss Baltimore volunteers with Reading Partners twice a week at Samuel Coleridge-Taylor Elementary. She spends 45 minutes each session working with her student, Jasmine, on improving Jasmine's reading skills.  Ross states that within three months of tutoring, "[Jasmine] has come a long way and is able to read fluently now!"
Beyond her commitments to Reading Partners, Amanda Ross also advocates for anti-bullying campaigns, which she has found have a direct link to early education and literacy.
Early Literacy Promoting Non-Violence in Baltimore
In her role as Miss Baltimore, Amanda Ross has taken a stand against bullying and has become an advocate for crime prevention. She has told media sources that her "ultimate goal is to talk to schools about bullying, crime prevention, and anti-violence campaigns so that people don't just see [Baltimore] as having a high crime rate or drug abuse (problems)," (Baltimore News Journal).
In her time with Reading Partners, Miss Ross has made an inciteful connection; "I have noticed a correlation between reading and bullying," says Ross.  Bullying is an ongoing problem in schools, especially in low income areas. Ross believes that students struggling in school can be more prone to social and behavioral challenges leading to violence and bullying.
This correlation was recently highlighted by The Washington Post article "Bullying Linked to Lower School Achievement," that cites "schools with high levels of reported bullying had lower passing rates — by an average of 3 to 6 percent across tests — when compared with schools with less reported bullying.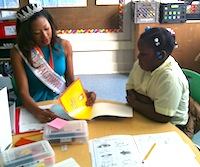 While Ross sees Baltimore as an exceptionally diverse and wonderful place, she highlights that "there is a gap between the middle class and lower class in Baltimore." "People from middle income areas often choose to pay for private schools rather than send their kids to public schools," states Ross, which lowers support for public schooling. Thus, "a lot of lower income students end up with gaps in (access to quality) education (and literacy)."
Ross notices that lower income students are often perceived as more rough and less interested in their education. "But that couldn't be further from the truth," she adds.
Becoming Part of the Solution
Amanda Ross and other community volunteers have become part of the solution in Baltimore. Reading Partners focuses on the foundational skills that help students become successful in school and help to prevent negative outcomes, such as bullying and high school dropout.
Reading Partners welcomes community members, ages 14 and older, to volunteer and provide one-on-one tutoring to students in Baltimore.
When asked what she would say to people who are "on the fence" about volunteering, Ross responded:
"Just try it. Get training, do a shadow session, meet the kids, then decide. When you meet the kids and see how excited they are to learn, you won't have any doubts. There is a stereotypical view that kids don't want to learn, but that is far from the truth. The kids are so excited to learn to read and to work with their tutors."