January 16, 2021
MLK Day of Service AmeriCorps Member Spotlight: Eve Dixon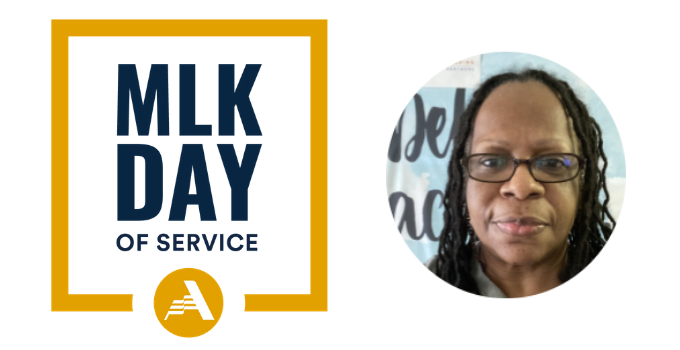 Reading Partners AmeriCorps members across the country serve their communities each and every day doing vital work as volunteer coordinators, distance tutoring coordinators, and literacy leads. But on Monday, January 18, members take a day off from their regular service activities to donate their time to organizations in other ways to honor the legacy of Dr. Martin Luther King Jr. 
This year in South Carolina, AmeriCorps members spend MLK Day supporting the Lowcountry Food Bank in Charleston, where they pack nutritious food for the BackPack Buddies program, which is designed to fight weekend hunger for the students who attend schools Reading Partners serves. 
Judith Eve Dixon, a literacy lead serving in North Charleston, recalls growing up in a service-oriented environment in Jamaica. 
"My family has a tradition of service as my parents, although of modest means, embodied service in their neighborhood. They even offered our front porch for the local church's use for Sunday services until a church could be built." 
Eve's involvement with Reading Partners and passion for service began long before she started her AmeriCorps journey. In fact, she served as a volunteer tutor in 2017 while at the same time working as a full-time doctoral student. 
Since then, she has graduated with a doctorate in Education and has completed 117 tutoring sessions before school campuses closed last March due to COVID-19. 
Eve is thrilled to be able to help out at the Lowcountry Food Bank as part of the MLK Day of Service. 
"On that and every day, I embrace every opportunity to engage a parent or student in the importance of empowering each other as their words and actions impact their communities."
Not only is Eve serving her community every day, but her son, an Army veteran and Capitol police officer, would have to agree that she followed in her parents' footsteps of passing along a passion for service to the next generation.