January 11, 2016
Out of retirement and into national service
Of the approximately 160,000 children in the Dallas Independent School District (DISD), more than 85 percent are living below the poverty line, and approximately 3,000 are believed to be homeless. It is obvious to me that a key tool in breaking this cycle of poverty is to better educate children so that they will have more opportunities later on in their lives. That's why I came out of retirement to become a full-time Reading Partners site coordinator.
My road to Reading Partners
I began my career after college as an Officer in the Air Force, and then spent a career in the semiconductor industry in marketing and sales. Most of my career was spent managing sales in the Central United States, Mexico, and South America.
Two years ago, my church, The First United Methodist Church of Dallas, decided to "adopt" JJ Rhoads Elementary School as a part of their efforts to alleviate poverty in the poorest areas of North Texas. Our church took on funding field trips, providing teacher appreciation events, and providing tutors to local school. I am an electrical engineer by education and had no experience in teaching, but I went ahead and signed up to tutor. At the time, I had never heard of Reading Partners.
The person organizing the tutoring partnership at our church was an experienced teacher, and she told me that the lessons were provided by a company with an excellent reputation and that I didn't need to be concerned about my lack of educational experience.
My first student
At the beginning of the year, I attended a "shadow session" where I met the Reading Partners site coordinator assigned to JJ Rhoads. She was very helpful and knowledgeable. I was paired with a second grade student and agreed to tutor him on Tuesdays and Thursdays.
Despite the fact that this student was in the second grade, he had minimal reading skills, and we started our lessons at the Emerging Reader curriculum level. As I got to know this little boy, I found that he had already had a tough life. He was being raised by a single mom with six children (his dad was in jail). He was the oldest, at eight years. Unfortunately, he had missed a lot of school during first grade due to circumstances beyond his control.
In the fall, he did pretty well. We generally completed one full lesson each session. However, in the spring, as we moved into the Beginning Reader curriculum, it became much more difficult to complete a lesson during each session. His reading ability, while improved, was still significantly below the second grade level.
I was curious to know how he could function in his classroom being so far behind his peers in reading. So, one day I asked his teacher if I could observe him in class, and she agreed. I learned very quickly that he was having trouble keeping up in class due to his lack of reading ability. I approached his teacher again, and asked her if I could keep him longer than the normal 45 minute session. She was thrilled that I would be willing to do that and told me that I could tutor him as often as I had time. She recognized that he greatly benefitted from the one-on-one attention at his own pace.  
I started tutoring him three times a week for a little over an hour and by the end of the year, we nearly completed the Beginning Reader curriculum. He still was well below grade level, but significantly improved from where we started.
The "Aha" moment
The "tipping point" for me happened during the fluency component of one of our latter lessons. He read over 70 words in a minute in a relatively difficult book. He was making almost no mistakes and reading confidently! The site coordinator saw him and stopped to watch in amazement while he read.
It was at that point that I fully realized the power of the Reading Partners program.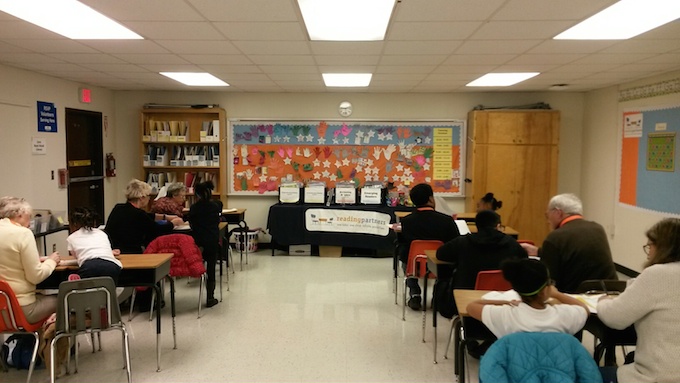 Soon school was over and I planned to be a tutor again in the following year. However, Reading Partners in North Texas was growing from 17 to 24 schools and needed more AmeriCorps site coordinators.
In August, an email went out to all of last year's tutors asking if they would be interested or knew of anyone who might be interested in AmeriCorps service and becoming a site coordinator. Everyone at First Methodist was curious as to meet their new site coordinator, and were aware that no one had been hired yet.
I responded to the email and said that I was interested. They contacted me and soon I was hired.
Starting my year of service
I currently manage about 50 tutors, most of them from my church, serving 40 students. We had a great fall and I am looking forward to progress our students make in the spring semester. The experiences I have had in my career have helped me manage our tutors, and partner with teachers and the school administration.
While I have had many successes to look back on and be proud of, nothing compares to the day that my Reading Partners student read 70 words in a minute.
---
If you are interested in learning more about AmeriCorps service with Reading Partners or to apply, visit readingpartners.org/americorps.