February 17, 2017
Presidents love to read: literature lovers in the White House
In honor of President's Day, Reading Partners highlights some leaders who showed a little extra love for literacy. We hope these literary-minded presidents of the past will inspire you to pick up a book that will help expand your mind and leave a lasting impression on your life.
George Washington
"Light reading (by this, I mean books of little to no importance) may amuse for the moment, but leaves nothing solid behind." -George Washington
Our very first president, and the one whose birthday originally established the President's Day holiday, loved reading books that taught him something new. George Washington filled his home library in Mt. Vernon with more than a thousand books and publications, all of which were educational.
Abraham Lincoln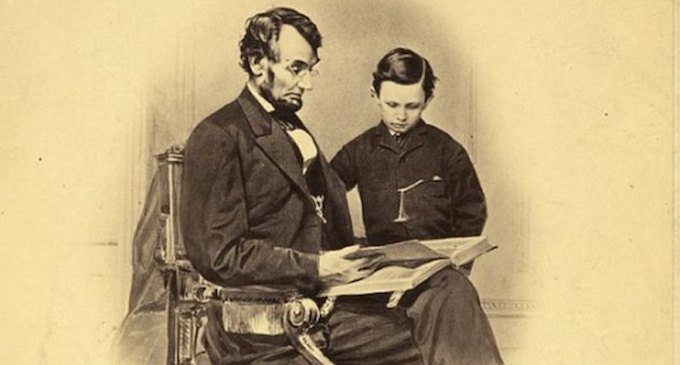 "A capacity and taste for reading gives access to whatever has already been discovered by others." -Abraham Lincoln
Our 16th president, Abraham Lincoln, loved to read. As a young adult, his education was limited; however, he was very motivated to learn to read. Books were few and far between in the Lincoln household, and neighbors often reported seeing him walk miles just to borrow reading material.
Harry S. Truman
"Not all readers are leaders, but all leaders are readers." -Harry S. Truman
President Truman was a true lover of history and books. As a classmate of his recalls, he would often see "Harry go home many a time with two or three books on weekends, and I guess by Monday he had them all read…"
Through the power of reading, President Truman taught himself about the many responsibilities of life in public service, and in doing so developed the qualities to be a leader.
George W. Bush


Photos by Grant Miller
"In this job [the presidency], there are some simple pleasures that really help you cope. One is books…" -George W. Bush
Reading Partners North Texas received an exciting visit from former President George W. Bush and Mrs. Laura Bush at our reading center in Briscoe Elementary School in Fort Worth.
President Bush and Mrs. Bush were attending a roundtable discussion about principal pipelines and stopped into the reading center to learn more about our program and connect with enrolled students. Our students, tutors, and staff were thrilled to have the opportunity to meet the Bushes and introduce them to our work!
Barack Obama
Photo courtesy of Getty
"At the moment that we persuade a child, any child, to cross that threshold, that magic threshold into a library, we change their lives forever, for the better. It's an enormous force for good." -Barack Obama
To get through the hard days, weeks, and months of his presidency, former President Barack Obama turned to books. During his time in the White House, The New York Times reports he read almost every night, for at least an hour, reading books that would engage his mind in a new way, or would let his mind drift away from the stress of the day. As he works on his presidential library, he has said he will use it as a way to "encourage a public 'conversation about books.'"

During their time in the White House, Barack and Michelle Obama hosted Reading Partners students, AmeriCorps members, and staff at several events. One of the most recent was in 2015, when one of Reading Partners' own AmeriCorps members got to visit the White House and participate in the "Let's Move! Let's Read!" event in the East Wing, which encouraged students to engage in healthy habits in addition to reading.
For more fun facts about presidential reading endeavors in the White House and beyond, check out this Business Insider article.