September 25, 2014
We're off to great places!...Reading Partners' showcase at the White House.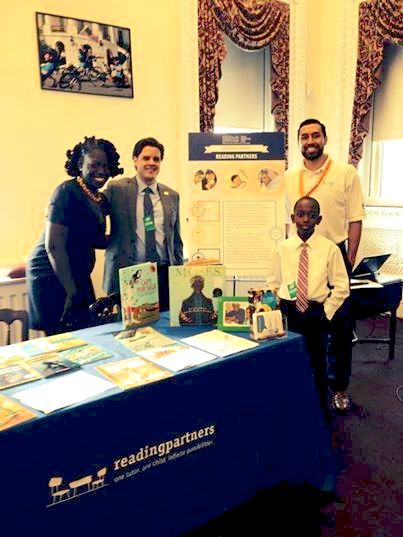 Last week, Reading Partners was invited to the White House for the first-ever What Works Showcase as part of a partnership with the Social Innovation Fund (SIF) and the Corporation for National and Community service (CNCS). The event showcased a selection of impactful SIF investments, innovative nonprofits, and social enterprises transforming lives and strengthening communities across the country.
Reading Partners was selected as one of ten high-impact organizations to represent proven, novel solutions working to address some of our country's toughest social challenges. The event was well-attended, with a diverse audience including White House and Agency staff, philanthropic organizations, private funders, and nonprofit sector thought leaders.
It was extremely gratifying and humbling to be highlighted as an example of a national program model that works in education. I was honored to talk about the amazing potential of community volunteers as proven partners and genuine assets in our quest to raise reading achievement in our nation. The recent MDRC study published in June provided definitive evidence that volunteers can be crucial, legitimate educational partners in the classroom – utilized far beyond simply marking tests and sharpening pencils.
I was privileged to introduce the Reading Partners program on stage, as well as at our booth, and had the opportunity to speak with many key thought leaders. But the highlight of the event was sharing the experience with some of the Reading Partners "boom band" – including Chief Regional Operations Officer Adeola Whitney; Josh Vallejos, a site coordinator; and Nathan, a Reading Partners student.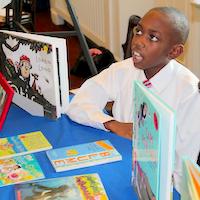 Nathan, a fourth grader at Wheatley Education Campus in Washington, DC, was exceptional on stage and off. He spoke confidently about his transformation from struggling to read and hating it, to now loving chapter books because they are longer and he can get to know the characters better.
Josh, an AmeriCorps member and second-year site coordinator, shared his story of growing up as a military kid, moving around most of his early life, and how he identified with Nathan's struggle learning to read. Josh took to the stage and did a guided reading exercise with Nathan that showed first hand how our program works.
An attendee at the event told us, "I knew what Reading Partners was, but seeing it in action at the SIF event was so amazing. And that student — that student had such courage to read out loud in front of everyone and he only read one word wrong so we got to see how the reading partner coached him. It was really neat."