January 30, 2014
When Reading Sparks Passion in a Third Grade Student
Nadia Riley is a Reading Partners' AmeriCorps member and SF Bay Site Coordinator at Los Cerritos Elementary School in South San Francisco. This story recalls a special moment during a one-on-one tutoring session with a student during the week celebrating MLK day.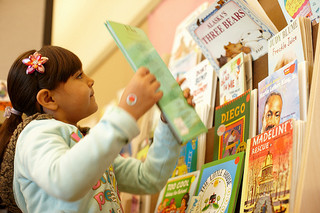 Working with kids, I have learned to always expect the unexpected. I expect to be surprised by quirky anecdotes and wild imaginations. It's amazing what some kids come up with when tasked with creating a sentence using a word as mundane as "see." However, I am often still caught off guard by the brilliance that comes from young minds at unexpected moments, and today was a perfect example.
I was working with one of my regular students, a third grader at Los Cerritos Elementary School in South San Francisco. As part of our lesson, she was reading a book titled "Ruby the Brave."  This is a book about Ruby Bridges, a young African-American girl who braved angry protestors as she became the first student of color to attend a formerly all-white school, in 1960,
As my student was reading, she suddenly stopped and looked up at me to point out that "Ruby is just like Martin Luther King because she did not think that there should be separate schools – everyone should be able to go to the same clean schools."
She then went on to talk about how she would have acted if she were at school with Ruby. My student explained that if Ruby was nice, then she would have been friends with her, and she would have even walked with her through the angry grown-ups yelling at her.
"I'm kind of brown too because I am Filipino," she said as she held her arm next to mine, "but it doesn't even matter."
I was in awe as she continued reflecting on the topic, drawing on things she'd learned in class, discussed with her parents, read in books, and seen recently in the movie The Butler.
Little did she know, that all of her questions and insight showed great improvement and success in her reading. I was thrilled as she made poignant connections between the story, her life experiences, and historical events that she had learned about – and she did so with such ease and passion!
Finally, she asked what books I'd read on the topic; And that's when I knew…this third grader is definitely a lifelong learner and reader!