October 31, 2014
Superintendent of Tulsa Public Schools sits side-by-side with students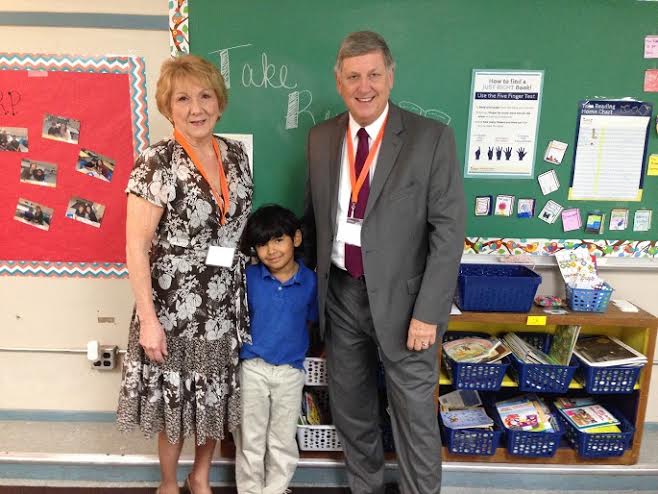 Reading Partners student, Dillon, has the privilege of having two tutors for one! Dr. Ballard is the Superintendent of Tulsa Public Schools and Dillon's reading partner. Dr. Ballard has a very busy schedule, but does his best to work with Dillon every week; working on reading comprehension, fluency, and more to ensure Dillon becomes a strong confident reader. But for those times when Dr. Ballard is not able to make their tutoring session, they have a back-up plan. Mrs. Poindexter is Dr. Ballard's assistant and automatic substitute. They both love spending time with Dillon and work together to maintain sessions during Dr. Ballard's busy schedule.
They work as a team to provide an effective and (fun!) learning experience for Dillon and are able to keep each other up to date on his progress. Dr. Ballard has always been a big supporter of Reading Partners and this year he is able to volunteer and experience the program first hand, thanks to the support of Mrs. Poindexter.
There are many creative ways for even people with the busiest schedules to tutor a student;
Start a tutor share like Dr. Ballard and Mrs. Poindexter. Team up with a buddy and tutor a student for success!

Become a make-up tutor

Volunteer for one-time events
At Reading Partners we have all types of tutors that find time in their schedules to volunteer, including, city employees, CEOs, working parents, college & high school students, politicians, and more. Even Wendy Spencer, CEO of the Corporation for National and Community Service and leader of AmeriCorps, Senior Corps, the Social Innovation Fund, and other programs, finds time to tutor. Reading Partners' very own chief of staff and chief advancement officer tutor too!
To find out more about how you can help, sign up to volunteer and one of our volunteer coordinators will get back to you with more information and discuss what will work best with your schedule.