July 7, 2016
Top 5 skills AmeriCorps members gain through service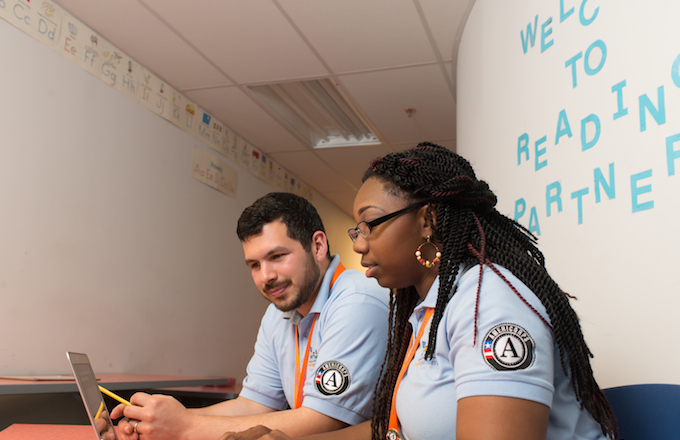 During a year of service, Reading Partners AmeriCorps members have an incredible opportunity to both give back to the local community and shape their future career paths. AmeriCorps positions at Reading Partners can unlock potential for those who are excited about and committed to enacting real change in communities.
The effects of AmeriCorps service don't stop when the term ends — the skills and experiences gained during the service year continue to impact AmeriCorps members' professional horizons. Take a look at how these current and former Reading Partners AmeriCorps members honed these top five skills through service!
Initiative
"While serving as a VISTA, I led a behind-the-scenes upheaval of the curriculum reproduction process, collaborating with outside vendors, fellow AC members, and volunteers. When I started my role, Reading Partners packaged all of our curriculum materials in-house; we ordered books from more than 12 vendors, printed all of the materials, stuffed all of the packets, and mailed the completed sets (about 1.5 tons of materials) across the country.
Through delegation, leadership, and teamwork, I ushered in a new process for curriculum creation — we no longer assemble curriculum in-house, and it is lower-cost and a much more streamlined process that is now being improved by a new VISTA and her team."
Katy Kondo

, research coordinator at Reading Partners, former Reading Partners AmeriCorps VISTA program operations coordinator
Interpersonal and intercultural communication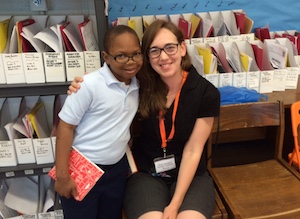 "I have gained invaluable experiences in my two years with Reading Partners as a volunteer coordinator. My position on the community engagement team has exposed me to a diverse group of people in Baltimore City and beyond, and in turn a wide variety of communication styles.
Reading Partners has taught me the importance of adapting your message to your audience, and shown me the magic a tailored presentation can produce! Every conversation — from presenting to the highest-ranking police officers to talking to my student about his aspirations — every conversation has helped me refine my communication skills. I not only believe that communication is one of my greatest professional strengths, thanks to AmeriCorps, but I know that truly connecting with different types of people is what makes me happiest."
Maria Goodson

, second year Reading Partners AmeriCorps volunteer coordinator in Baltimore  
Adaptability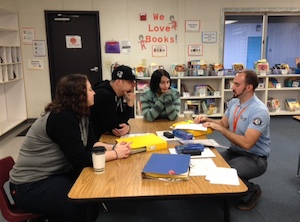 "I honestly believe that I couldn't be managing all of the expectations and tasks that I currently do had I not learned as an AmeriCorps member the true value of flexibility, re-evaluating and re-prioritizing tasks, and in taking on new and challenging responsibilities.
Adaptability, the willingness to step into every situation and every hour with fresh eyes and an openness to change, is absolutely crucial to this role. Because I wear many hats by working in social media, community engagement, peer mentorship and support, data management, tutoring, and program support (sometimes all in the same day!), adaptability is the one skill I couldn't do without."
Cody Howard

, people operations associate at Reading Partners, former three-year Reading Partners AmeriCorps regional site & volunteer coordinator in Sacramento
Collaboration
"Collaboration is at the center of all the service we do at Reading Partners. We collaborate with staff, students, teachers, parents, and principals. Being an AmeriCorps site coordinator has given me the opportunity to sharpen this skill. We must be able to collaborate with a wide range of people from student to principal. When these different parts of Reading Partners all work together efficiently, our program turns the best results.  
I feel being a team player amongst your peers is very important as well, so you can share challenges and best practices. This helps cultivate a positive and productive work culture. Collaboration is key!"
Jeremy Minter

, third year Reading Partners Americorps site coordinator in Los Angeles
Accountability
"I truly learned the meaning of accountability when I first served as an AmeriCorps member, where I realized the importance of being accountable not only to my teammates, but also to the students and to the communities we serve. I recognized the importance of showing up on time, knowing that our students would be waiting for us to kick off our lesson for the day. I learned how to be accountable to student learning experiences, by developing engaging and dynamic lesson plans, instead of just bringing vague ideas of potential activities to our sessions.
I still remember walking through the halls of a local middle school during my service year, and noticing a quote painted on an overhang to serve as a daily reminder for students: "Discipline yourself, so that others won't have to." That quote inspired me to stay accountable to myself, my students, and my team for the rest of the year, and still motivates me toward staying accountable to others today."
Clanci Cochran

, AmeriCorps admissions manager at Reading Partners, former City Year AmeriCorps member