Seattle
Our Team
Joyce Macek

Executive director, Seattle

Joyce's more than two decades in education have been centered around the belief that all young people deserve to be successful in their education and that a high-quality education is key to an equitable society. Joyce is honored to join Reading Partners as the executive director of our Seattle region and to lead an incredibly devoted and talented team. Most recently, Joyce served as the senior director of partnerships at an educational non-profit organization, Unbounded. As a founding team member, she led business development and school district partnerships for more than six years, significantly growing the organization's impact on the field every year. Before this, Joyce worked at the Regents Research Fund in New York State, guided by the vision of Former U.S. Secretary of Education, John King. Joyce began her career in education as a Teach For America corps member in St. John Parish, Louisiana teaching reading to high school students.

Joyce lives in Seattle with her family and has loved watching her daughter develop a love for and an understanding of how to read. In their free time, they love to travel, explore the Pacific Northwest, and settle in for Friday family movie nights.

Christine Young

Program manager

Chris Young recently joined Reading Partners as a program manager. Prior to this she worked for several Seattle area education nonprofits with a focus on reducing education disparities and increasing opportunity equity. Previous to her nonprofit work, Chris taught high school and middle school biology and math at a Seattle independent school for 13+ years. She holds a MEd degree in secondary science education and a BS degree in biology. Some of her professional interests include brain science, neurodiversity, and social emotional learning. Personally, she spends her time chauffeuring her two middle-school aged children around town while dreaming about riding her bike, reading books, playing soccer or baking pies.

Ginny Bush

Development manager

Ginny is thrilled to join Reading Partners as the Development Manager for the Seattle region. Prior to joining the team, she spent three years supporting fundraising efforts for Read to Lead, a New York City based literacy organization dedicated to literacy and leadership development at the middle school level. Ginny has a Bachelor's degree in Philosophy and a Master's degree in Ethics from Fordham University. She is excited to be able to continue the important work of promoting youth literacy as part of the Reading Partners team. In her spare time, Ginny enjoys spending as much time outside as possible, exploring her new city of Seattle, and reading her way through a never ending pile of books.

Alexis Ford

Program associate

Alexis is eager to join Reading Partners as a Program Associate. As a former kindergarten teacher within Seattle Public Schools, she is more than happy to take on a new role that allows her to continue making an impact on students and their literacy success. Being in the education field has revealed to her the many disparities certain communities face in the educational system, from which she has developed a commitment to fighting against. In her free time she love spending time with her two boys and whatever adventure they lead her on, reading, traveling, going for walks and spending time with her family.

Gila Grunschlag

Special projects associate

Gila started volunteering as a Reading Partners tutor at Beverly Park Elementary in 2018 and continued tutoring virtually in 2020-2021. Last year, she joined the staff as a Literacy Intervention Tutor and had the opportunity to work at all our Seattle area schools. She continues on this year as a Special Projects Associate. She loves perusing the reading center libraries and finding new books to share with her students.

Gila is originally from the San Francisco Bay Area but has called Seattle home since 1995. She enjoys going on long walks and exploring different neighborhoods. She lives in Seattle with her husband and two lively cats. Her son is a sophomore at UC San Diego, her alma mater. Go Tritons!

Casey Watson

Special projects associate

Casey graduated from Texas A&M University with a BS in Anthropology in 2021. After completing her degree, she immediately began working with local non-profits to serve her community. In the summer of 2022, Casey and her husband Will moved from Texas to Washington after he was offered a job here in Seattle! Casey was introduced to Reading Partners as she looked for a way to serve her new community and is excited to begin work as the new special projects associate for Reading Partners-Seattle. 

Riley Miller

Special projects associate

Riley believes that with reading, you'll always have mentorship in your life. That is why Riley is so excited to join Reading Partners to help young people learn new perspectives that inspire them and cultivate their self-confidence!

Zhane Spates

Development associate

Zhane is excited to be joining reading partners as a Development Associate. She was born and raised in Seattle, and graduated from the University of Washington with a double major in Economics and Food Systems. After graduating, she worked as a door to door fundraiser for Amnesty International to support human rights efforts across the United States. She believes the ability to read is a basic human right and nobody should be barred from the opportunity to learn how. She is super pumped to work for an organization that does such amazing work supporting literacy efforts. In her free time she enjoys playing rugby, baking and decorating cakes.

Sara Albertson

Community engagement manager

Sara Albertson is very excited to be joining the Reading Partners family. She was raised in Seattle WA and graduated St Olaf College with a degree in theater and psychology. After college she worked in theater education with over ten theaters in the Seattle area. Some include Seattle Repertory theater, Seattle Children's and Penguin Productions. She most recently comes from Town Hall Seattle, where she worked in Marketing. She has a passion for helping her students build autonomy through reading. In her spare time, she loves to get outdoors with her pup and enjoy the PNW! 
AmeriCorps
Volunteer coordinator: Rebecca Schell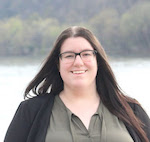 Rebecca graduated from Susquehanna University in 2021 with a bachelor's degree in Psychology and a minor in Sociology. She values education and lifelong learning and believes literacy is the foundation of education. Her commitment to the value of education led her to serve an AmeriCorps term with the Pennsylvania College Advising Corps where she guided 250 seniors through the college application and job search process. The mission of Reading Partners always stood out to her and is what drove her to serve in Seattle. She likes to travel, bake, sing, and obviously read in her free time!
Program coordinator: Dillyn Adamo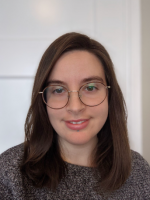 Dillyn is a recent graduate from the University of Washington's Masters in Museum Studies program. Throughout Dillyn's time in their MA program, Dillyn focused on learning and education in museums, both through their studies and by interning with the Burke Museum's Education Department. Dillyn is excited to join Reading Partners as a Program Coordinator to continue working in the education space, and share their passion for reading and literacy with others. Before Dillyn's M.A. degree studies, they studied biology and fine art at the University of California Santa Cruz. They love finding new ways to incorporate interdisciplinary learning in both the art and science fields. Outside of education work, Dillyn enjoys print-making, sewing, and reading science fiction and fantasy novels.
Program coordinator: Julian Perez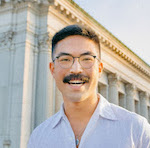 Julian is thrilled to serve with the Reading Partners Seattle team. Passionate about service and education, Julian is committed to encouraging academic achievement through affirming and leveraging the individual strengths that every learner has to offer.
Julian recently graduated from the University of California, Berkeley with a bachelor's degree in Sociology and a minor in Education. Throughout his undergraduate experience, Julian worked closely within the field of education, serving as a graduate admissions assistant, an undergraduate peer advisor, and a second grade teacher's assistant.
Julian's interests outside of education include singing, songwriting, volunteering, and traveling.
Program coordinator: Tyra Zitting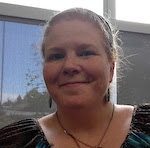 Tyra is the Americorps Reading Partner Program Coordinator serving at Des Moines Elementary for the 22-23 school year. She currently lives in Auburn, WA and has lived there for the past 7 years. She is originally from a small town situated just outside the Great Salt Lake in the great state of Utah. She has 4 daughters, 1 cat, 1 bird, 2 geckos, and 3 goldfish. Her hobbies are working on her diamond painting art, camping, and nurturing her vegetable/flower garden. She has a "big kid" like spirit and one day hopes to write her own children's book.
She is really excited for her service year with Reading Partners because she enjoys working with and spending time getting to know and understand the youth with-in our community. She learns so much about the world we live in through the eyes of a child everyday and she wants to give back by being a part of empowering literacy for every child.
Program coordinator: CP Jackson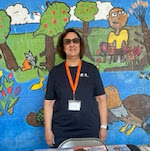 CP retired after 35 years with the Federal Government in 2021. She has a passion for education and literacy, so she volunteered to be a tutor at Reading Partners last school year. She liked it so much, she decided to apply to serve with AmeriCorps this school year as a Program Coordinator for Reading Partners. She will be working at one of the schools in Seattle. In addition, she is a musician. She plays mandolin with the Seattle Mandolin Orchestra. She also loves to read and travel.
---
Board
Helen Weyant, Chair
Judy Courshon, Bader Martin
Annemarie Beliard, Adobe
Hazelmae Overturf, BECU
Natalie Hartkopf, Hightower Group
Rosemary Coleman