Seattle
Our Team
Joyce Macek

Executive director, Seattle

Joyce's more than two decades in education have been centered around the belief that all young people deserve to be successful in their education and that a high-quality education is key to an equitable society. Joyce is honored to join Reading Partners as the executive director of our Seattle region and to lead an incredibly devoted and talented team. Most recently, Joyce served as the senior director of partnerships at an educational non-profit organization, Unbounded. As a founding team member, she led business development and school district partnerships for more than six years, significantly growing the organization's impact on the field every year. Before this, Joyce worked at the Regents Research Fund in New York State, guided by the vision of Former U.S. Secretary of Education, John King. Joyce began her career in education as a Teach For America corps member in St. John Parish, Louisiana teaching reading to high school students.

Joyce lives in Seattle with her family and has loved watching her daughter develop a love for and an understanding of how to read. In their free time, they love to travel, explore the Pacific Northwest, and settle in for Friday family movie nights.

Elise Kopta

Special projects associate

Elise is thrilled to begin work at Reading Partners as Seattle's special projects associate. She is passionate about working within the field of education and incorporating a trauma-informed approach into her life professionally and personally. She just finished an AmeriCorps term working with the International Rescue Committee and is excited to continue to work with and support other AmeriCorps members. Outside of work she enjoys cooking, hiking, and trying (and failing) to rock climb.

Christine Young

Program manager

Chris Young recently joined Reading Partners as a program manager. Prior to this she worked for several Seattle area education nonprofits with a focus on reducing education disparities and increasing opportunity equity. Previous to her nonprofit work, Chris taught high school and middle school biology and math at a Seattle independent school for 13+ years. She holds a MEd degree in secondary science education and a BS degree in biology. Some of her professional interests include brain science, neurodiversity, and social emotional learning. Personally, she spends her time chauffeuring her two middle-school aged children around town while dreaming about riding her bike, reading books, playing soccer or baking pies.
AmeriCorps
Volunteer coordinator: Rebecca Schell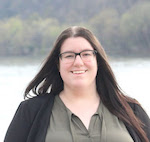 Rebecca graduated from Susquehanna University in 2021 with a bachelor's degree in Psychology and a minor in Sociology. She values education and lifelong learning and believes literacy is the foundation of education. Her commitment to the value of education led her to serve an AmeriCorps term with the Pennsylvania College Advising Corps where she guided 250 seniors through the college application and job search process. The mission of Reading Partners always stood out to her and is what drove her to serve in Seattle. She likes to travel, bake, sing, and obviously read in her free time!
Program coordinator: Julian Perez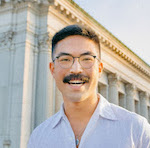 Julian is thrilled to serve with the Reading Partners Seattle team. Passionate about service and education, Julian is committed to encouraging academic achievement through affirming and leveraging the individual strengths that every learner has to offer.
Julian recently graduated from the University of California, Berkeley with a bachelor's degree in Sociology and a minor in Education. Throughout his undergraduate experience, Julian worked closely within the field of education, serving as a graduate admissions assistant, an undergraduate peer advisor, and a second grade teacher's assistant.
Julian's interests outside of education include singing, songwriting, volunteering, and traveling.
Program coordinator: Tyra Zitting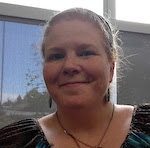 Tyra is the Americorps Reading Partner Program Coordinator serving at Des Moines Elementary for the 22-23 school year. She currently lives in Auburn, WA and has lived there for the past 7 years. She is originally from a small town situated just outside the Great Salt Lake in the great state of Utah. She has 4 daughters, 1 cat, 1 bird, 2 geckos, and 3 goldfish. Her hobbies are working on her diamond painting art, camping, and nurturing her vegetable/flower garden. She has a "big kid" like spirit and one day hopes to write her own children's book.
She is really excited for her service year with Reading Partners because she enjoys working with and spending time getting to know and understand the youth with-in our community. She learns so much about the world we live in through the eyes of a child everyday and she wants to give back by being a part of empowering literacy for every child.
Program coordinator: CP Jackson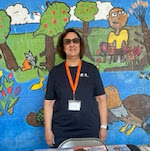 CP retired after 35 years with the Federal Government in 2021. She has a passion for education and literacy, so she volunteered to be a tutor at Reading Partners last school year. She liked it so much, she decided to apply to serve with AmeriCorps this school year as a Program Coordinator for Reading Partners. She will be working at one of the schools in Seattle. In addition, she is a musician. She plays mandolin with the Seattle Mandolin Orchestra. She also loves to read and travel.
---
Board
Helen Weyant, Chair
Judy Courshon, Bader Martin
Atinna Smith, Amazon
Annemarie Beliard, Adobe
Hazelmae Overturf, BECU
Gina Choi, Amazon
Natalie Hartkopf, Hightower Group
Chris and Allie Ruettgers, Founding Board Members