May 24, 2018
AmeriCorps Spotlight: Getting Things Done for Tulsa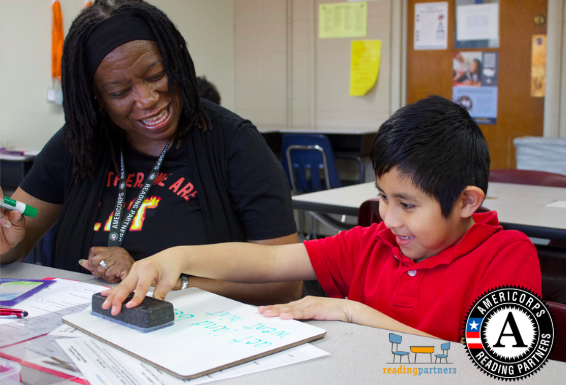 Coming back for another year of service with AmeriCorps
Thank you to the 44 AmeriCorps members serving with Reading Partners as site coordinators, literacy leads, and other roles this year! Members of the AmeriCorps national service program across the country commit their time to address critical community needs like increasing academic achievement, mentoring youth, fighting poverty, sustaining national parks, preparing for disasters, and more.
At Reading Partners, AmeriCorps members are essential to drive our mission forward. They manage reading centers and work one-on-one with volunteers and students everyday.
We are thrilled to announce that 24 of our current AmeriCorps members will continue their service with Reading Partners during the 2018-19 school year!
Big thanks to the following AmeriCorps members for committing another year of service to Reading Partners! We can't wait to see you across centers again next year!
Angel Webb, Beth Morton, Brandon Sexton, Brandy Harrison, Brittany Stewart, Brooke Kiewitt, Chelsea Nelson, Danie Thomason, Daniel Robertson, Dee Chambers, Dianna Cancel, Hazel Green, James Whisenhunt, Jared Johnson, Lyssa Flanagan, Maria Harris, Mary Kate Harkreader, Michelle Franchini, Nereida Aguirre, Rachel Robertson, Rosalind Morris, Rosemary Gee, Thomas Pham, and Wendy Sands.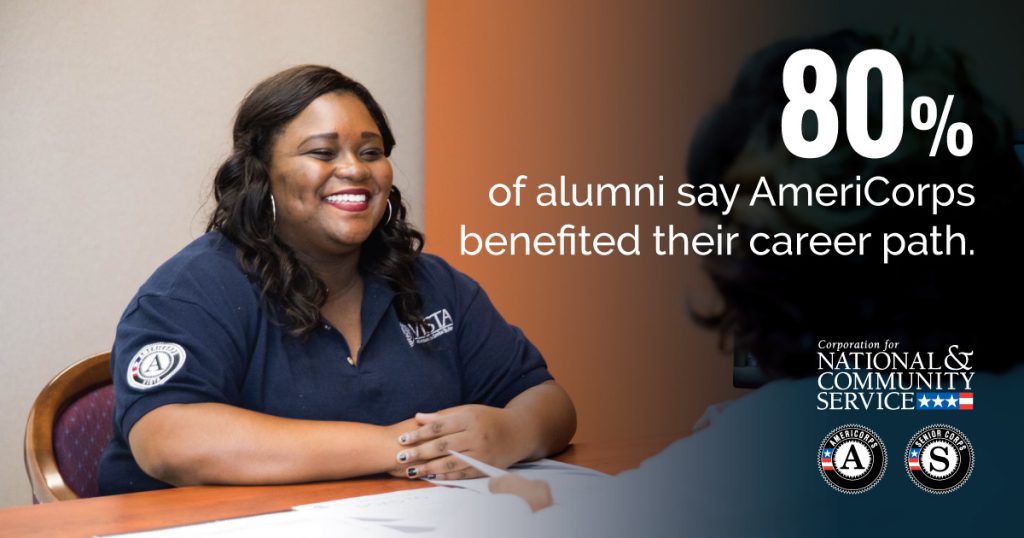 Source: www.nationalservice.org
AmeriCorps members serving with Reading Partners become part of a national service movement and a growing educational nonprofit—which means ongoing access to valuable perks and unique capacity-building experiences.
Senior AmeriCorps Program
At Reading Partners Tulsa we understand the important relationships that our site coordinators and literacy leads build with the volunteers and students. When they choose to serve a second year, it enhances the experience for them as individuals and ultimately for the students we serve with more impactful relationships.
Above and beyond The Segal Education Award, we are offering new incentives and structures for our returning AmeriCorps members that will open them up to additional learning opportunities during their time with Reading Partners. These include the option to pursue post-graduate degrees, additional leadership opportunities within the organization, as well as with other local, participating nonprofits and professional development opportunities aligning with career interests.
What's next for our departing AmeriCorps members?
Though AmeriCorps members join the program to serve others, they also gain vital skills and experience to further their careers. Completing a year of service with AmeriCorps is a great way to build experience and knowledge about a wide variety of opportunities, and we are honored to highlight four outgoing AmeriCorps members and share the unique ways that their experience has prepared them for their next step.
We are excited to have the opportunity to bring two of our outstanding AmeriCorps members into new, full-time staff positions with Reading Partners Tulsa. Camille Newbro, site coordinator at Eugene Field, recently accepted the role of Program Associate with Reading Partners. With assistance from the Segal Education Award, which is granted to all AmeriCorps members, Camille will also begin working towards her Master's Degree in Public Administration at OU-Tulsa. As Program Associate, she will lead a team of AmeriCorps members chosen to serve as site coordinators within a portfolio of reading centers, lending her expertise to cultivate strong systems of success for her team and the students we serve. Taylor Tennis, who spent her year of service as the AmeriCorps VISTA Development Coordinator, has accepted a new role as the Development Associate for the Tulsa region. She is excited for being a part of the "powerful" [Reading Partners] team and leveraging the experience gained from her year of service "as we all work together toward impacting the future of our students."
Tess has served two years with Reading Partners, and you may recognize her as the former site coordinator at Tulsa Legacy Charter School (2016-2017) or Marshall Elementary (2017-2018). While serving in this capacity, Tess frequently went above and beyond to recruit volunteers within her own network and never missed an opportunity to share the need for volunteer reading partners in Tulsa. While we are sad to see her go, we could not be more excited for Tess to begin the next chapter of her career with CAP Tulsa as the Volunteer and Outreach Specialist. In addition to that, she will spend her personal time as a consultant to Kingdom Culture Church (where she was deployed to serve during the Teacher Walkout), as they break ground on their community garden.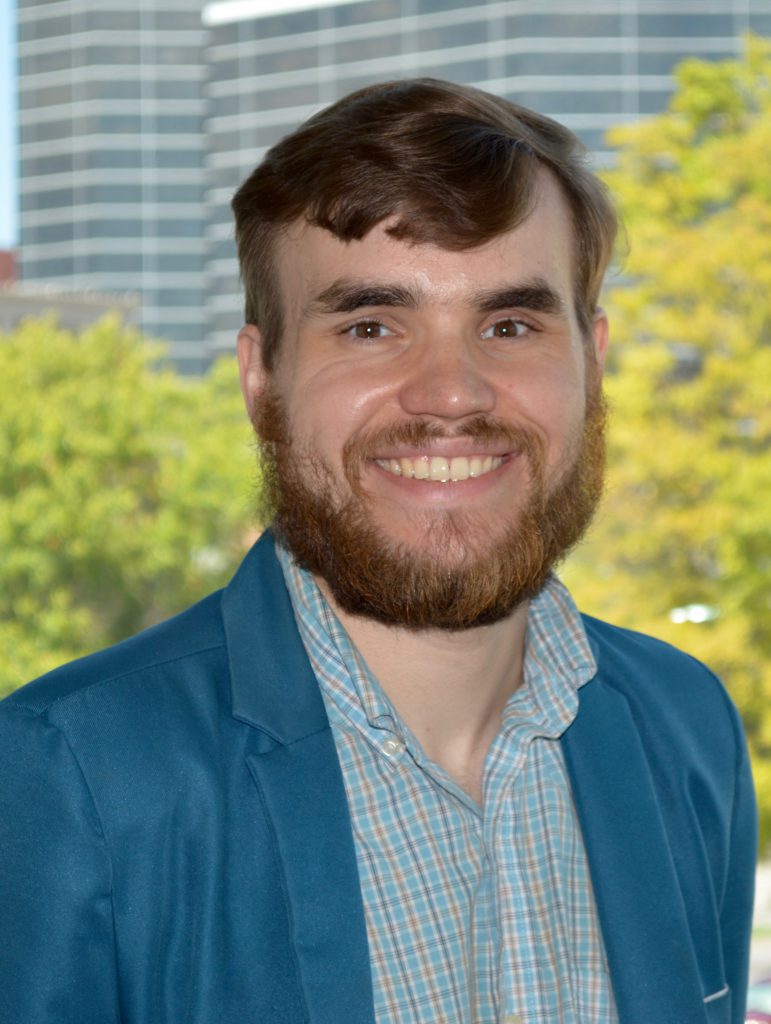 Allen Conner
After three years of AmeriCorps service with Reading Partners as a site coordinator at Cooper Elementary, Allen will utilize the Segal Education Award to attend graduate school at OU-Tulsa and continue his work with Youth Services of Tulsa, a local youth shelter and Tulsa Area United Way partner agency. He has witnessed the community come together over these last three years in order to combat the literacy crisis and other problems our students face in daily life, and believes that many of them not only need but truly deserve extra services. Allen is excited to use his experience with Reading Partners and AmeriCorps while in graduate school and beyond.
Thanks to all of our departing AmeriCorps members for dedicating your year to serving Tulsa students through Reading Partners. We wish you all the best in your future endeavors.
Brandon Fitzgerald, Christian Boyd, Elizabeth "Izzy" Mason, Isabella Espiritu, Jakesia King, Jessica Pongonis, Joe Dowdell, Lauren Williams, Martha Lowe, Marynda McCaskey, Morgan McClellan, Ruairi Devereux, Sematria Ford, Taylor Finley,  Tess Tucker-Trainum, Vanessa Dinh-Nguyen.

Inspired by the opportunities being an AmeriCorps member can unlock? Apply to serve a year with Reading Partners.