April 25, 2017
Tickets available: Reading Partners Twin Cities presents inaugural Bee & Brew fundraiser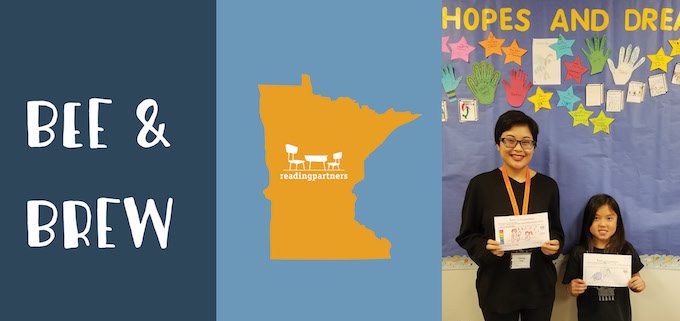 When: May 10, 2017, 6-9 pm
Where: Surly Brewing Company, 520 Malcolm Ave SE, Minneapolis, MN
Ticket Info:
$75: general support of Reading Partners; includes admission for one to Bee & Brew ($35 tax-deductible)
$1100: sponsor a student for one year in Reading Partners; includes admission for two to Bee & Brew ($1,080 tax-deductible)

Reading is the foundation upon which all future learning is built. Yet every year, more than 75 percent of low-income students in Minneapolis and St. Paul miss this critical milestone. Reading Partners supports 450 students in 11 schools across our community—and growing!
Join us for Bee & Brew, a celebrity spelling bee to raise funds and awareness for Reading Partners'  one-on-one reading intervention powered by volunteers.    
Enjoy Surly's award-winning beers and mouth-watering morsels, hear a brief overview of Reading Partners' work from our national CEO Karine Apollon, and join local celebrities in a hilarious, non-competitive spelling bee (additional team members will be randomly selected from attendees)!
Celebrity Spelling Bee
Emceed by Sean McPherson, musician, on-air host on "The Current" and co-owner of TriviaMafia, the nation's largest producer of trivia nights, spelling bees, and bingo.
Celebrity spellers include: Minneapolis Mayor Betsy Hodges, former MN Viking Ryan Hoag, KARE 11's Jana Shortal, WCCO's Frank Vascellaro and Amelia Santaniello, Minneapolis School Board member Don Samuels, Northside Achievement Zone President & CEO Sondra Samuels, Babes in Toyland drummer Lori Barbero, storyteller Kevin Kling, author Lorna Landvik, author John Rosengren, and 2016 MPS Spelling Bee Champion Malcolm Munnich.
Click here to purchase your tickets online today!
For more information, please contact Graham Sutherland, development manager at graham.sutherland@readingpartners.org or (206) 601-9458
Presented in collaboration with event sponsor Twirl and promotional partner The Loft Literary Center.