September 16, 2020
Books & Breakfast, a virtual fundraising event - Oct 7, 2020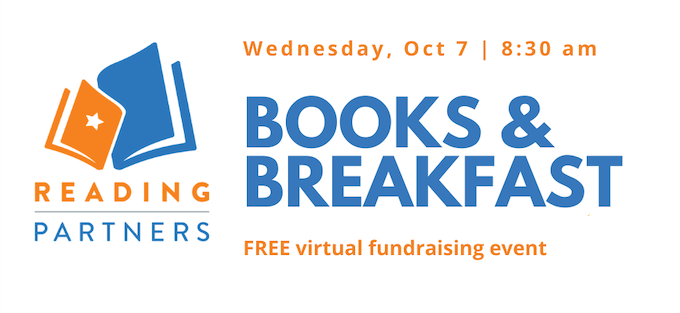 Greetings from Reading Partners Colorado! As we kick off a new school year of programming, our board and staff are excited to share an important announcement about our fall fundraising event.
As you can imagine, hosting our annual Road to Reading event in person with over 300 guests is simply not an option during this unprecedented time. In order to ensure the safety of our supporters, and to decrease costs, Reading Partners Colorado has made the necessary decision to introduce our first-ever virtual
Books & Breakfast
fundraising event!
Books & Breakfast will be held on Wednesday, October 7 from 8:30-9 am. During the event, you will hear testimonials from students and tutors, an update about Reading Partners' innovative plans for the 2020-21 school year, and have a chance to make a donation to impact the lives of young readers. Funds raised through Books & Breakfast will support critical program costs to bring free online tutoring to students in Colorado through our new Reading Partners Connects program during the COVID-19 pandemic.
Thank you for your continued support of Reading Partners. For any questions about our campaign, please email quinn.boden@readingpartners.org. Should you wish to make your pledge early, you can visit our donation page 
or mail a check to our office at 1600 Downing Street, Suite 700, Denver CO 80218.
How you can support Books & Breakfast
Sign up to give monthly donations – Did you know you can set up automatic monthly donations to go to Reading Partners Colorado? By giving each month, your gift can help to ensure ongoing support throughout the entire year. Whether it's $5 a month or $50, your consistent contributions are a huge help!
Make a one-time gift to Books & Breakfast – Reading Partners' one-on-one intervention is going to be even more important this school year. A recent report from McKinsey and Company anticipates that most students will lose an average of 7 months of learning due to COVID-19. By donating to Reading Partners, you can help fund programs that can lessen the effects of COVID learning loss.
Secure a corporate matching gift – Many employers have a matching gift policy! You may be able to double your impact by simply informing your employer about a donation you made to Reading Partners.. Check with your company to see if they too will give a gift to support our one-on-one tutoring program. If you need any confirmation or forms completed to secure the match, please reach out to amber.meade@readingpartners.org
Spread the word – One huge benefit of having a virtual event is that anyone can join from anywhere! If you believe in the mission of Reading Partners, please consider spreading the word about our event and encouraging your friends and family to give as well. You can always share our social media posts, and/or use our template language to tell others about Books & Breakfast.