June 7, 2018
Cornegy, Wright, Uncommon Schools Start Summer Reading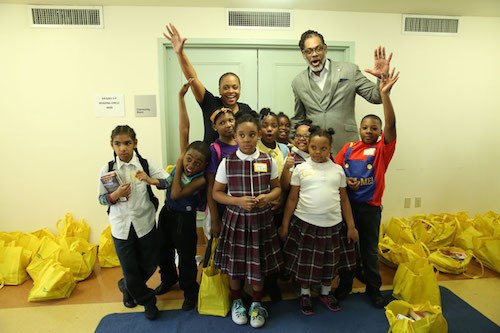 Originally posted on Kings County Politics. 
City Councilman Robert Cornegy Jr. (D-Bedford-Stuyvesant, Northern Crown Heights) folded his lanky frame on a small green stool before an excited group of third and fourth graders at the Macon Branch of the Brooklyn Library in Bed-Stuy and opened the classic children's book, "Where the Wild Things Are" by Maurice Sendak.
"When I heard I was going to read this story, I was excited because this was one of my favorite books when I was growing up," Cornegy told the children.
But as he started to read, one fourth grader expressed skepticism about the events unfolding in the book. "That's not realistic," the student said as Cornegy read a passage about Max's room turning into a jungle.
Without missing a beat, the 36th District councilman asked the students, "Well, what do we call it when it's not realistic?" The students shouted back, "imagination."
"The beauty of books is that it helps us to use our imaginations," Cornegy told the students.
Cornegy joined Assemblywoman Tremaine Wright (D-Bedford-Stuyvesant, Northern Crown Heights) and community leaders who read to children during an event at the library Thursday dubbed "Bed-Stuy Reads."
More than 50 children ranging from kindergarten through high school came to the event, sponsored by Uncommon Schools NYC, Reading Partners, Community Education Council 16, Community Board #3 Education and Youth Committee and the Macon Branch of the Brooklyn Public Library.
The program is designed to get children and families excited about summer reading, said Tara Marlovits, chief operating officer of Uncommon Schools NYC, a high-performing charter school network with 23 schools, serving 8,100 predominantly low-income students in Brooklyn.
"We feel it's extremely important to make sure all children in the community have access to books and that they are reading over the summer break," Marlovits said. "This event is just one of the ways we can make reading fun and enjoyable for families."
Reading Partners is a non-profit organization that partners with under-resourced schools and engages volunteer reading partners to work one-on-one with students who struggle with reading.
"The Bed-Stuy Reads event is aligned with Reading Partner's mission to promote strong reading skills," said Claudia von Nostitz, the FAO Schwarz Family Foundation Fellow with Reading Partners. "We understand how important it is to encourage  children to read and prevent the summer slump. We are pleased to partner with Uncommon Schools again this year to host this event to ensure that children have books and are excited about summer reading."
Many students experience the "summer slide," the well-documented phenomenon in which students lose some of the academic gains they made during the school year.
"As a father I understand the importance of reading especially during the summer months," said Cornegy, who has six children. "I am passionate about literacy and visit schools to read to children throughout the school year. Bed-Stuy Reads is an excellent opportunity to highlight the importance of reading during those crucial summer months for families in our community."
Wright, whose neighborhood Common Ground coffee shop nurtured and mentored a lot of neighborhood kids before she was elected to the assembly, said she was thrilled to participate in the program.
"We encourage families to read together and hope summer reading keeps the minds of our young readers active while out of school," said Wright, who read "Stevie," by John Steptoe. "Thank you to Uncommon Schools and the Macon Branch of the Brooklyn Public Library. I'm happy to share the joy of reading with the students in the 56th Assembly District."
Each child who attended the event left with a bag full of books to ensure they have plenty to read over the summer!  Every child was also be entered into a raffle and had a chance to receive a gift geared towards literacy, such as an electronic reader, a magazine subscription or a gift card to book store.
Community groups who are hosting the event noted the importance of ensuring children continue to read through the summer.
"It is important to continue reading during the summer and this event will support our families and students because every child who attended the event left with a bag full of books and parents were provided with resources to promote summer reading," said Nequan McLean, president of Community Education Council #16.
"As we continue to advocate for all young people to receive quality and equitable education in our community, CB 3 is equally committed to ensuring that all students understand the importance of reading, have abundant access to books and literacy programs in Bedford Stuyvesant," said Oma Holloway, chair of Community Board #3 Education and Youth Committee.