May 25, 2016
Cynthia Graham Hurd Foundation continues her legacy through literacy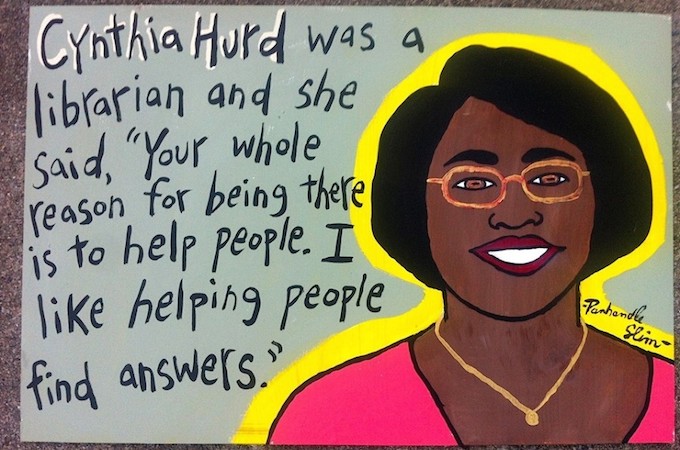 Photo courtesy of Huffington Post
By: Kate Brown, Development Associate, Reading Partners Charleston
One could feel the emotion ripple through the room as Former North Carolina State Senator Malcolm Graham stood at the podium of the Main Library in downtown Charleston, just a block away from the Mother Emanuel AME Church where his sister, Cynthia Graham Hurd, and eight others were senselessly killed almost one year ago. A painted image of Cynthia placed next to the podium — attendees were reminded of the legacy of love and literacy she left behind. Malcolm and three of Cynthia's other brothers stood together in both Charleston and Charlotte to announce the launch of the Cynthia Graham Hurd Foundation in memory of their beloved sister. The foundation's first initiative will be a month-long book drive in June benefiting the students of Reading Partners Charleston and Reading Partners Charlotte.
The Cynthia Graham Hurd Foundation was founded to "continue Cynthia's work and legacy of engaging the community through her love and appreciation of reading." For 31 years she served as a librarian for the Charleston County Public Library (CCPL). Her brothers fondly recalled that they could always find Cynthia surrounded by books, whether she was working at the St. Andrews or John L. Dart branches of CCPL, or College of Charleston's library. Cynthia was dedicated to ensuring that every reader, or aspiring reader, she encountered received the support they needed. The family felt there was no better way to kick-off the foundation's work than to host a book drive that will benefit more than 1,000 students in Charleston and Charlotte to help underserved students start to build their own libraries at home.
Currently, a staggering 80 percent of low-income South Carolina students are not reading on grade level. Similarly, 60 percent of Charlotte-Mecklenburg students are not reading proficiently. To help combat these statistics, Reading Partners supplements in-school tutoring with a take reading home component, which the book drive will directly impact. Each student enrolled in Reading Partners brings home more than 30 books per year. A practice which will further foster a love of reading in students, their siblings, and the rest of the family — something Cynthia believed in strongly.
To participate in the month-long book drive, and to help celebrate the life and community-first spirit of Cynthia Graham Hurd, please visit any regional branch of the Charleston County Public Library or the following Charlotte locations: WBTV Charlotte, Joseph W. Grier Academy, Oakdale Elementary, and Sugar Creek Charter School. Drop-off locations will accept donations of new or gently-loved books that are appropriate for K-5 grade students.
Charleston book drop-off locations:
Dorchester Road Regional Library – 6325 Dorchester Road, 843-552- 6466

Hurd/St. Andrews Regional Library – 1735 N. Woodmere Drive, 843-766- 2546

John's Island Regional Library – 3531 Maybank Highway, 843-559- 1945

Main Library – 68 Calhoun Street, downtown, 843-805- 6930

Mt. Pleasant Regional Library – 1133 Mathis Ferry Road, 843-849- 6161

Otranto Road Regional Library – 2261 Otranto Road, 843-572- 4094



Charlotte book drop-off locations:
WBTV Charlotte – 1 Julian Price Place, 704-374- 3500

Joseph W Grier Academy
 – 8330 Grier Road, 980-343- 5671

Oakdale Elementary
 – 1825 Oakdale Road, 980-343- 6076

Sugar Creek Charter School 
– 4101 North Tryon Street, 704-509- 5470