January 23, 2019
Every Hour Empowers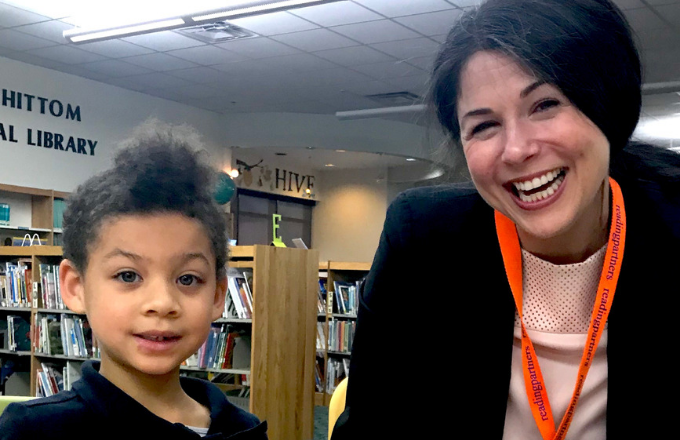 Since coming to Tulsa in the fall of 2013, Reading Partners has grown from engaging 603 volunteers every week in Tulsa schools, to now working with an estimated 2,000 volunteers in 2019.
This growth has primarily been sustained by a grassroots approach to volunteer recruitment, and the word of mouth from individuals involved with the program.
One of Reading Partners first community partners, the University of Tulsa, has helped recruit more than 100 students to volunteer each year through the True Blue Neighbors Program. In February of 2016, Susan Bynum; then a student at the University of Tulsa College of Law, signed up and began working with a first grade student at Celia Clinton Elementary.
Over the next two years, Susan would go to Celia Clinton for an hour each week to work with her student Raye. During that one hour, she helped Raye master key foundational reading skills she needed to read proficiently by the third grade.
I got involved with Reading Partners because I wanted to do something to support our local schools,
Susan said. "I'm not an educator or a policy maker. I'm a mom, and at the time was a law student. I didn't have a lot of extra time, but I care about our community and this was a natural way for me to get involved."
Susan came home from her tutoring session each week and shared stories about Raye with her husband, GT Bynum, who at the time was running for Mayor. Committed to making Tulsa a nationally competitive city, he was looking for ways to better engage the education community.
When I was elected Mayor, I knew Reading Partners was an organization that I could support, not only because of my wife's experiences, but also because of the importance third grade reading has on a student's academic outcomes and therefore our local community.
In November of 2016, Bynum joined in a city-wide effort to significantly increase reading proficiency for Tulsa children, by pledging to be a reading partner and issuing a challenge for 2,000 Tulsans to join him.
"I can tell you, from Susan's experiences and mine, there just aren't many things that you can do for an hour a week that are going to change somebody's life forever," Bynum said.
Soon after taking office in January of 2017, Mayor Bynum issued an executive order that allowed City of Tulsa employees to use their lunch breaks to volunteer with Reading Partners. The following school year, more than 100 City of Tulsa employees took advantage of the opportunity and became weekly volunteers.
Tom Moyes, who works in the Water and Sewer Department, was one of the first City of Tulsa employees to jump at the chance to get involved.
"I was so grateful for the opportunity to get involved with Reading Partners," Moyes said. "I wanted to get involved so I could give children in the community what so many people gave me at a similar age. Reading literally opens the entire world to everyone, no matter their circumstances."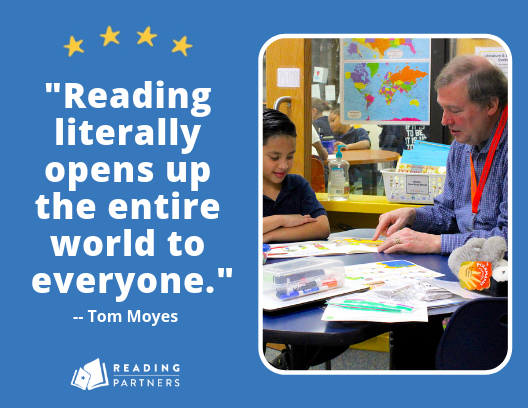 Tom was matched with a first grade student and began coming to his weekly sessions. However, it was in the hallway that his passion for the program grew to another level.
"I had just dropped my student off in class, when another little girl approached me in the hallway," Tom said.
She looked up at me and asked, 'Would you be my reading partner?' and I melted like butter in a hot frying pan.
That's when Tom, who is also a deacon at St. Anne's Catholic Church, decided to get his church congregation involved. A couple of weeks later, he worked with the Reading Partners team to recruit 14 new volunteers to become weekly tutors. That's how Mary Keaney, now a volunteer at McClure Elementary became a reading partner.
While each of these individuals; Susan, Tom and Mary, may have only been volunteering for just an hour a week, they were ensuring that hundreds more students received the support they needed by sharing their passion for their students and Reading Partners with those around them.
"If one volunteer can get one student excited about learning how to read, the entire program is worth it," Mary said. "Everyone has a part to play in closing the achievement gap, and I'm determined to play my part and be that volunteer for a student."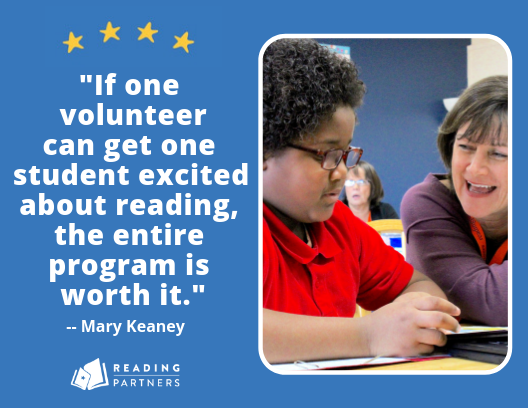 It takes each individual, every one person, to make up the collective 2,000 individuals needed to serve 1,600 students in Reading Partners this year. Currently, Reading Partners needs an additional 500 volunteers to sign up before the end of February to ensure each student receives the minimum number of sessions needed to succeed in the program.
Every hour with Reading Partners empowers a student to become a lifelong reader.
We hope you're inspired to tell someone about Reading Partners today.