November 13, 2018
Five questions for good: Philanthropic spotlight with Kathleen McCarthy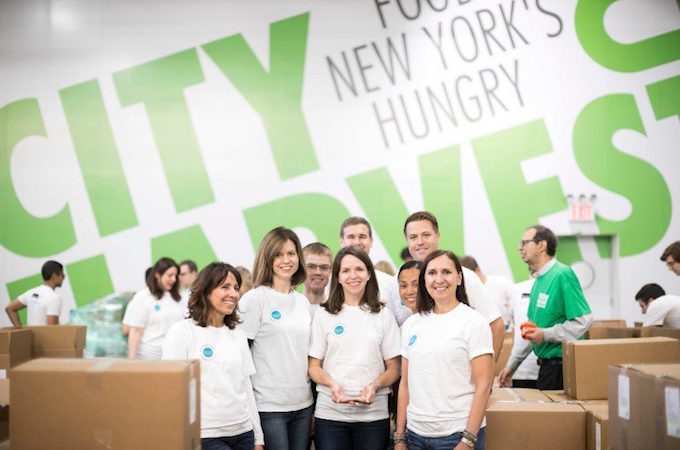 Originally published by Blackstone Charitable Foundation
In this edition of Five Questions for Good, Amy Stursberg, Executive Director of the Blackstone Foundation, sat down with Kathleen McCarthy, Senior Managing Director and Global Co-Head of Blackstone Real Estate, to discuss her philanthropic efforts, speaking to her kids about giving back, and her commitment to helping hungry New Yorkers.
Amy Stursberg: What motivated you to get philanthropically involved? And how do you approach your giving?
Kathleen McCarthy: After our first daughter was born, we decided it was time to get organized in terms of our giving and community service. We wanted to give both time and money because we feel more engaged and rewarded when we can see the tangible impact of our contributions. We also recognized that at this stage in our lives and careers, there's a limit to how many organizations we can support in a meaningful way. We started by thinking about two things that make us happy — food and books — which unfortunately are not so accessible to everyone. To this end, Matt became a tutor and a board member with the NYC Chapter of Reading Partners, and I became a volunteer and Board member with City Harvest. We felt that these two organizations were tackling incredibly important social justice issues — food scarcity and literacy — in really focused, palpable ways.
With Reading Partners, for example, 82 percent of students eligible for free or reduced lunches cannot read with proficiency; without these skills by fourth grade, students are four times more likely to drop out of high school. This past year, Reading Partners served over 1,072 high need students in the NYC area — and happily 84% of those students are meeting or exceeding their literacy growth goal, thanks in large part to the support they received from Matt and his fellow Reading Partner tutors.
AS: You joined City Harvest's Board of Directors a year ago. How has serving on the Board helped you with your role at Blackstone and vice versa?
KM: Serving on the board of City Harvest has exceeded all of my expectations. City Harvest has a tremendous CEO, Jilly Stephens, and Board Chair. Both of them are strategic thinkers and incredibly effective communicators. I've learned a great deal about how to be an effective leader from them. They are masters at managing a group of people who have differing ideas and varying concerns. They understand how critical it is that all stakeholders and constituents, from City Harvest Employees to the communities where we provide food to board members to donors, feel invested in the mission and direction of City Harvest. And that skill — developing a shared understanding of where we need to go and how we're going to get there — is extraordinarily valuable for both my personal and professional lives.
My professional career at Blackstone has also helped me in my role at City Harvest. Like many nonprofits in New York City, real estate is very top of mind for City Harvest because our Food Rescue Facility is critical to the operation. City Harvest is considering alternatives for a new facility that will support our long-term strategic goals. My familiarity with "last mile logistics" has put me in a great position to help them with this project.
AS: You now have two young daughters. How have you and your husband Matt instilled in them a sense of responsibility to give back?
KM: We are trying to do what our parents did for us, which is set a good example and make "helping others" a regular part of our conversations at home.
I have memories from when I was a very small child of my dad volunteering in the evenings — after a very long day at work — with adults who were ESL learners. My mother never let us forget to bring canned food to the collection at church, which went to a parish food pantry just a few miles away in a high poverty community. I think these experiences were really formative and have informed the behaviors we are trying to model for our daughters.
We also speak with them openly about the work we do with City Harvest and Reading Partners, and about the time we give to each organization. They know that Matt goes to the Lower East Side on Tuesdays after he drops them at school to tutor two children who need help learning to read. And while they don't yet understand what it means to write a check or weigh in on a decision about real estate, they do understand sharing something that you have with someone else.
AS: I agree that talking to your children about giving back is critical, but what does this look like in practice?
KM: Last summer, we had a bumper crop of tomatoes in our garden. One morning over breakfast, I told the girls that I wouldn't be home for bedtime because I was going to a meeting for City Harvest, which needs our help because there are a lot of people in New York City who don't have enough food to keep their bellies full. We discussed how these people can't just go to the grocery store to solve the problem like we can. I asked my youngest daughter what she might do if she met someone who was hungry. She was so excited to suggest, "We could give them some of our tomatoes!" I nearly burst with pride. Sometimes I feel a little nuts having conversations with tiny children about people who are less fortunate, but this showed that she's starting to formulate her own answer to the question, "what might you do for someone who needs help or needs something that they don't have?"
AS: You've done a remarkable job of balancing a demanding career with a young family, and still finding the time to support your community. What advice do you have for Blackstone employees who may be trying to find a way to get involved philanthropically?
KM: For me, it comes down to being happy and inspired. I want to bring a lot of positive energy to my work and to my personal life. The time I spend with City Harvest and at Reading Partners motivates and excites me, and that makes me a better colleague and a happier parent and spouse.
My advice would be to educate yourself about the issues that matter most to you and then find a way to get involved. We're lucky that here at Blackstone we have so many colleagues who give back to our communities in a myriad of ways, and who are ready and willing to share their experiences. The team that works for the Blackstone Charitable Foundation is an incredible resource if you need help navigating charitable giving and service. I've been so grateful for the Foundation's support in deepening Blackstone's relationship with both City Harvest and Reading Partners, including providing opportunities for younger employees to get involved as well. We've organized groups of analysts from Real Estate to serve as reading tutors for a day, and nearly 500 Blackstone volunteers participate in City Harvest repacks every year.
Through my commitments, I'm reminded of why I first got into finance — to build a set of skills that I thought I could master and then apply anywhere. I remember a conversation I had with a senior partner while interviewing for my first job after college. He said that most of us are still trying to figure out what we want to be when we grow up. He said, "Everything I've learned here I can take into my next chapter, which will be much more about serving people than about serving clients." That really resonated with me. For so many of us, now and in our next chapters, there's room in our lives to give: to give our time, to give financial support, to engage our networks, to think creatively about how we can ensure that there are enough resources for all. In short, a life of service will lead to more happiness. I know it does for me, it does for my family.