April 6, 2017
Join us for the Read to Succeed Breakfast event: April 25, 2017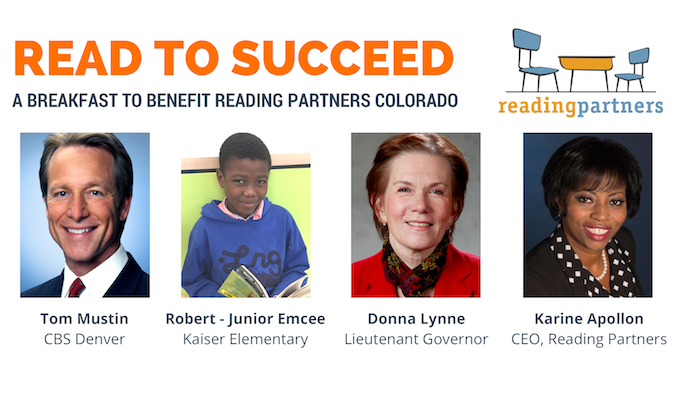 On Tuesday, April 25, Reading Partners Colorado supporters will come together for the second annual Read to Succeed Breakfast. This event will help Reading Partners meet its program goals this year and expand services to more students next school year and beyond. The breakfast will feature excellent speakers, including a keynote address from Lieutenant Governor Donna Lynne, a testimonial from a student and tutor pair, a special appearance from Mayor Michael B. Hancock, and closing remarks from Reading Partners' CEO Karine Apollon.
Please join us on April 25 to ensure more Colorado kids become lifelong readers!
When: April 25, 2017. Doors open at 7 am and the program will run from 7:30–9 am.
Where: The event will take place at the Grand Hyatt Denver.
---
Here's how you can help:
Attend the breakfast 
Register today to attend this inaugural fundraising event at no cost (suggested donation: $150). To reserve your place, please contact Amber Matkowski at amber.matkowski@readingpartners.org or by calling (720) 409-9909.
Serve as a table captain
We'll provide all the tools you need to be a champion for our mission! Simply invite friends or colleagues to join you for the breakfast to fill a table of up to 10. Please contact Amber Matkowski at amber.matkowski@readingpartners.org to learn more.
Be a sponsor
Support our mission by serving as an event sponsor. Contact Margie Thirlby at margie.thirlby@readingpartners.org to learn more about sponsorship opportunities.
Unable to attend but want to support our fundraising efforts?
You can participate in our "Skip the Biscuit" campaign! Reading Partners hopes to raise $5,000 from supporters who are unable to attend the breakfast. You can donate online or mail a check to 1600 Downing St Suite 700 Denver, CO 80218. Just be sure to note that you'd like your donation to go toward the Colorado region and our Skip the Biscuit campaign.