September 22, 2016
Lake City principals see benefits of Reading Partners program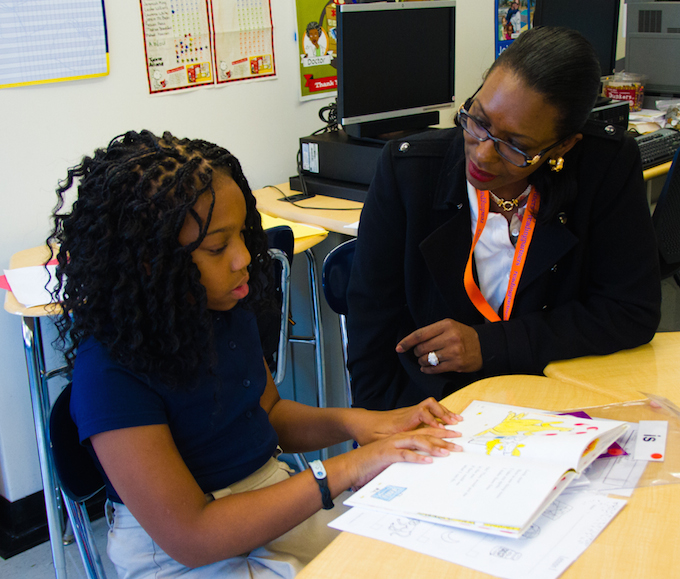 Originally published by SCNow.
By Shamira McCray
LAKE CITY, S.C. – Principals at Lake City Early Childhood Center and Main Street Elementary School said they have seen an improvement in student's reading skills since the reading support program, Reading Partners, was first implemented in the schools in 2014.
Gloria Campbell, Reading Partners program manager for Lake City and Berkeley County, said the program was started in Lake City because the superintendent at the time, Keith Callicutt, was seeking help for the literacy problem the district was facing.
"Because this is a rural area, we were looking to serve about 35 students per school," Campbell said. "We ended up serving almost double that amount at Lake City Early Childhood Center. And here (Main Street Elementary School), we served about 32 students the first year."
Last year, 73 students were served at Main Street Elementary, and 62 were served at Lake City Early Childhood Center.
Main Street Elementary School Principal Shemmicca Moore said the school makes referrals to the Reading Partners program based on a student's reading level.
"We look at who really needs the extra support, and we refer those students to Reading Partners," Moore said. "Additionally, we have other reading programs or interventionists who work with some of our lower performing students; however, Reading Partners is definitely a great support."
Students who participate in Reading Partners meet one-on-one with tutors twice a week for 45 minutes. Tutors come from within Florence County School District Three and the Lake City community.
"The first thing that they (students) do is they pick out a book for that tutor to read to them," Campbell said. "That is to model good reading fluency."
Tutors work with students one-on-one and read to them for about 10 minutes as a warm-up to the individualized sessions.
"And then, they go into their lesson," Campbell. "So, there's a book, and then they have a worksheet. And here, we basically focus on comprehension. So once they read, they recall what they've read."
If students encounter words they cannot pronounce, the tutors will work with them with the pronunciation.
Lake City Early Childhood Center Principal Mary Howard said she has seen positive results from the reading program since it first started at the school in 2014.
"One of the things that I've seen is it helped build a reader's confidence because they have the same person coming in, somebody different from their classroom (teacher,) that's actually buying into their education as well," Howard said. "So building their reading confidence has most definitely been a highlight."
Howard said students like the program. One incentive of the program is a take-home reading component.
"And they can actually take books home to add to their home library," she said.
Twice a year, parents get to visit their students during the Reading Partners sessions to see their growth and to read to them.
"And we've gotten a lot of feedback from parents about their approval of the program," Howard said.
Moore said she has seen an increase in reading levels of students who participate in Reading Partners. STAR assessments given by Reading Partners and Measures of Academic Progress (MAP) assessments are evidence, she said.
"They're (students) confident by the end of the year with their reading and reading abilities," Moore said "And it definitely helps to support the instruction in the classroom."
Howard also said STAR and MAP assessments have shown an increase in her student's ability to read.
"The program aligns with the school's goals. Our school focuses on literacy and increasing student's ability to read and building their stamina," Howard said. "So the program really supports those school goals, and that's very valuable for both teacher and school and child."
Moore said Reading Partners is a program she would like to see implemented at the school for years to come.
Anyone with a love of reading can volunteer with Reading Partners, Campbell said. Each volunteer is trained one-on-one. Visit www.readingpartners.org, or call either of the schools for more information about the program.