December 22, 2015
Life.Church tackles education with Reading Partners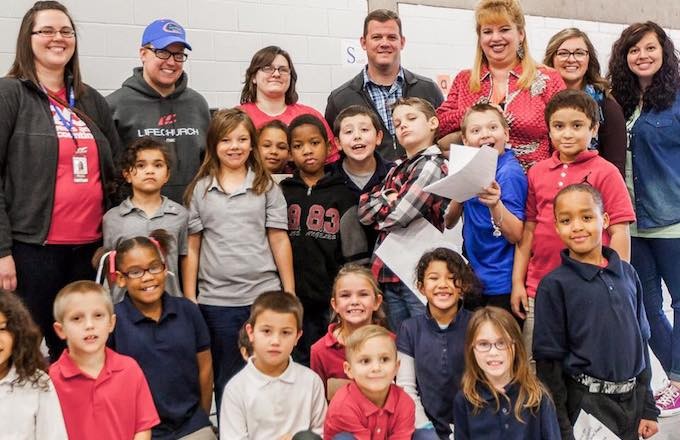 By: Tezlynn Tillmon
Reading Partners Tulsa has a lot to celebrate this holiday season. Nearly 800 students are enrolled in the program and over 1,150 volunteers are dedicating their time to helping kids learn to read. Our volunteers and the partners  are the backbone of our organization. One of our most productive partnerships is with the Jenks and Broken Arrow campuses of Life.Church. Life.Church's mission is to be passionate about serving the global and local communities. Whether in person or online, individually or in groups, within their organization and around the world, Life.Church is focused on supporting and engaging in relationships that provide relief and restoration to those who need it most.
Reading Partners and the Life.Church campuses of Broken Arrow and Jenks have forged a strong relationship to improve educational opportunities for children in Tulsa. Each of Life.Church's campuses  partner with  Cooper Elementary and Park Elementary, respectively, and enlist volunteers to serve in schools throughout Tulsa.
What makes the partnership with Life.Church so unique is that Life.Church doesn't just send a few members out to volunteer and call it a day. Instead, this extraordinary group of people get heavily invested by actively creating opportunities where Reading Partners Tulsa can recruit more and more volunteers throughout the school year. From tabling events, to testimonial times, and creating an online volunteer form for members to get involveds, Life.Church truly embodies what it means to be a  partner.
The site coordinator of Park Elementary, Michelle Savahl, says, "Life.Church Jenks has really integrated itself into the lives of the students here at Park Elementary by connecting locally as our community partner in terms of monetary assistance, as well as volunteering to mentor and help struggling readers. Almost the entire staff of Life.Church Jenks participates, and it is one of the highlights of these children's weeks to have their reading partners come to see them. Together, we are truly better."
On December 3, 2015, Reading Partners' staff, tutors, families, and supporters came together at Park Elementary for a Winter Reading Celebration to celebrate students' reading successes with a reading recital.  During the celebration, Life.Church presented Reading Partners Tulsa with a $20,000 grant to continue making a difference in the lives and reading skills of Tulsa's kids..
Reading Partners became an official local missions partner with Life.Church in the fall of 2014, and since then, more than 50 volunteers from Life.Church have worked with Reading Partners students throughout Tulsa in improving their reading proficiency. Reading Partners and Life.Church look forward to a long and impactful partnership, serving more students throughout the city of Tulsa in the coming years.
---
Join us!
Reading Partners Tulsa wants to serve 200 more students this year, and we need your help! To get involved, sign up to become a volunteer reading partner at readingpartners.org/volunteer, or you can donate at readingpartners.org/donate. To refer a friend or another organization to Reading Partners, email us at volunteerTUL@readingpartners.org or call us at 918-949-1979.
You can stay up to date on the latest news from Reading Partners Tulsa on Facebook and Twitter.