October 30, 2018
LIFT10 initiative: 2018-19 school year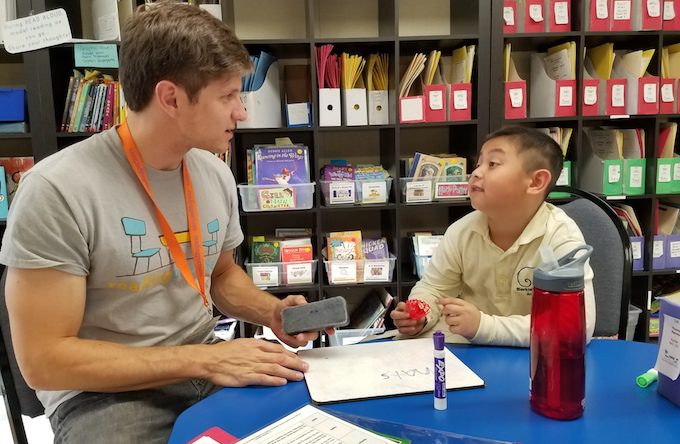 LIFT10 (Literacy Impact Forged Together) is a four-year initiative to increase reading skills and move third grade students on the path to proficiency in our Oakland partner schools. With the support of our generous funders, Oakland Unified School District (OUSD), the City of Oakland, Mayor Libby Schaaf and the Oakland Promise, and community partners such as the Oakland Literacy Coalition, Reading Partners SF Bay Area launched the LIFT10 initiative during the 2016-17 school year.
With 20 years of proven experience, Reading Partners knows that students who struggle with foundational literacy skills over time experience an increasing academic disadvantage. Mastering key foundational literacy skills typically learned in kindergarten through second-grade is essential for success in school and for future career opportunities.
Research into literacy acquisition has found that children who do not master key literacy skills during the early stages of their cognitive development grow into increasingly less skilled readers than their peers. Students who are both unable to read proficiently by the end of third grade are four times less likely to graduate from high school (The Annie Casey Foundation, 2012).  
Lessons learned in years one and two
During the 2016-17 school year, year one of our LIFT10 initiative, Reading Partners prioritized deepening our alignment with OUSD and other key partners to fulfill a critical Tier II-III intervention need. Our goal was to expand our services to new schools, and to strategically increase our K-2 enrollment to focus on early intervention and build a LIFT10 cohort. For the 2016-17 school year:
73% of students met their primary end-of-year literacy goals

26% program growth with 40 new classrooms served

72% of students made more than a year's growth in reading skills, and nearly half gaining two or more years of reading skills.
Year two of our initiative, the 2017-18 school year, was focused on increasing our impact in Oakland by enrolling more students at each of our schools, and continuing to focus on early intervention with our LIFT10 cohort, ensuring one-third of students served are 2nd graders in 2018-19 school year.
Enrolled an average of 56 students per reading center

Increased K-2 enrollment to 65% of students served.
Reading Partners is continuing our track record of strong results for our students. During the 2017-18 school year:
Literacy lead impact
We are excited to expand our Literacy Lead program, due to its great success. For the 2018-19 year, we increased the number of AmeriCorps Literacy Leads from six to eight in order to serve more students at some of the schools most in need of our services and raise student outcomes through increased fidelity and dosage. Literacy Leads will continue to be strategically partnered with students of varying needs to provide consistent, high-quality tutoring sessions to students who benefit from additional sessions to further develop their skills.
During the 2017-18 school year, students paired with our Literacy Leads:
Received

14

more tutoring sessions than students paired with volunteers, nearly

5,000

tutoring sessions in total

Outperformed students paired with community volunteers with

86%

of students reaching their primary literacy growth goals
Year three goals
Moving forward with year three of our initiative in the 2018-19 school year, we will continue to focus on the need for literacy intervention in Oakland, in alignment with our partners. We will continue to deepen our impact during the 2018-19 school year by:
Seeking to serve

58

students per reading center

Expanding our program to a total of

13

LIFT10 reading centers including two new neighborhoods in West and North Oakland

Recruiting

575

community volunteers.
As stated in their report on the state of early literacy, our partner the Rogers Family Foundation shares the ongoing need for high quality literacy interventions in OUSD.  Reading Partners is proud of our accomplishments, in serving 1,376 students in OUSD to date with our LIFT10 initiative. Every book read, every letter learned is a win for our program and our students.  While the need remains staggering, Reading Partners is thrilled to continue with our plan for expansion and greater impact in Oakland.
---
Thanks to our partners!
Aspire Public Schools
Brin Wojcicki Foundation
Barrios Trust
Cal State East Bay
City of Oakland
The Clorox Company
East Bay Community Foundation
Education for Change Public Schools
Golden State Warriors
The Hanafin Foundation
Hellman Foundation
Irene S. Scully Family Foundation
Kenneth Rainin Foundation
Lisa and John Pritzker Family Fund
Oakland Literacy Coalition
Oakland Promise
Oakland Unified School District
Quest Foundation
Rogers Family Foundation
Saint Mary's College
Severns Family Foundation
Tipping Point Community
---
Want to get involved? Join us as a volunteer reading partner, or contact our development director, Michelle Collier, at michelle.collier@readingpartners.org to become a LIFT10 supporter!