March 3, 2016
Mayor Schaaf and Reading Partners join together to announce LIFT10 initiative in Oakland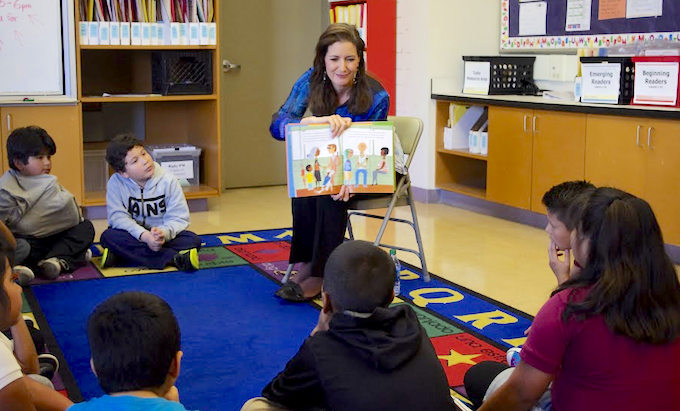 On Read Across America Day, a day created to spark a passion for reading among children nationwide, Oakland Mayor Libby Schaaf and Michelle Torgerson, executive director of Reading Partners Bay Area, marked the launch of an exciting local literacy initiative at the Reading Partners reading center inside Think College Now Elementary / International Community School.
The initiative, known as LIFT10, aims to support the Oakland Promise by increasing early reading proficiency by 10 percentage points among Oakland fourth grade students over the next four years.
"Learning to read is essential to get ahead in school and in life," said Oakland Mayor Libby Schaaf.
"Reading Partners' LIFT10 is offering critical support to Oakland students and our city-wide initiative, the Oakland Promise, which over the next decade aims to triple the number of Oakland high school graduates who complete college by giving them hope and resources so they can succeed in the careers of their choice."
Across Oakland Unified School District (OUSD), more than seven in 10 students come from low-income households and more than 70 percent of fourth grade students in OUSD are reading below grade level.
Without reading, kids won't have an equitable chance to succeed in school or in life. By providing students with proven, individualized reading support from trained volunteers, Reading Partners collaborates with local public schools and neighboring community members to ensure struggling students are on-track to read at grade-level. Reading Partners is working closely with the Mayor's Office, OUSD, local nonprofit organizations such as the Oakland Literacy Coalition, Tipping Point Community and many others in a collaborative effort to significantly scale its program in Oakland to equip more students with the foundational skills they need to read at grade level by fourth grade.
"Literacy is one of the essential foundations of all learning," said Dr. Devin Dillon, Chief Academic Officer of Oakland Unified School District. "Every child should love reading and be reading at or above grade level. We can get there in Oakland by coupling high-quality reading instruction in every classroom with support from programs like Reading Partners and the LIFT10 Initiative."
About the LIFT10 Initiative
Reading Partners is at an exciting inflection point as they shift emphasis from literacy gains for individual students to having a population-level impact on fourth grade reading proficiency in schools, districts, and communities. The Literacy Impact Forged Together (LIFT10) pilot will be launched in several cities across the country in 2016, including Oakland.
LIFT10 will mobilize the Oakland community and key partners to come together in an unprecedented way to provide comprehensive literacy support to hundreds of Oakland elementary school students with the goal of increasing fourth grade reading proficiency +10 percentage points by 2020 and putting many more students on a path to proficiency.
"At Reading Partners our mission is to help all children become lifelong readers with the confidence and ability to reach their full potential," said Michelle Torgerson, executive director of Reading Partners Bay Area. "Through our LIFT10 initiative, Reading Partners is committed to working closely with existing and new partner schools across Oakland Unified School District and in collaboration with the Mayor's office and numerous other community organizations to dramatically improve the early literacy support provided to Oakland students."