May 21, 2018
The Melody McCutcheon Volunteering in Excellence Award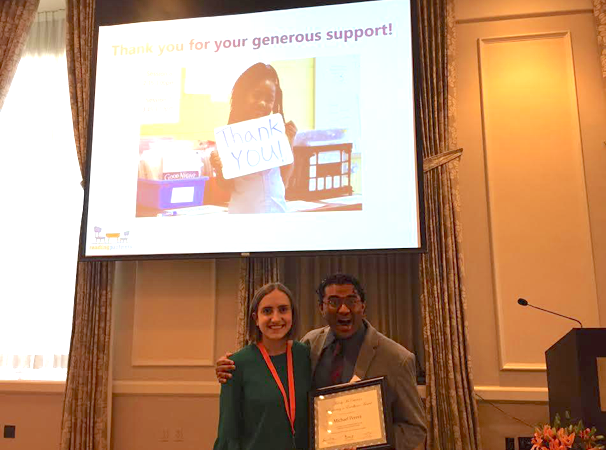 During the afternoon of April 26, 2018, bittersweet feelings lingered around the room filled with over 200 people. At the Reading Partners Seattle annual luncheon, Board Chairman Brad Creswell presented the Melody McCutcheon Volunteering in Excellence Award to Michael Perera, a Madrona K-8 School volunteer tutor.
In November 2017, the Reading Partners Seattle team unexpectedly lost an extremely thoughtful board member, Melody McCutcheon. Executive Director Cassy Charyn described McCutcheon as someone who was eager, dedicated, and selfless. McCutcheon exceeded the standard of an excellent volunteer.
In honor of her legacy, Reading Partners Seattle created the Melody McCutcheon Volunteering in Excellence Award to recognize a volunteer who displays exceptional qualities. The recipient of the award, Michael Perera, consistently displays patience and dedication. Perera's Site Coordinator Maya Kraft states:
Michael is always patient and understanding of his student, and wants to support her in any way possible
Kraft continues to state, "he celebrates the students' strengths and really makes a point to practice what they are struggling with. He is always eager to collaborate with me after his sessions and is very thoughtful about what went well and what could go better".
Perera is the first of many who will continue to keep McCutcheon's legacy alive.