December 27, 2018
In one hour a week, you can help a child learn to read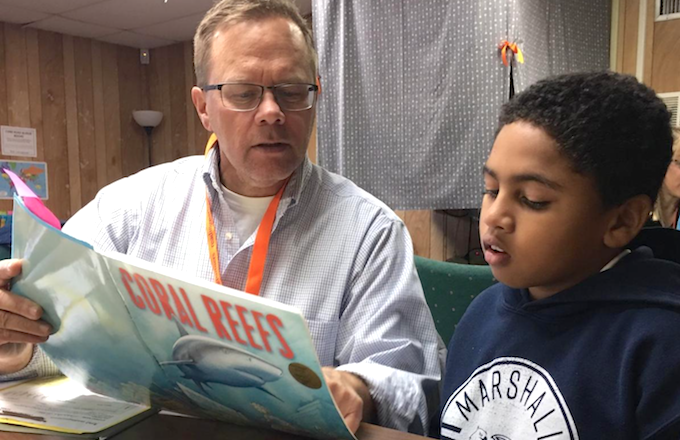 Originally published by Mike Strain on Tulsa World
Kevin Canfield isn't afraid to ask the tough questions. If you don't believe that, check with the mayor or city councilors.
And on a recent Tuesday morning, the Tulsa World's City Hall reporter was asking one: "Do you know what the word 'mound' means?" he said.
Again, Kevin asks, persistently but gently: "Do you know what a mound is?"
This time, Amantae responds, and soon, the Marshall Elementary third-grader learns the meaning of mound as Kevin coaches him through a 40-minute reading lesson.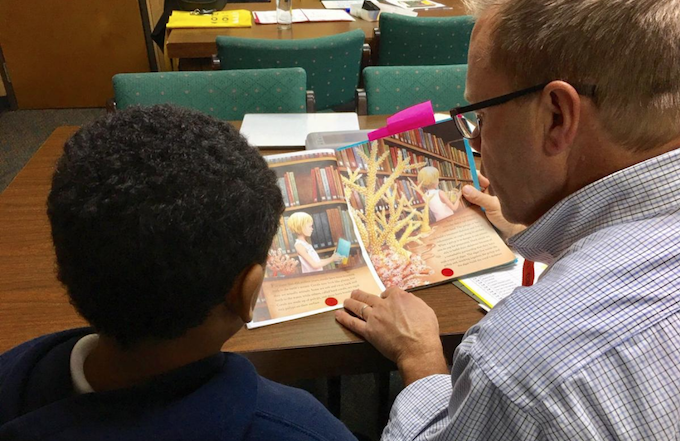 Kevin and Amantae work together every week in a terrific program. You may have heard of Reading Partners because it's been in Tulsa Public Schools since the 2013-14 school year. But if you don't know much about it, I hope you'll read on. Because they need volunteers and — as you'll see — a one-hour per week commitment can help make a lifelong difference for young students.
Filling a need: Did you know the vast majority of Tulsa Public Schools students are not reading proficiently by third grade, according to state tests?
"To me, we're really in the middle of a crisis in Tulsa," Reading Partners Executive Director Justin Harlan told me last week. He wondered what affect that reading deficiency could have on our city in 10 years.
There are myriad reasons students are struggling. Those can range from swollen class sizes to economic disadvantages. Reading Partners reports that 83 percent of its students in Tulsa Public Schools are "economically disadvantaged."
Reading Partners is a nonprofit national program — part of AmeriCorps — that receives two-thirds of its funding through private donations, Harlan said. The remainder of the money comes from the federal government and local schools that sign up.
The program has grown quickly. In its first year in Tulsa Public Schools, Reading Partners had 449 students. This year, it has more than 1,600. There are 27 reading centers in elementary schools across the city.
Volunteers needed: There are many more students who can use the help, but the program doesn't have enough volunteers. About 2,000 will be needed this year, Harlan said.
There are two main obstacles in volunteer recruitment, he said. One is the time commitment. It's about an hour a week, and Harlan admits that it sometimes is hectic when it's time to go tutor.
It never feels like a waste of time… I feel like I've made a difference.
Kevin is in his fourth year volunteering in the program that includes students from kindergarten to third grade.
"I just get a lot out of it because I know how important it is to be able to read and write," he said. (By the way, on the day I met Kevin at Marshall Elementary, Tulsa World reporter Andrea Eger also was there tutoring a first-grader. Andrea is in her fourth year volunteering.)
The second obstacle Harlan mentioned was the uncertainty potential volunteers may have about teaching young kids how to read. Reading Partners is aware of that and has easy-to-follow lesson plans that take volunteers step by step through about 40 minutes of tutoring.
"It tells you when to say something and when to do something," Harlan said. "It really makes it pretty easy on the volunteers."
The program works, and even if the lesson doesn't go exactly as planned, there are benefits beyond the reading.
I think the biggest part is having one-on-one time with a caring adult
Said Lyssa Flanagan, a regional site coordinator who was at Marshall on a recent morning.
Hailee Jefferys is a site coordinator at Kendall-Whittier, where I volunteer. She's noticed students' progress, but she sees something else students receive.
"Confidence, more than anything," she said.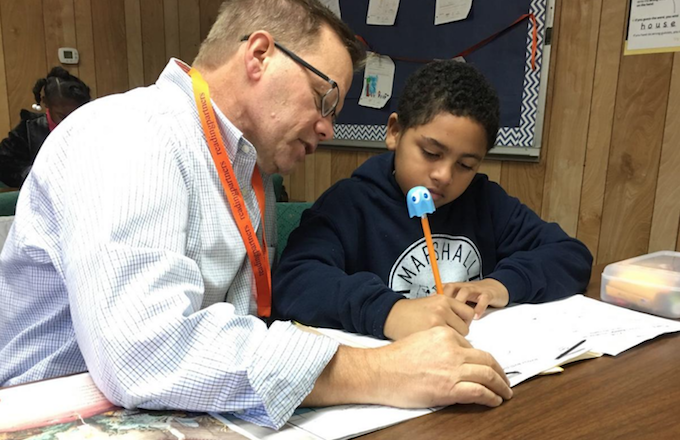 On the day she told me this, a second-grader excitedly came to her desk. His lesson had a longer book than he expected. He reluctantly proceeded and was thrilled to share that he completed all 361 words in the book.
Kevin has seen the same thing, but he will tell you it's not always easy. Growth rarely is, and students (just like adults) have bad days, too.
"Sometimes, it's challenging," he said. "Teachers know what I'm saying."
But with those challenges are rewards. In a Reading Partners survey from last school year, 95 percent of volunteers said they were satisfied with the experience.
Why does Kevin keep volunteering? He first talked about the fundamental importance of reading. Someone taught him that, and he wants to share it.
Then he mentioned something else — something all volunteers have the chance to experience.
"I don't want this to sound cliché. I think most people in Reading Partners would tell you they get more out of it than the kid. Reading Partners may not want to hear that," Kevin said, almost guiltily. "But it's a fun, rewarding experience. …
It's the kids who are responsible for the joy you get out of it.