January 23, 2019
Reading Partners 20th Anniversary Benefit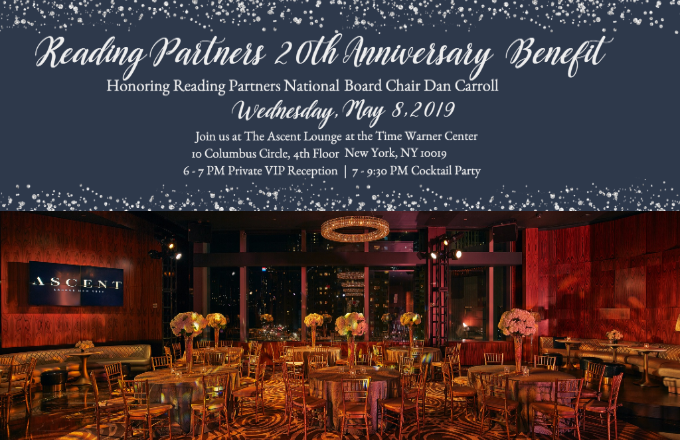 Join Reading Partners New York at our 20th Anniversary Benefit on Wednesday, May 8th at the Ascent Lounge! This event celebrates 20 years of Reading Partners engaging communities and empowering students across the country, and growing our work in New York City. This year, we are thrilled to honor Dan Carroll, Reading Partners National Board Chair and founding partner of Brooklands Capital Strategies. As National Board Chair, Dan Carroll has played a vital role in creating a solid foundation allowing Reading Partners to reach more students across the country with its life-changing program.

Over drinks and hors d'oeuvres, 350 guests will gather to engage with other professionals who value education and are passionate about giving back to their communities. This 20th Anniversary Benefit will engage professionals representing a wide cross-section of industries and offers a variety of sponsorship levels for individual and corporate involvement. For more information, please contact Danica Stewart, development manager at (646) 402-6280 or danica.stewart@readingpartners.org.
Event information:
Date: May 8, 2019
Location: Ascent Lounge, Time Warner Center, 10 Columbus Circle, 4th Floor New York, NY 10019
VIP Reception: 6-7 pm
Cocktail Party: 7-9:30 pm
Honoree: Dan Carroll, Reading Partners national board chair, Brooklands Capital Strategies
Our sponsors:
Corporate sponsorship levels can be found here.
Information about individual contributions can be found here.
For more information about corporate sponsorship opportunities, contact Megan Ross, director of new business development, at (917) 658-8511 or megan.ross@readingpartners.org