September 27, 2016
Reading Partners Silicon Valley holds first tutor panel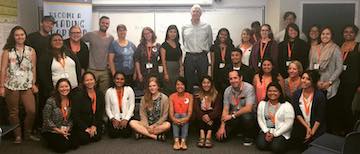 Our volunteers do amazing work every week when they show up to tutor. However, the magic of each student-tutor relationship can be hard to convey to someone outside the reading center. We realized that, in order to allow for a broader dialogue around tutors' experiences, we needed to bring tutors out of the reading center and into the community to share their experiences.
This is why we started the new school year with our first Tutor Panel, held at Lakewood Elementary in Sunnyvale.
"I've been wanting to do this since forever," said Community Engagement Manager Gina Roberti, who organized the panel. "Our tutors are what make our program so special. I wanted to give them a forum to share their stories with us, and offer advice on how we can make the Reading Partners experience even better for our volunteers."
We invited a group of five diverse, dedicated tutors to serve as panelists: John Turner, a retired high school English teacher who has tutored with Reading Partners for 12 years; Pat Boyle, an experienced volunteer and pillar of the Sunnyvale community; Paige Nguyen, a realtor who tutored with Reading Partners in Sacramento before moving to Silicon Valley; Vince Passanisi, an accountant at KPMG who has worked to get his coworkers involved with the program; and Priyanka Kapoor, a former high school volunteer-turned-intern who just began her freshman year at UCLA.
As the founding region of Reading Partners, we are fortunate to have several tutors like John who have been volunteering with us for over a decade. Reading Partners has changed a lot during this time, but the fact that volunteers return year after year speaks to the positive experience they have working with their students each week.
Gina moderated the panel and asked the participants questions about their tutor experience, touching on topics like the tough challenges faced by tutors, favorite student stories, and advice for new site coordinators.
Paige spoke about one significant challenge that she has experienced as a tutor. "Sometimes students come into the program and at first they really don't want to be there," she said. "They'll tell me, 'I hate reading.'" Instead of letting this attitude discourage her, she says, "I take it as a challenge. I tell them, 'You know what? By the end of the year, you're going to love reading.'"
Paige's perspective demonstrates how truly dedicated she is to helping her student succeed. Many tutors like Paige come to Reading Partners without a formal background in education, but their enthusiasm and commitment inspire students to develop a love of reading.
Site Coordinator Alex Nichol posed another important question to the panelists: "What's something that a site coordinator can do to make you feel appreciated?"
John said that he would like to know about concrete student progress. "I want to know what my student's reading level was at the beginning of the year and what it was at the end." Concrete data achieved through our assessments is helpful to our organization, but also gives tutors the satisfaction of knowing just how much their student improved as a result of their hard work.
In addition to hosting this panel as a way for tutors to make their voices heard, it proved to be a valuable learning experience for many new AmeriCorps members serving with Reading Partners.
"Hearing the panel's stories brought back so many memories of when I tutored," said Jeannette Lee, a new site coordinator who used to tutor with Reading Partners in New York. "It was comforting to hear their passion and sincerity. They reminded me that I am just like them, and that I can do this. They gave me so much hope for a successful year."