February 17, 2022
Reading tutors are making strides for students coping with COVID learning interruptions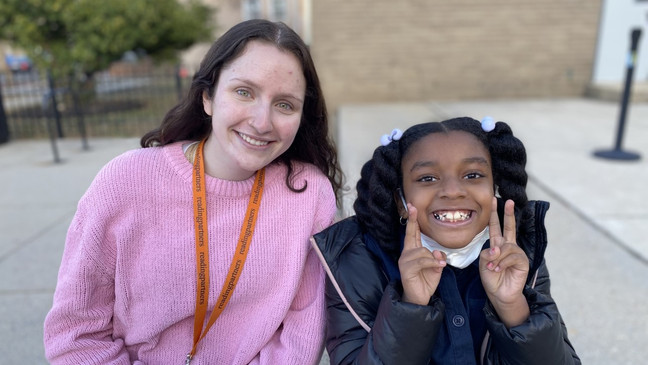 February 14, 2022 / Originally published on ABC7
Research tells us that children from under-resourced communities have struggled the most in school due to learning interruptions during the pandemic. But there's a group in the DMV changing that narrative for hundreds of children thanks to on-line tutoring.
For tutor Rosie Gruen and student Shania Bolden, online sessions for this third grader at Seaton Elementary School in DC are making all the difference in a confounding time for education.
"It's been a little hard," admits Bolden, when referring to all the challenges associated with learning during in the COVID-age.
Bolden, a precocious 9-year-old, enjoys school but started falling behind in reading a couple years ago.
"It's not hard to say I need help," says Bolden.
Through a unique partnership, the school system connected Shania's family to Reading Partners DC: a non-profit that helps K-4 students from under-resourced communities with literacy support. You could say she's a fan.
Bolden adds, "I would say to this whole entire world that Reading Partners is a fun learning place."
"I was a really big reader when I was a kid.," says tutor Rosie Gruen.
Gruen works with all kinds of students facing all manner of challenges.
"A lot of kids are slightly behind. A lot of kids are actually on track and there are some kids, unfortunately, who are pretty far behind from where they should be," says Gruen.
With a lot of work, Shania has graduate to more sophisticated reading concepts.
Gruen adds, "And when I wanted to get involved with service I thought that this would be a perfect way for me to pass on that passion to kids as well and really help them foster their love of learning and reading."
Reading Partners DC, during the 2020-21 school year, matched 516 community volunteers with 420 students from more than a dozen schools leading to nearly 11,000 tutoring sessions.
Despite disruptions to education, 79-percent of K-2 Reading Partner students and 67-percent of all participants met or exceeded their literacy growth goals, according to Reading Partners.
Shania Bolden is among those success stories. A child who sparkles every time she learns something new from a mentor shepherding her through a tough time.
"She helps me learn a lot of stuff which I did know at first," says Bolden.
A spokesperson for Reading Partners DC tells 7News On Your Side that they are always looking for community volunteers to help tutor children.