February 10, 2016
Run for Reading Partners empowers literacy advocates to support Baltimore's under-resourced schools in a new way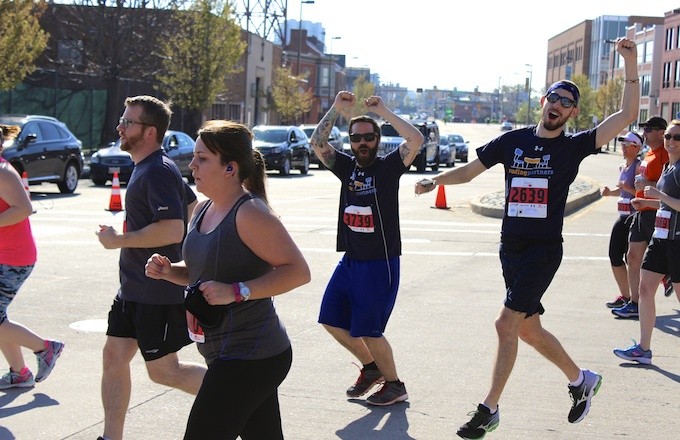 "Hey Reading Partners, we love you guys!"
"I'm a reading partner too!"
These were the cries of support for runners wearing Reading Partners shirts during the 2015 Sole for the City 10K race. This year, the Reading Partners Baltimore team is gearing up for their second annual Run for Reading Partners event, with the expectation that the community's positive energy will surpass that of last year.
Cassidy Francik, Reading Partners Baltimore's development associate states, "It's a race for the community not for the competition. It's a great race for runners of all levels, and it's a great introduction to running races. There were a handful of participants last year who were not runners, and finishing the race was really an achievement for them."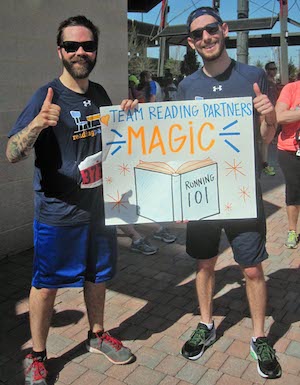 The Sole of the City 10K, hosted each year by Charm City Run, is a day of pride and celebration for runners to take ownership of the streets in Baltimore, especially along the city's landmark Inner Harbor. For this reason, Reading Partners has seized the opportunity to mesh the Sole for the City's unifying energy with their own desire to create a broader sense of community within Baltimore.
"The route is fantastic and takes you all around Baltimore. Residents sit on their stoops and cheer you on, [and] running through the harbor is always inspiring," claims Rebecca Celotto, a second-year tutor at Francis Scott Key Elementary.
Run for Reading Partners provides a unique opportunity to get the community's minds and bodies moving in support of Baltimore's struggling readers. As a fundraiser open to the public, the event brings attention to the community need Reading Partners addresses daily, while creating a way for literacy lovers to take a stand for the cause. Advocates within the Reading Partners community seize the opportunity to represent and celebrate the students they tutor. Not only do runners leverage their networks to raise money for the organization, but they also proudly sport running tags with the first names of their students on race day to show their passion and commitment to the cause. At the same time, community members seeking alternative ways to get involved with the event volunteered during the race by handing out water and cheering for the runners.
Reading Partners Baltimore hopes to cultivate that sense of community by hosting pre-race activities for runners of all skill sets to engage with each other.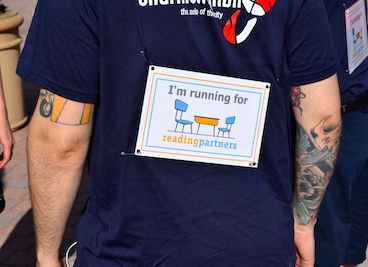 "I moved to Baltimore last spring and immediately wanted to immerse myself in the culture. I thought there was no better way to do that than volunteer with an organization that is truly involved in our community, specifically the next generation. Because I was still completing my doctorate, I had little time to tutor regularly. So, Run for Reading Partners was another way I could further become involved. I'm not a runner, [but] being a part of this team made the race so much easier from the hospitality tent and the pre-race breakfast, to the post-race team hang-out time," said Luke Johnson, a runner from last year.
This year, race day is April 16, 2016, and Reading Partners Baltimore intends to go even bigger when it comes to uniting the community to run for literacy. Through multiple pre-race social activities and social media promotion, Reading Partners Baltimore aims to recruit even more runners, growing the team from 30 to 50 runners in the hopes of increasing community investment from $8K to $10K for struggling readers. If you are interested in running for Reading Partners, please visit our sign-up page.
Anyone interested in volunteering during the race day festivities can contact Cassidy Francik at cassidy.franck@readingpartners.org for more information.