February 4, 2020
Sounding out success with Reading Partners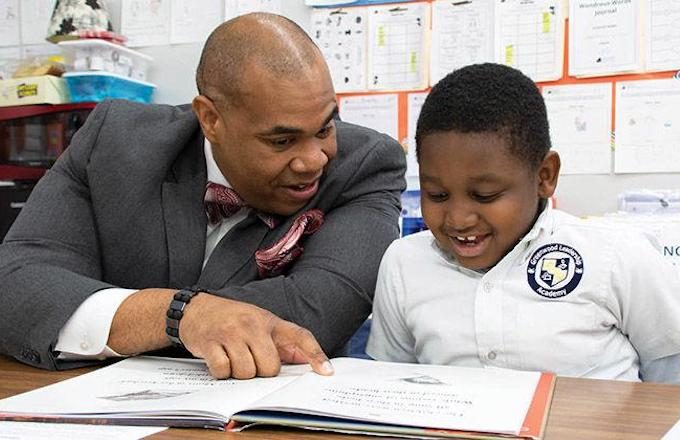 Jabar Shumate reads with Braylen during their weekly Reading Partners session. Shumate has volunteered with Reading Partners since its pilot program launched in Tulsa.
Originally published on Tulsa People by Jamie Richert Jones, photos by Michelle Pollard 
Reading is essential for success. Learning to read proficiently is critical. Yet less than a third of local fourth grade students can do so. Reading Partners of Tulsa is helping to change that.
Over the past six years, the nonprofit has experienced remarkable growth. In 2019, more than 1,900 Tulsans volunteered over 55,000 hours to help 1,600 local kids advance their reading skills.
"Last year we had the biggest impact of any Reading Partner region in the country," says Justin Harlan, senior executive director of Reading Partners Tulsa. "Tulsa is one of the smaller regions in terms of population compared to larger markets such as Los Angeles; Washington, D.C.; New York City; and Dallas."
Reading is an important lifelong skill, but third-grade reading proficiency is a key academic benchmark for students' future success. That's because in third grade there is an educational shift from learning to read to reading to learn, according to the Campaign for Grade-Level Reading.
Additionally, reading proficiency by third grade is the most important predictor of high school graduation and career success.
Given the implications, the statewide reading proficiency statistics are concerning. According to the Oklahoma Department of Education in its 2018 Oklahoma Comprehensive Literacy Plan, data shows that only 29% of fourth-grade students are at or above a proficient reading level. The study requires that students score "at or above proficient" to be considered on track for college and career readiness.
Reading Partners Tulsa, the local branch of the national nonprofit, ambitiously aims to improve that statistic. By mobilizing the community on a large scale, they pair volunteers with students, grades K-4, who are reading below grade level, and provide one-on-one tutoring. Since its inception in 2013 in Tulsa, the organization has attracted some powerful allies.
In 2017, Mayor G.T. Bynum launched the City of Tulsa Reading Partner Tutor Initiative for city employees to volunteer for one hour a week of paid volunteer time, making the City of Tulsa the largest employer partner with Reading Partners in the U.S. at the time.
"When you have people like Mayor Bynum stepping up and using his platform to plug our work and encourage citizens, that's a big deal. That's not happening everywhere," Harlan says.
Those who advocate for the program believe improving literacy not only has an immediate impact on the student who participates, but also that it serves as a long-term investment for Tulsa, with benefits ranging from future economic development to reducing crime rates.
Jabar Shumate, a former state legislator, is the interim executive director of the Met Cares Foundation, which operates Greenwood Leadership Academy, one of 27 Reading Partner school sites. He has volunteered in the program from its beginning. He was part of the Reading Partners pilot program at Anderson Elementary.
"When I was in the state legislature, I represented north Tulsa, where there were huge gaps in the educational landscape of our students," Shumate says. "I saw then the power of the program to connect people from the community to this critical work of pushing our kids forward."
These expanded educational opportunities become even more imperative for economically challenged students. According to the Campaign for Grade-Level Reading, a partner of Reading Partners nationwide, four out of every five low-income students miss the critical third-grade milestone.
"Reading Partners has been one of our best programs to help close some of the gaps that exist for our students," Shumate says. "It's the foundation of what will be their educational experience. If they don't have strong reading skills, it's almost impossible to push them toward mastery in other fields."
Shumate encourages his staff to volunteer an hour a week as Reading Partners, and he leads by example. He greatly values the time he devotes to tutoring Greenwood Learning Academy students.
"In the world of being an administrator, it's easy to get lost in all the administrative duties," Shumate says. "I love the opportunity to connect and bond with our students. It's probably the most important hour of my week."
For those unable to volunteer an hour a week, the organization's commitment extends beyond weekly tutoring sessions. Reading Partners also provides a program called Take Reading Home, in which students have the opportunity to take home a new book in exchange for doing a book report.
According to the Campaign for Grade-Level Reading, 61% of low-income families have no children's books in their home. Families living in poverty often lack funds to purchase books, as well as access to libraries.
"Not only are we teaching kids literacy skills, we're also building up their at-home libraries," Harlan says.
Community support

Emanuel McGhee, right, works with King.
Harlan has been pleased with the vigorous response from community leaders.
"The majority of our volunteers come from community partnerships like the Met (Metropolitan Baptist Church of Tulsa), where organizational leaders will step up and say, 'This is something that's really important to me as a leader, and I really want to engrain it as part of our culture,'" Harlan says.
Emanuel and Judy McGhee volunteer at Greenwood Leadership Academy and attend church at the the Met. They answered the call that community advocate and lead pastor, the Rev. Ray Owens, made to his parishioners.
The retired educators volunteer two days a week — one at Greenwood Leadership Academy and one at Peary Elementary — but after 14 years of retirement, Judy admits she was apprehensive about her ability to teach.
"I've gotten a lot of confidence that I can still help someone make progress in their life. It's been rewarding," she says. "One of my students from last year requested me as her tutor again this year, so that was really special to me."
Her husband also values the positive impact they are making with their students.
"It's amazing when you're working with them and a light turns on when they understand what you're teaching," Emanuel says. "You can tell they understand by the way they act. That's a great feeling. The joy of helping students keeps us young."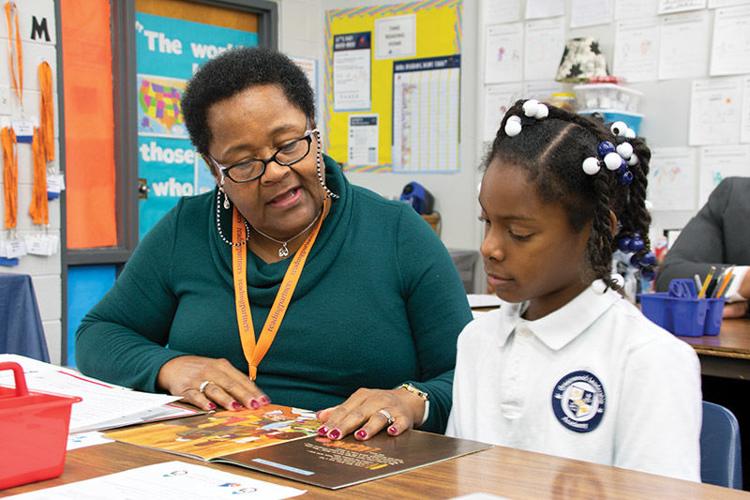 Judy McGhee, left, works with Nevayah.
The McGhees are retired educators who were encouraged to volunteer with Reading Partners by their pastor, the Rev. Ray Owens of the Metropolitan Baptist Church. The Met is one of many organizations and companies that has partnered with the organization to provide literacy tutors to Tulsa students.
Judy works with Nevayah once a week.
Nevayah says she was nervous at first, but Judy makes her laugh and that makes it fun.
Although they have impeccable credentials, both the McGhees and Harlan emphasize volunteers don't need an educational background.
"Everything is planned out," Emanuel says. "The organization of the program is excellent."
"We give folks a very structured curriculum where you don't have to guess what you're doing with your time," Harlan says. "I think it makes it a lot easier for folks to latch on knowing that they're making a big difference and they're not going to mess it up along the way."
According to Reading Partners website, a trained site coordinator is always available to answer questions, assist with materials and solve problems.
The results are encouraging.
"We see about 90% of our kids are reaching their end-of-the-year growth goal," Harlan says. "The most powerful tool we have is telling the story of the amazing growth we see in our kids. That really inspires folks to get involved."
Reports on the educational landscape in Oklahoma are often negative, leaving those concerned with no consensus on a solution.
"It's easy to get frustrated and feel hopeless at the state of education in our state right now and the way in which it's underfunded and not enough resources are being provided," Harlan says. "This gives people a real opportunity to give back to something that at times can feel too big to solve."
Although the curriculum has proven effective, Harlan believes it's the community support that sets Tulsa's program apart.
"The philanthropic community in Tulsa is just really special," he says. "Not every city has a George Kaiser, or a Charles and Lynn Schusterman, or a Tulsa Area United Way that have stepped up and supported our program like those entities have, and we are super grateful for that, too.
"The University of Tulsa has consistently provided hundreds of volunteers on an annual basis. Oral Roberts University requires every freshman in their education school to volunteer for us. Tulsa Community College, Kirk Crossing, BOK and TPS Education Service Center are also huge partners."
Jessica Risenhoover, director of external relations for Reading Partners Tulsa, says the nonprofit hopes to impact over 1,700 kids, and about 2,000 volunteers will be needed to do so.
She encourages anyone interested in volunteering to visit readingpartners.org for more information.
The only requirements are an hour-long orientation, passing a background check and committing to one hour of tutoring a week. Once those are completed, the volunteer will be paired with a student and a session time will be assigned.
"If you've ever thought about getting your feet wet with the program, this is a great time. With spring break, you'd only have six to eight weeks," Harlan says.
"We'd love, not only the opportunity to show that we are here to support you and volunteering is easy, but also to help you see the impact you can have on a kid in a very short time period. I would encourage folks to give us a try."