April 10, 2017
Sunnyvale Schools: Reading was fundamental at San Miguel Elementary's first Literacy Night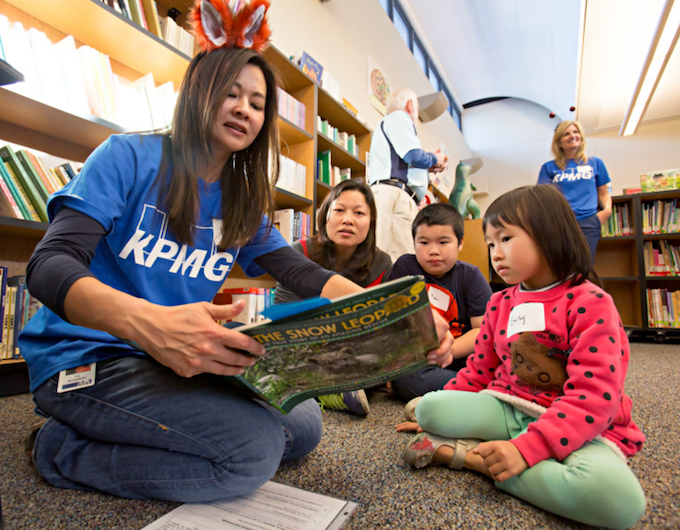 Originally published by The Mercury News.
By Victoria Kezra
Worries that San Miguel Elementary School's first Literacy Night on March 27 wouldn't be well attended proved unfounded, as the event was booked solid.
"When you launch something, you'll never know how it's going to take. I was a little worried no kids would show up," said San Miguel principal Christina Ballantyne. "I'm really happy with the turnout. Historically first-time events tend to be low turnout. As it becomes more reoccurring and established it's like, 'Oh we're all going to go to the event.'"
Literacy Night was held in partnership with Reading Partners and KPMG, an audit, tax and advisory firm.
The evening had students rotating through different reading-based activity tables, collecting stamps on their "reading passports" and reading along with various volunteers sporting a variety of costumes such as cats, foxes and a banana. Many volunteers were KPMG employees who regularly volunteer with Reading Partners. To further commemorate the night, KPMG donated 1,000 new books for students to take home with them. One of the books was by Bay Area author Innosanto Nagara, who was on hand to read some of his work.
"It's such a fun opportunity to be able to do this, partner with the school and also with our corporate partners like KPMG," said Aarika Riddle, executive director at Reading Partners, provides one-on-one tutoring with volunteers twice a week for 45 minutes to help children who are behind on their reading skills.
KPMG has donated approximately 3 million books to children across the country since 2008 with their Family For Literacy program.
Eleven-year-old Ajsela Sivic was in attendance with her 7 year-old-sister Emina, who is in the Reading Partners program. She gave a rave review of Literacy Night.
"I like the read-out-loud; the books are interesting," said Ajsela. "I would come to more of them because they have fun activities, and it's fun to read with people and learn new words."
In addition to reading along with volunteers and enjoying a pizza dinner, San Miguel students also made bookmarks, played "word bingo" and created "literature cubes" that ask critical-thinking questions about stories.
San Miguel parents Aracely and Francisco Hernandez were waiting for their daughters Itzelth and Alejandra to finish at one station before moving on to another activity and said they were happy to involve them in an educational night that was also entertaining and fun.