February 15, 2019
Tutor Session Celebrates 20th Year In Silicon Valley
Originally published by Sue Wood on Patch
REDWOOD CITY, CA — To commemorate its 20th anniversary, Reading Partners is stepping up on its mission by having all staff and AmeriCorps members across the country take part in an organization-wide day of tutoring on Friday.
The honorary tutoring celebration was designed to help ensure that students receive as many individualized tutoring sessions as possible.
Founded in San Mateo County in 1999, Reading Partners is a national literacy organization that works to help struggling readers in under-resourced schools by providing essential one-on-one early literacy tutoring that empowers students to succeed in school and beyond. Reading Partners is in the process of mobilizing nearly 14,000 community volunteers across the country to support 11,000 students in 14 metro areas across the nation.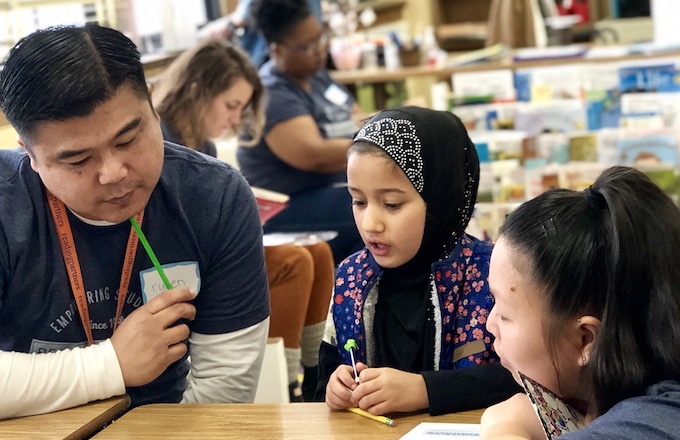 "Reading Partners teams from coast to coast will put all other work on hold in order to deliver a wave of tutoring sessions for the students we serve," Reading Partners Chief Executive Officer Karine Apollon.
This is an important moment to immerse ourselves in the essence of our 20th anniversary, creating a tangible surge of impact across the country in an effort to empower students to succeed in school and beyond.
The following locations have established the Friday tutoring sessions:
Redwood City – 8:15 a.m. to 10 a.m. at Selby Lane Elementary School, 170 Selby Lane in Atherton
San Jose – 10am to noon at Arbuckle Elementary School, 197 Cinderella Lane in San Jose
Sunnyvale – 9 a.m. to 11 a.m. at Lakewood Elementary School, 750 Lakechime Drive in Sunnyvale
For questions about Reading Partners Silicon Valley and its Tutor-for-a-Day event, please contact external relations manager at monique.garcia@readingpartners.org.
To learn more about the program, visit Reading Partners Silicon Valley.