August 23, 2017
Youth Pen Charity Children's Book, Does a Giraffe Ever Feel Small?
Originally published by Westword. Images courtesy Tulip & Petunia Publishing

Madeleine Dodge and Olivia Wischmeyer published their first book before they received their high school diplomas. The recent high school graduates (Dodge from George Washington High School's International Baccalaureate program, Wischmeyer from East High School), who have been friends since they were picture-book age themselves, wrote and illustrated a children's book about embracing individuality. Oh, and the cherry on top? Sales of their self-published story, Does a Giraffe Ever Feel Small?, benefit charities working to boost literacy.
"The goal is…to use a lighthearted, fun platform to address the idea that everybody has insecurities, but in the end, that's what makes you special and different and unique," says Dodge, who penned the 45 rhyming lines of the Does a Giraffe Ever Feel Small? (Wischmeyer did the vibrantly colored illustrations). The two women, who look enough alike to be sisters, actually started off as "forced friends," recounts Dodge, brought together because their mothers were friends at Christ Church in South Denver. Despite moving churches and attending separate schools for all but one brief year, the bond stuck.
Does a Giraffe Ever Feel Small? sprouted from a poem Dodge had written in eighth grade. The idea of collaborating to turn that poem into a published book had lingered in the background of both students' minds since the start of high school, but "it took us a while to even think we could do it," recalls Dodge.
They got the ball rolling during junior year. Both friends' volunteering experience (Wischmeyer through the Colorado Young Leaders organization and Dodge through her IB program's emphasis on service) and desire to give back prompted them to make the book a charitable venture. The two divvied up the research responsibilities, looking for literacy-promoting organizations that were transparent and allocated donations directly. To contribute on a local level, they decided that half the proceeds would benefit Reading Partners of Colorado, which provides one-on-one tutoring to improve children's reading ability.
But, Wischmeyer says, "we didn't want to forget that…change can be international and local," especially because the illustrations of Does a Giraffe Ever Feel Small? include savannah scenes and textiles with African-influenced patterns. Dodge and Wischmeyer devoted the other half of the proceeds to Books for Africa, an organization they selected, after some extensive Googling of international nonprofits, for its straightforward approach of supplying books to schools and libraries.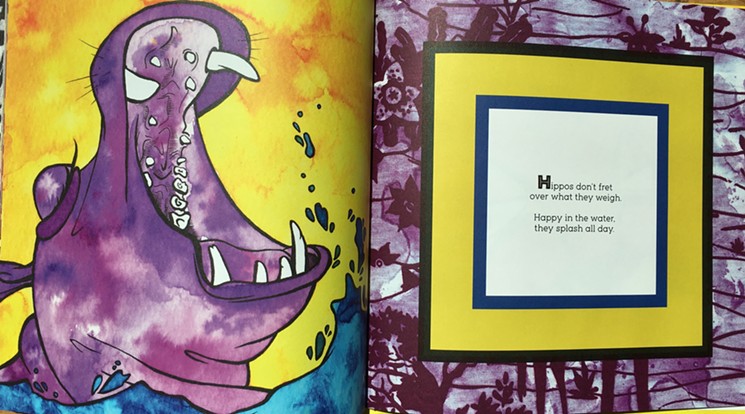 Next, in June of 2016, they created a GoFundMe campaign for production costs, which quickly raised $3,070 of their $3,000 goal. Then they registered their publishing company, Tulip & Petunia Publishing, as a business, with all the associated bureaucracy, made a website and researched and decided on a printer, IngramSpark. Wischmeyer spent four or five months on illustrations, creating pen-and-ink outlines and watercolor backgrounds, searching for textiles at JoAnn's and using Photoshop to overlay her designs. The long-awaited physical copy of the forty-page book arrived this spring.
In a full-circle moment, the librarian at Slavens School, Wischmeyer's elementary and middle school, set up a reading of Does a Giraffe Ever Feel Small? The author-illustrator pair read aloud and fielded questions such as how they'd managed to make the cover of the book stiff. Wischmeyer gleefully talks about how her elementary art teacher at Slavens showed her an image of a student who, inspired by the work of someone only slightly older, had painted a watercolor giraffe.
As of late July, Does a Giraffe Ever Feel Small?  had sold nearly 500 copies. At $17.99, that's approximately $8,995 raised. As book sales continue to benefit local and international students, Dodge and Wischmeyer are continuing their own educational journeys. Wischmeyer is heading to Colorado State University, while Dodge will move to the Pacific Northwest to attend Lewis & Clark College in Portland.
Does a Giraffe Ever Feel Small?  is on sale at local stores like the Tattered Cover, BookBar, the Bookies, and the Artisan Center; online (for Colorado buyers) from Tulip & Petunia Publishing and on Amazon (for out-of-state purchase). To find out more about the book and its beneficiaries, visit doesagiraffeeverfeelsmall.weebly.com, Reading Partners of Colorado or Books for Africa.