March 13, 2014
Building Community Partnerships for Early Literacy Success: Sac Has Soul
Old Soul Co. is not your average coffee shop, their artisan coffee and baked goods are heralded as the best in Sacramento! But their heart for community and social justice is what really sets them apart.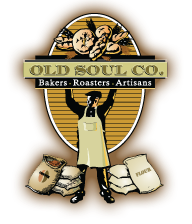 Tim Jordan and Jason Griest, creators of Old Soul Co., have established three Old Soul Co. shops in the Sacramento region. Each location is slightly different, but each attracts a diversity of customers, families, and community members.  Three year ago, Tim and Jason decided they wanted to use their business to serve and engage the community. So they harnessed their community ties and created a program called Sacramento Has Soul.
The mission of Sacramento Has Soul is to create "a viable and sustainable volunteer program that focuses on early childhood education and reading."
Jill Withrow, of Old Soul Co. says, "We felt like we were being reactive instead of proactive in our philanthropy and wanted a more direct impact." Reflecting on the addition of service to the successful coffee company, Jill says that, "As individuals, and as a company, we feel more connected to our community."
Building Partnerships
Sac Has Soul chose Reading Partners as a community partner because of Reading Partners' emphasis on early literacy and education. Jason explains that "literacy is power, and once you have it, it's one of the few and most powerful things in the world that can never get taken back."
"We knew people who had been tutors with Reading Partners and were impressed with the program," explained Jill. "We knew we wanted to spend our time and resources on improving reading in our schools, so we found an organization that did an excellent job doing just that – Reading Partners!"
In addition, Jill sited Reading Partners' dedicated staff and research-based, effective curriculum as another reason they got involved.
All of Old Soul's employees are highly encouraged to become Reading Partners' tutors. Jill has noticed that, since partnering with Reading Partners, employees who volunteer will often bring conversations around literacy, tutoring, and reading into their workday.
Community Collaboration
Old Soul Co. recruits many passionate volunteer tutors. One of them is Mary Shook who has been a Reading Partners' tutor since the fall of 2011.
Mary sees Old Soul Co. as being the catalyst for her involvement with Reading Partners. "I have to thank Old Soul for being proactive in the community and opening up this opportunity for me. It has been great and I plan to continue for many years to come."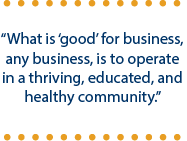 Mary had been searching for a volunteer opportunity but had not found the right fit, until one day during lunch at the Old Soul Forty Acres in Oak Park, she saw a flyer requesting book donations and calling for volunteer tutors. Reading Partners was just the program she had been looking for.
As an avid reader, Mary has always believed that literacy cannot only change students' academic future, but can also "open a world to a child," enhancing their curiosity. She feels that Reading Partners not only improves the student's reading skills, but also allows the student to "blossom intellectually" through one-on-one mentorship.
Mary has worked with the same student for two years at Peter Burnett Elementary School and has seen noticeable changes in the child's reading ability and self-esteem. She highlights how both Reading Partners and Old Soul Co.'s efforts are direct and grassroots orientated. "Instead of simply writing a check and patting themselves on the back for 'giving to the community,' the company has actively involved their customers and staff in bettering the community," Shook explains.
The Benefits of Giving Back
Old Soul Co. has provided Reading Partners with a consistent source of dedicated, reliable volunteer tutors and donated over 550 books in 2014 alone. Sacramento Has Soul tutors have volunteered at least 940 hours this school year, with at least 47 active tutors currently working with students.
Old Soul Co. has adopted Peter Burnett Elementary and has been foundational to the site's success, and also the Sacramento region as a whole. In the 2012-13 school year 92 percent of Reading Partners' Sacramento students accelerated their rate of learning in reading. 75% of Reading Partners Sacramento students narrowed their literacy achievement gaps
Jason explains, "What is good for business, any business, is to operate in a thriving, educated, and healthy community. Old Soul is a business, but more importantly, all of our owners and employees are a part of the Sacramento community. 'Participating by helping' is NOT a dollars and cents decision, and it's not a 'money maker' for Old Soul Co. Volunteering, especially for the youth of your community, is simply the right thing to do."
Check out Old Soul Co. today!
Old Soul at the Weatherstone: 812 21st. St.
Old Soul in The Alley: 1716 L St.
Old Soul Forty Acres: 3434 Broadway
Sacramento Airport Terminal B