January 7, 2019
Change a student's life in 2019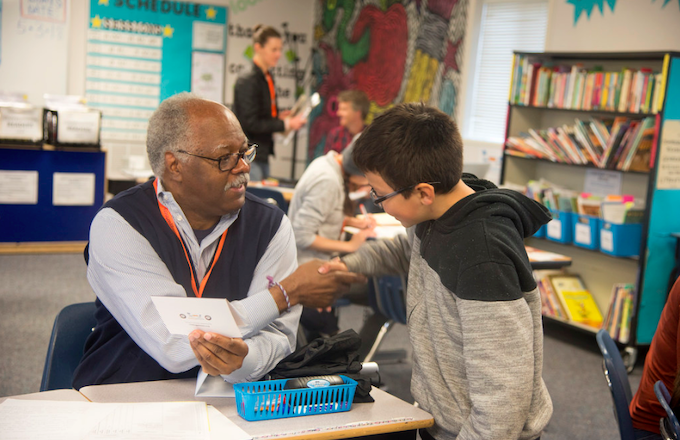 Originally published in the Moultrie News
Welcoming a new year offers a wonderful opportunity to make new choices and take new chances in life.
Whether you reflect proudly on your many accomplishments in the past year or you can't wait to turn a new page and look toward the future, the new calendar year is an opportunity to do the things that might have been on your back burner. If you've been thinking about volunteering for years or have been contemplating your resolutions for the New Year, consider volunteering to help a child to read in 2019!
Reading Partners is looking for volunteers to work one-on-one with students who are struggling to read in 16 Charleston and Berkeley county schools. Mt. Pleasant resident and tutor, Mary Margaret Bowman, believes that:
If you are at all interested in working with children and especially interested in helping with reading, this is the best program in the community.
Mary Margaret donates an hour twice a week to tutor a student at a North Charleston Elementary school where the need for volunteers is the greatest.
The program uses a research-validated curriculum to teach students the foundational literacy skills they need to be successful in school and in life.
Mary Margaret explains, "Everything is all laid out for you. There is no need to have any teaching experience at all. There is also onsite support, which is fabulous!" And the effort is working! Ninety-one percent of the 800+ students served last year met or exceeded their primary end of the year growth goal.
The organization is currently serving 730 students with the help of over 750 volunteers, but needs another 100 tutors to serve the students who are still on the waiting list.
There has never been a better time to commit to volunteering in the New Year.
Help Reading Partners change the future for the youngest citizens in our community by sharing an hour a week to help develop the reading skills necessary to reach their full potential in life. To learn more about Reading Partners or sign up to volunteer, please visit the website at readingpartners.org or call 843-860-3915.