June 20, 2017
Dawn O'Keeffe: Do Not Cut Funding for the Corporation for National and Community Service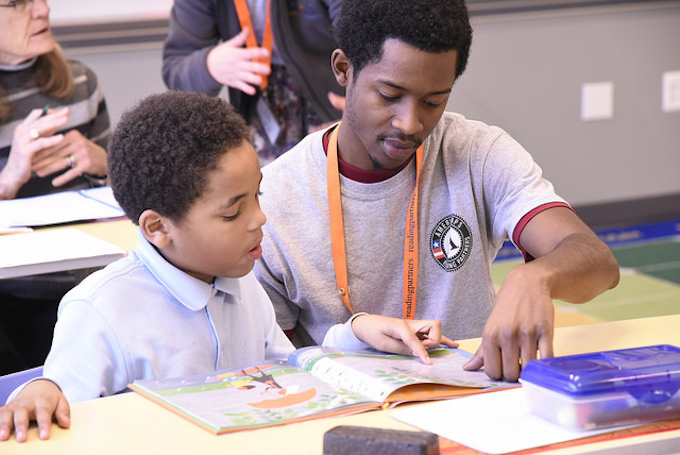 Originally published by Pasadena Now.
By Dawn O'Keeffe, Reading Partners LA tutor
The White House recently issued its fiscal year 2018 budget proposal that eliminates the Corporation for National and Community Service (CNCS) in an attempt to reduce federal spending. Eliminating CNCS, and its core programs including AmeriCorps, would have a crippling impact on our community, devastating local organizations like Reading Partners that leverage AmeriCorps funding to engage citizens in service and to cultivate matching support from non-federal sources.
I am a volunteer reading tutor with Reading Partners at Longfellow Elementary School and have seen first hand how this excellent organization relies on their AmeriCorps staff. At Longfellow, Reading Partners coordinates close to 50 volunteers who tutor one-on-one with struggling readers once or twice per week. The site coordinator assigned to Longfellow is part of AmeriCorps. Without her coordination, the program would simply not be available at Longfellow and many students would not receive the tremendous benefit that Reading Partners provides. The 3rd grade boy I had the joy of tutoring tested at the 1st grade 7 month level when we started in October and by January he was reading at the 2nd grade 7 month level. Along with becoming a more proficient reader, his confidence and enthusiasm blossomed. The AmeriCorps site coordinator not only trains the volunteers, communicates important information on an on-going basis, but is also on-site everyday as a resource for the tutors, empowering each volunteer to be an effective reading tutor.
National service programs also provide an important pathway to employment for these young Americans. Through their service, AmeriCorps members gain skills and experience, develop professional networks, and earn an education award that can reduce the cost of further education. There is a proud history of bipartisan support of AmeriCorps and other forms of national service. I am counting on my fellow citizens to make their support known for this cost-effective, results-driven resource for our community.
Dawn O'Keeffe
P.S. If you would like to volunteer to be a Reading Partner in the fall please go to https://readingpartners.org/location/los-angeles/ and click "schools" to sign-up at a school near you.