May 30, 2018
Open service opportunities with Reading Partners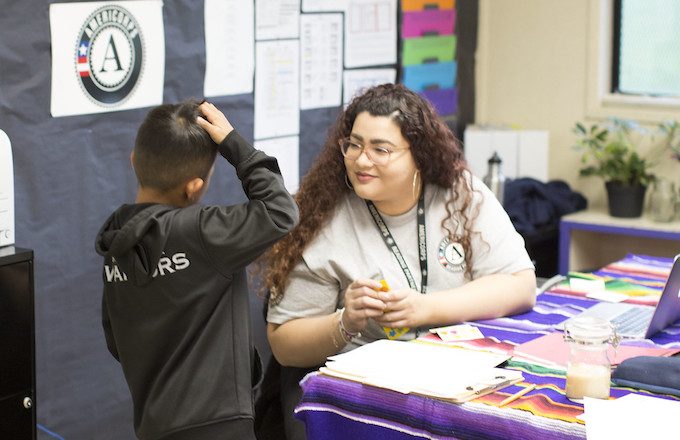 Considering a gap year for your next steps after graduation?
Looking for a transformational way to transition into the education and nonprofit space?
Serving a year as a Reading Partners AmeriCorps member is a great way to make a lasting impact while gaining professional skills and experience. AmeriCorps service also comes with other benefits, including:  

A living stipend

Healthcare coverage

An education award

Eligibility for loan forbearance

…and many other perks!
At Reading Partners, we strongly believe that the ability to read and write opens new doors and opportunities for our young students. We are passionate about educational equity and know that literacy can empower students to succeed in their academic endeavors. We hold firm to our core values of serving students and building a strong, positive team.
Our AmeriCorps members are crucial to achieving our mission, and our team is dedicated to making AmeriCorps service a rewarding and meaningful experience.
Does this sound like a transformational experience you'd be interested in?
Read on to learn more about the AmeriCorps positions currently available at Reading Partners.
Site coordinator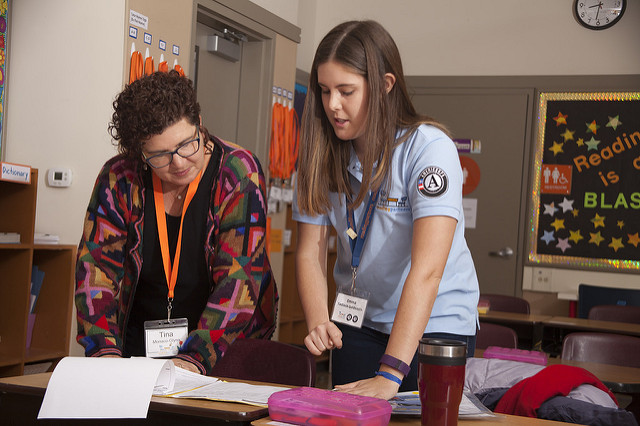 The AmeriCorps site coordinator is the face of Reading Partners within our reading centers, leading the full-time program coordination, operations, and relationship development at their school. This is an exciting opportunity to work with kids, coach volunteers, build partnerships with faculty and staff, and get a hands-on approach to a literacy program that works!
Our top site coordinators demonstrate a passion for growth and improving education opportunities for every student.      
Regional site coordinator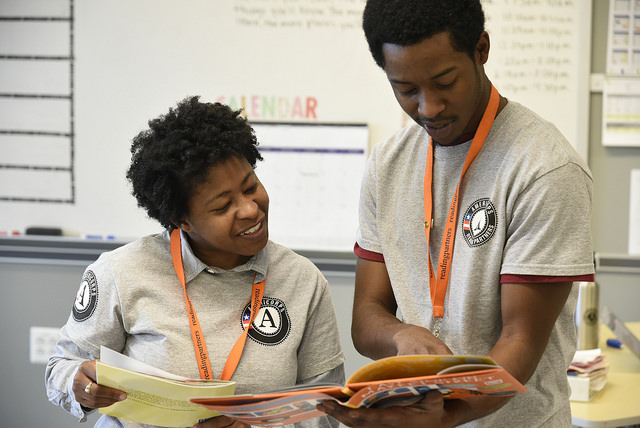 The AmeriCorps regional site coordinator is the right hand of our program team within a given region. This role serves as a mobile coordinator to support multiple reading centers, identifying trends and sharing best practices across schools, tutoring, and acting as a peer support to site coordinators. This is an exciting opportunity to serve in a leadership capacity and to support the literacy gains of students in multiple schools!
Our top regional site coordinators demonstrate strong leadership and interpersonal skills.
Literacy lead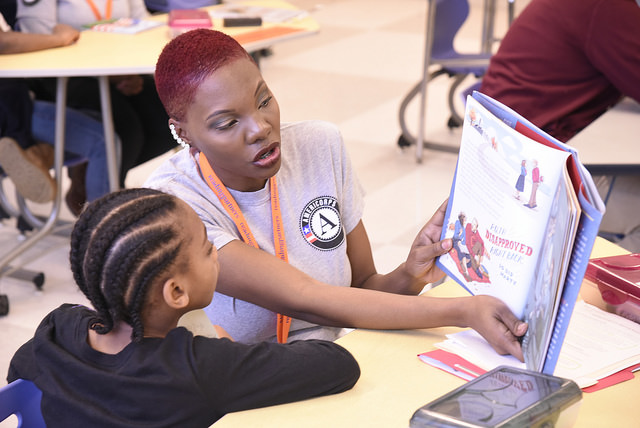 The AmeriCorps Literacy Lead is a full-time direct tutoring support within our reading centers, focusing on target students in need of more individualized instruction. As a Literacy Lead, you would provide one-on-one tutoring to 12-15 Reading Partners students, twice per week, and collaborate with the site coordinator and program manager to ensure student growth and success in the program.
Our top literacy leads demonstrate a strong passion for tutoring and education.
Volunteer coordinator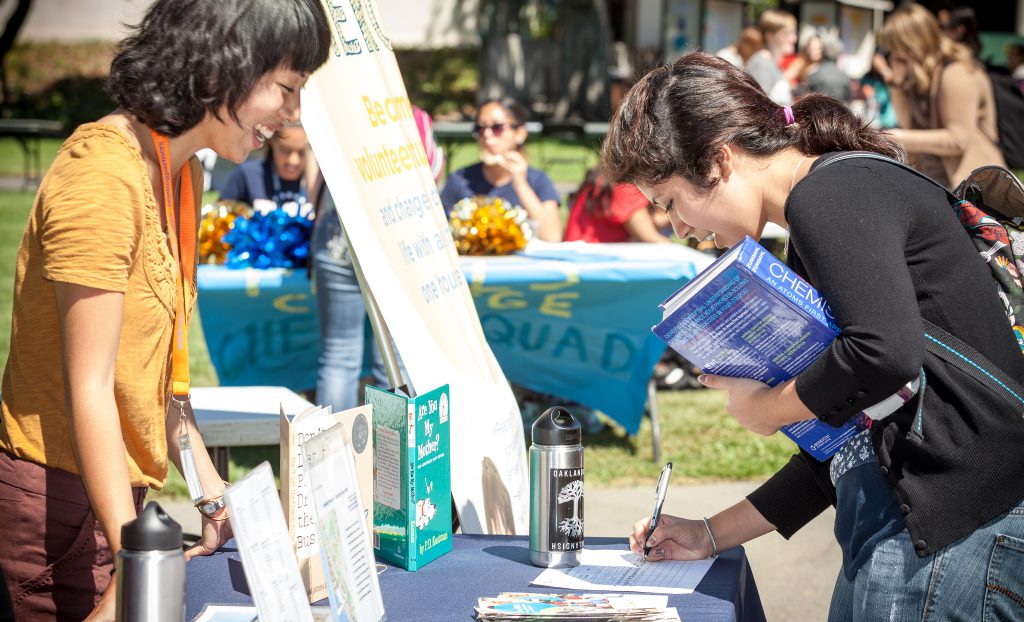 The AmeriCorps volunteer coordinator serves as the external face of Reading Partners within the community, leading the charge in recruiting and onboarding volunteer tutors, while also executing community engagement campaigns. No two days are alike for volunteer coordinators – this is an exciting opportunity to develop recruiting skills, build and maintain relationships with local organizations, and make a real impact in the community!
Our top volunteer coordinators demonstrate a hunger for community outreach and the desire to inspire others to volunteer and make a difference in the community.
VISTA member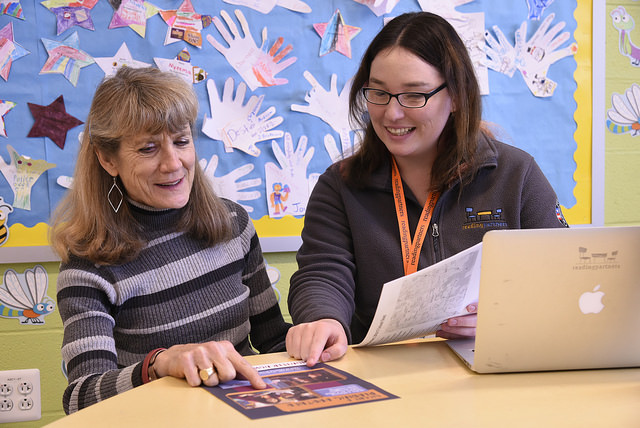 VISTA (Volunteers In Service To America) launched over 50 years ago with the mission to address poverty in our country's local communities. The federal program continues to do so by funding VISTA service opportunities to build capacity at high-impact nonprofits. VISTA members with Reading Partners lead on many behind-the-scenes initiatives and projects, and leverage their passion for service to build systems and heighten the organization's capacity to provide the direct service it provides. They serve a full-time, year-long term, and receive all the same health benefits as our AmeriCorps members as well as receiving an education stipend at the end of their service term. Some VISTA roles include development coordinator, operations coordinator, and marketing coordinator, to name a few.
Reading Partners hires passionate VISTA members at our national office and across our regions, and have terms of service beginning in August, November, or March.
Want to learn more? Check out all of our available AmeriCorps positions at our AmeriCorps Career Center, and reach out to americorps@readingpartners.org with any questions!