December 14, 2020
What's it like to be a college student and an online volunteer tutor?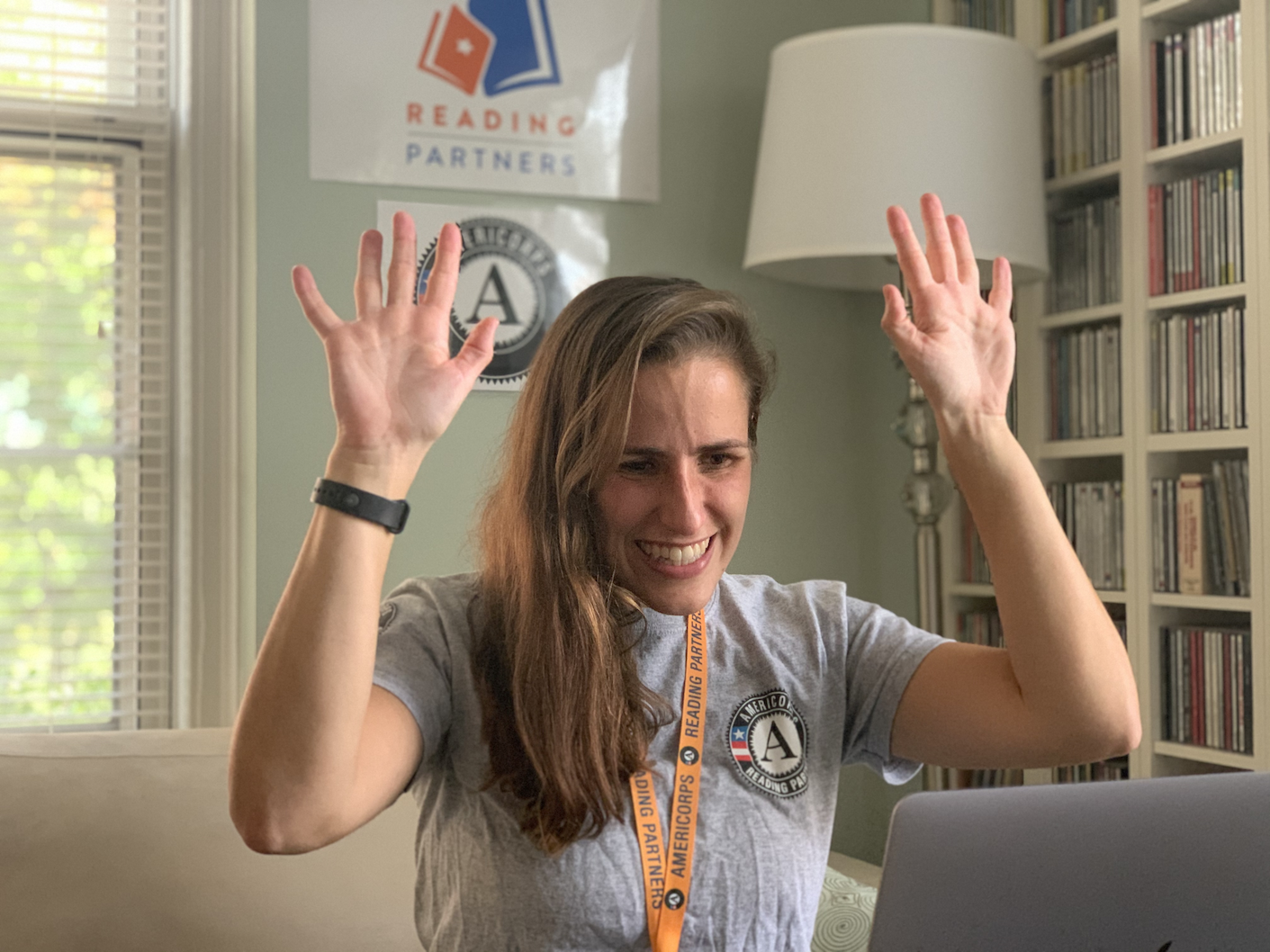 Home offices, basements, dining room tables—Reading Partners volunteers have been very resourceful this year as they find quiet spaces to tutor students online. But what about tutoring from university dorms, off-campus apartments, or mom and dad's house? 
Each year, over one hundred university students from area colleges volunteer with Reading Partners in Baltimore as part of a service-learning component of their urban education course. Thanks to the flexibility of our online tutoring platform, those students could continue to volunteer with Reading Partners no matter where they logged on this fall—giving them valuable real-world experience in their future career path as educators.  
I sat down with four students—Brooke Dorbit, Jailyn Bridgeford, Lauren Pahutski, and Logan Turner Mannix—to hear about their experiences online and what they've learned after a semester of tutoring Baltimore students. 
Finding a new normal
For thousands of college students across the city, online courses weren't the way they envisioned beginning or continuing their college career. Learning that their urban education course included a virtual volunteering component was a welcome surprise, and a way to give back to their college community from remote locations.
"I thought the volunteer aspect of the course was really interesting if you want to be an educator or do something with students," says Jailyn, a Morgan State University sophomore. "It's a great way to get your foot in the door and experience teaching a child, especially since I haven't been in a classroom setting yet." 
Just like for Reading Partners students and tutors, the shift to virtual learning came with its own set of challenges. "At first I was overwhelmed being a freshman and balancing virtual learning," admits Brooke, a Towson University student. 
Lauren, a Towson junior, agrees. "My only hesitation with volunteering was the online aspect. I really wondered how tutoring would work, and I was a little nervous about the technology component, going through all the different tabs and pulling up all our session materials."
Logan, a Towson University freshman, was also nervous about online tutoring, but for a different reason. "I was born with a speech impediment and was in speech therapy until seventh grade, so I was worried that my impediment might come out more while tutoring online and would mess up my student," she explains. "But I talked to Reading Partners about my nervousness, and they were really understanding."
Meeting their students
Nervousness aside, each volunteer was eager to meet their Reading Partners student and begin tutoring. And soon, those pre-tutoring jitters turned into inside jokes, squeals of laughter, and special moments between each tutor-student pair. 
"Building that relationship with my student has been great," says Brooke. "One thing I found out early on is that my student loves Spiderman. So, I went out and bought a poster board, fake spiders, and spider web. Now, every time he does well or gets a question right, instead of clicking through the stars in our tutoring slides, we celebrate by putting a spider on his web."
Jailyn found that the holiday spirit helped her first connect with her student. "While tutoring the Friday before Halloween, my student wanted to read a book about Halloween as our tutor read aloud," she recalls. "We picked a really fun, scary Halloween story and read it together. She was so excited, and it felt awesome to see that she was so engaged and eager to read the book."
Even Logan noticed that her speech pattern helped her relate to her student and give him the support he needed. "I struggled a lot with reading growing up because of my speech impediment and high energy," she says. "I could never stay in my seat in class! My student is also really energetic and loves to joke, rhyme words with what we're reading, or test how fast he can read. It feels good knowing I'm able to refocus him in the lesson but we also can have a lot of fun together." 
Learning while tutoring
After a semester of tutoring, each student volunteer reflects on their unique experiences, but there's a common thread throughout—gratitude for the opportunity to meet some fantastic kids and help empower their learning through reading.
"Before volunteering with Reading Partners I just thought that kids knew how to read," says Jailyn, chuckling. "Now, I see that some students may struggle with one aspect of reading, while others may struggle with another aspect. Or, my student may really understand one topic but other topics may not come as easily. Tutoring has shown me that you have to adapt quickly to your student's needs in order to support them with each specific skill."
Logan agrees. "The biggest thing that I've realized is just how hard of a language English is to learn!  When you really start seeing all the different rules and exceptions, you start to think about how hard it is to teach this language to someone else!"
Brooke takes something different away from her experience tutoring, which she hopes to think about as she continues in her education major. "Reading Partners was really helpful in thinking about tutoring from a diversity lens. During our tutoring orientation, we closed our eyes and visualized what the students we would tutor looked like. The exercise really helped me remove my own biases coming into tutoring and ground me before tutoring. This experience has really made me less ignorant about the education landscape." 
Interested in volunteering with the Reading Partners Connects online tutoring program? Sign up here to get started.