October 23, 2017
Gen2Gen Reads: Inspiring intergenerational volunteerism
Berte Schachter, a retired business librarian and researcher, has always enjoyed giving back and has a history of helping people through different service activities. Now, in her retirement, she has devoted time each week to helping kids build strong literacy skills. She also spends a few extra hours each month sharing her experience with local senior centers and organizations. Ms. Schachter's mission is to inspire others to get involved in intergenerational volunteering.

Volunteering with Reading Partners provides Ms. Schachter the fun and rewarding opportunity to spend around kids and help them build brighter futures. She states,
This experience reminds you that your stay on the planet should not be focused on one's self, it's about the future.
Ms. Schachter's experience embodies what the Generation to Generation (Gen2Gen) movement is all about. The campaign mobilizes adults over 50 to help young people thrive. Engaging individuals who want to continue learning, contributing, and using their experience for good.
Even if you aren't 50 or still have many years before retirement, the campaign has a place for every individual. Regardless of age, anyone can get involved to create a better future for future generations.
Continue reading to learn how you can join Reading Partners and the Gen2Gen movement.
Step 1: Learn more about the Gen2Gen Reads movement
The Gen2Gen website is full of interesting resources, inspiring stories, and volunteer opportunities. A great first step to get involved in the Gen2Gen Reads campaign is to join the community mailing list at iamgen2gen.org/reads and following the campaign on social media for regular updates.
Step 2: Sign up to volunteer
Reading Partners, a featured Gen2Gen partner, seeks to engage thousands of volunteers each year. Volunteer reading partners commit as little as one hour per week to work one-on-one with students who have fallen behind in reading. Anyone who enjoys spending time with kids and believes in the power of reading will surely have a positive experience volunteering with Reading Partners.  
The Gen2Gen volunteer opportunities finder is a great tool to find other volunteer positions near you.
Step 3: Share with your friends and family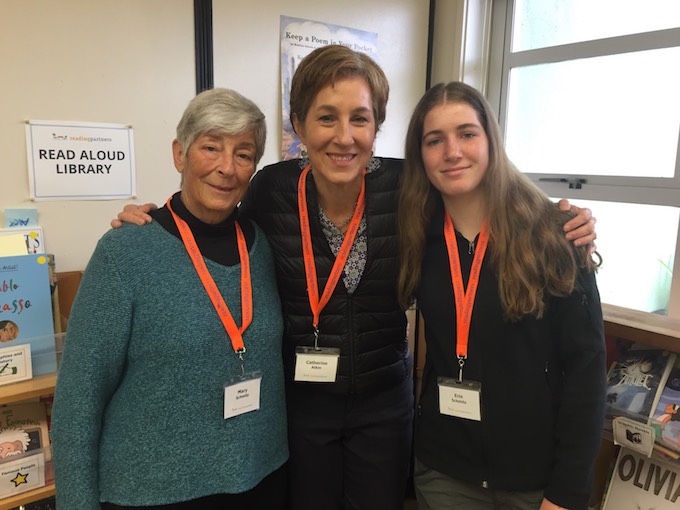 Current and prospective volunteer reading partners can show Gen2Gen Reads pride by wearing the Reading Partners Gen2Gen button. More information and buttons are available in your reading center site.
For those volunteers over 50 years in age, please share what you are doing to spark the love of reading in a young person's life. Share your story here.
Other Gen2Gen supporters can help spread awareness by sharing on social media and talking to your friends and family about the importance of volunteering and reading at all stages of life.