May 9, 2016
How Saint Paul College students are impacting literacy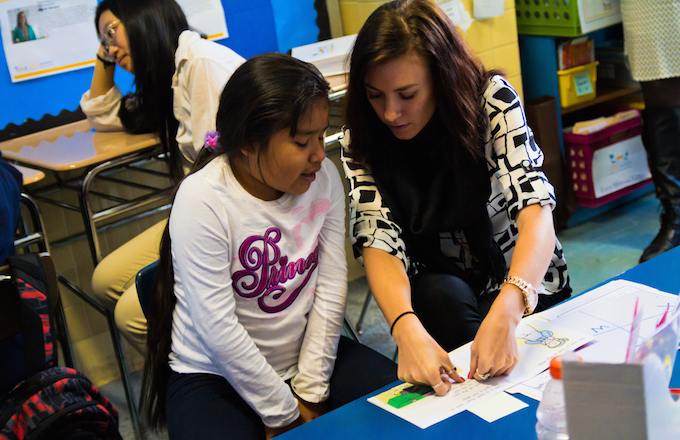 When Thomas Lorendo, financial aid officer for Saint Paul College, first met with Reading Partners, he saw an opportunity to build something new. Students were able to earn work study through positions on the college's campus, but had yet to turn work study into an opportunity to get students into the community. Lorendo understands the importance of literacy work and wanted to make a difference for Reading Partners students in some way.
"Reading is one of the most essential skills someone needs to succeed. The more students read, the better communicators they become," says Lorendo.
Once Lorendo and Reading Partners discussed a potential collaboration, it didn't take long for a partnership to form. "After learning what Reading Partners does, I was over the moon about creating our first off-campus agreement." Lorendo teamed up with Reading Partners to create work study positions to help Saint Paul College students experience service in local schools.
Saint Paul College, located at the edge of downtown Saint Paul, is one of the most diverse colleges in Minnesota, with over 11,000 students seeking degrees. In addition to academic endeavors, Saint Paul College also encourages its students to engage in service that gives back to the local community. Through this partnership, Saint Paul College students earn their work study awards by supporting Reading Partners' elementary schools across Saint Paul.
With positions created for 10 students from Saint Paul College working up to 20 hours each week, Reading Partners is able to enroll additional students to receive one-on-one tutoring. Through these work study positions, each Saint Paul College student is an integral part of a reading center: delivering tutoring sessions, assessing students, and supporting Reading Partners' site coordinators. Many of our dedicated volunteers give more than one hour each week to support additional students; by spending up to 20 hours each week in a reading center, each Saint Paul College student can support multiple students with the tutoring support needed to improve their reading skills.
For Saint Paul College students, working with Reading Partners helps support their own education while gaining important experience outside of standard coursework. For Myisha, a Saint Paul College student pursuing a career in social work, this experience with Reading Partners supplements her intercultural communication class. Myisha spends her time at Phalen Lake Elementary helping third- and fourth-grade students on reading comprehension and other skills to help them increase reading proficiency. "The students are awesome," says Myisha. "It's a great opportunity."
Working in a school setting each week allows Saint Paul College students to see their impact over time. "The ability to help younger students develop the reading skills that drive their future is an amazing opportunity," says Lorendo. Through this work, they're serving as community leaders, mentors to younger students, and models of college success. "If you can help develop and create a positive learning environment, which I am hoping Saint Paul College students will be doing, you can teach these students necessary skills they need to be successful in college and beyond." Research shows that students who read at grade level are four times more likely to graduate from high school on time than those who do not.
Saint Paul College students have already had a tremendous impact on Reading Partners in the initial months of collaboration, an impact that will only grow over time.
"Our partnership with Reading Partners is honestly one of the highlights of my year. I am ecstatic to see what our partnership develops into," says Lorendo.
In the coming years, Reading Partners and Saint Paul College will continue to work together, providing engaging opportunities for college students to further their education and individualized reading support for elementary students on their trajectory as lifelong learners.