March 11, 2020
Data and first-hand accounts reveal Reading Partners to be an exceptional AmeriCorps experience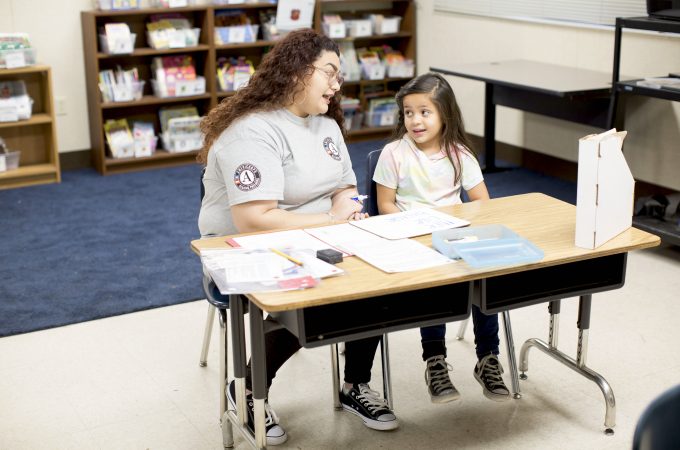 The Corporation for National and Community Service (CNCS) partners with thousands of organizations across the country to provide national service opportunities for individuals seeking to serve a year. With so many positions to choose from, applicants have an almost overwhelming set of options.
Given the broad scope of service organizations and opportunities available, we wanted to find out: What sets Reading Partners apart from other service organizations?
Is it Reading Partners' mission to address the literacy crisis in America?
Is it the professional skills and experience members gain during their service term?
Is it watching a student grow and learn over several months before that long-awaited moment when reading just clicks?
Turns out, it's all of the above.
In 2018, Reading Partners contracted with Policy Studies Associates (PSA). Specifically, the research team at PSA wanted to explore how the Reading Partners AmeriCorps service experience affected the civic engagement and educational/career pathways of AmeriCorps and VISTA alumni.
Through surveys, focus groups, and comparative analyses, PSA found that serving with Reading Partners is an exceptional and influential experience.
The researchers' key findings revealed that almost all Reading Partners' AmeriCorps alumni were satisfied with their Reading Partners service experience. Overall, alumni report that the experience was rewarding, helped them gain an understanding of the community where they served, and exposed them to new ideas and ways of seeing the world. As for future plans, about two-thirds said that their service experience helped them figure out their next career/professional steps. Slightly more than half said the same about their educational goals.
Here are more takeaways from each of the three reports from PSA, as well as first-hand accounts of the Reading Partners experience from AmeriCorps alumni.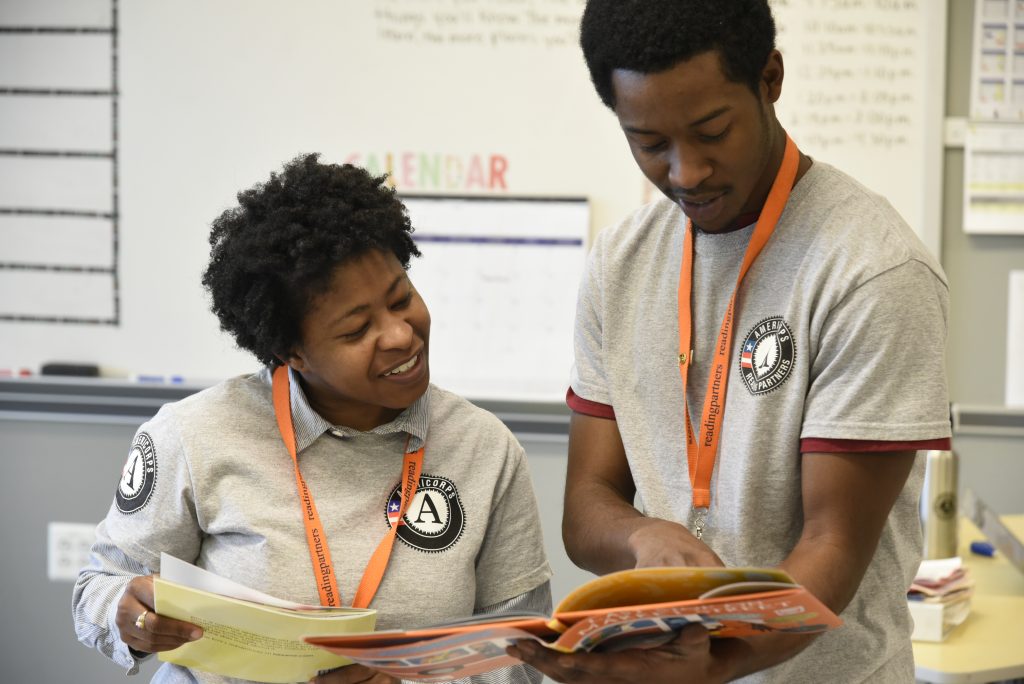 Experiences and reflections of serving with Reading Partners
Reference: Report 1 – Alumni reflections on their service year(s)
Ask almost any Reading Partners AmeriCorps alumni and they'll tell you how working to solve our nation's literacy crisis is a life-changing experience.
Many members serving in reading centers see students work hard every week. They see kids overcome challenges and triumph. Like the time when Cody Howard, former AmeriCorps site coordinator, finally heard the a quiet student's voice from across the room as she read to her tutor.
And Cody isn't alone. PSA found that ninety-six percent of alumni agree that their Reading Partners AmeriCorps service experience helped them feel as though they made a contribution to the community where they served.
Reading Partners provides its members with unique opportunities to work directly with students, volunteers, and communities. Along with the living stipend and professional development training,  members often leave with a newfound (or reinforced) passion for service.
In fact, 61 percent of Reading Partners' AmeriCorps alumni surveyed by PSA said they did things during their service year(s) that they never thought they could do.
"I liked the fact that once the school year started, we just had to do it; there wasn't anyone holding our hand along the way, which I appreciated. I definitely stumbled a lot at first, but at the same time, the support was always there."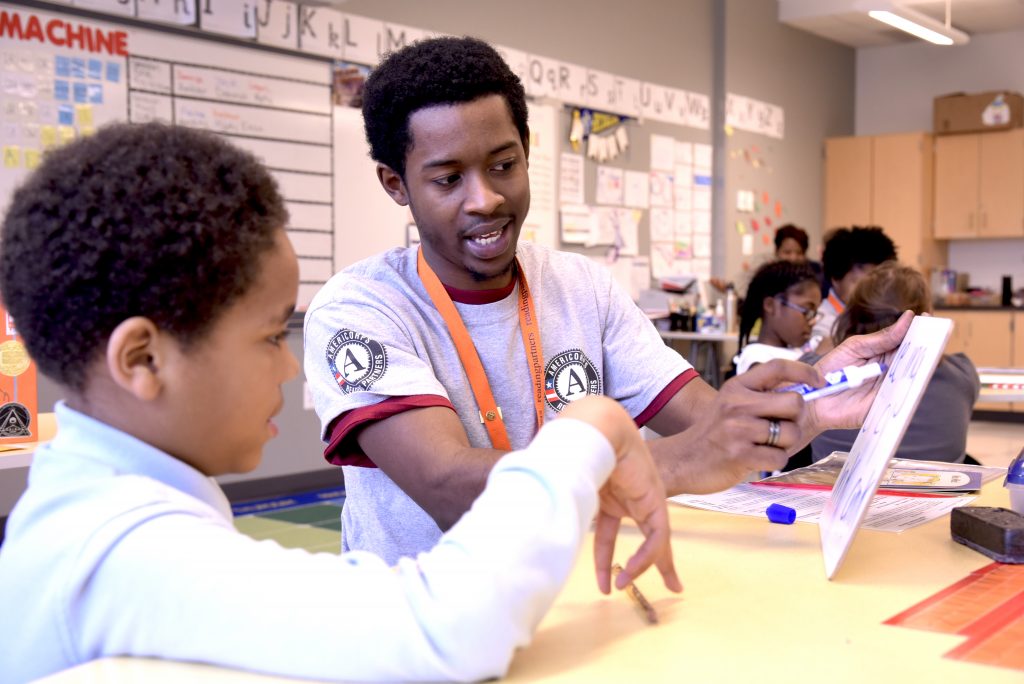 Reading Partners impacts academic and career pathways
Reference: Report 2 – Influencing the academic and career pathways of Reading Partners AmeriCorps Alumni
Anne Hilebrand graduated from college with a degree in English and French literature, but wasn't sure where her career was headed. She decided to take a gap year and serve as a site coordinator for a reading center in Oakland, CA. This decision changed the course of her life.
"On a professional level, it gave me technical skills which I still use today (Salesforce, anyone?). More deeply (but still professionally), it gave me more responsibility than most non-service positions would have…On a personal level, my year of service with Reading Partners gave me a clear vision of what I wanted to do next."
Anne worked with students who spoke English as a second language. She  eventually realized that she could communicate more effectively with them if she learned Spanish. After her year of service, this new skill proved invaluable as she started teaching in Buenos Aires, Argentina. Since her time with Reading Partners, Anne has worked in the education field in three different countries!
Anne's time with Reading Partners helped solidify her professional goals. And she's not the only one. PSA found that 84 percent of alumni report that their service experience prepared them for their current job and/or service activity somewhat or a great deal.
The study affirms that Reading Partners provides members a chance to discover what they want to do. At the same time, it helps them develop the skills and capacity to do it.
From building organizational capacity to working with students and everything in between, 91 percent of alumni believe they are highly skilled at helping others solve their problems.
Reading Partners AmeriCorps alumni and civic engagement
Reference: Report 3 – Influencing the civic engagement of Reading Partners AmeriCorps alumni
AmeriCorps alumni are masters of making their voices heard. Whether voting in a local election, joining a demonstration, or donating to issue-based organizations, a whopping 84 percent of Reading Partners AmeriCorps alumni reported engaging in at least one act of political expression in the prior year.
As one alumni put it, "Reading Partners made me feel more empowered to act; [to know] what I could do as an individual. Reading Partners showed me that I could be a real part of the action being taken."
Understanding political issues gives Americans the vocabulary and background they need to effectively advocate for issues they care about. While any national service can boost political awareness, Reading Partners alumni were 2.7 times more likely than members of the national cohort to report that they understood the important political questions facing our country.
Reading Partners alumni proved again that they care about political issues in the 2018 midterm elections. Reading Partners alumni had a turnout rate of 82 percent compared to 53 percent of the general population.
Passive political understanding is great, but what really sets Reading Partners alumni apart is their willingness to act. After their service terms ended, nearly all (96 percent) of alumni still volunteer a few times a month (or more).
The PSA study reveals that serving with Reading Partners makes members feel capable, empowered, and ready to pursue their ambitions. Learn more about serving with Reading Partners and see what positions are open today.
Who knows, you just might change someone's life and it could be yours.