October 31, 2016
Five reading centers launched in Oakland schools pledge to boost literacy rates
Reading Partners SF Bay Area launched five new reading centers at elementary schools across the Bay Area at the start of the academic year. Back in March, Reading Partners partnered with the City of Oakland and Mayor Libby Schaaf to launch an initiative known as LIFT10. LIFT10 promises to increase early literacy among Oakland fourth grade students by 10 percent over the next four years. As part of our LIFT10 initiative, we work closely with existing and new partner schools across Oakland Unified School District—and in collaboration with numerous community organizations—to improve the early literacy support provided to students. Fruitvale Elementary School, led by AmeriCorps Site Coordinator Eli Schwartz, is one of those schools.
Although Eli has only been serving at Fruitvale for two months, he feels welcomed and is learning a lot about the school community. He says, "Fruitvale parents are awesome! Every interaction I've had with parents has been very positive, and I've gotten a ton of Take Reading Home reports back already—most of them done with the parent's help." This cooperation makes Reading Partners a natural fit for the school, and Eli feels fortunate to be supported by his new community.
Within Reading Partners' first few months at Fruitvale, Eli has already experienced memorable moments with his students. He's seen how eager students are to participate in Reading Partners, he recalls one student who "approached me in the playground and asked, 'Are you getting me today?' I gave him my typical answer: 'Sorry, not today.' He responded, 'But I need to read too!' Although I don't have enough tutors right now to enroll him, I can't wait for the day when I can meet the needs of more students at Fruitvale."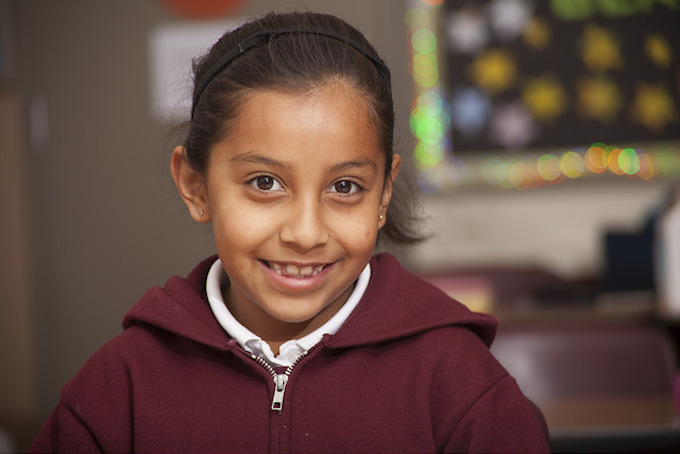 There are many challenges that come along with starting a brand new reading center. "My biggest challenges have been logistical—learning the schedule, getting a key for my room, juggling availabilities. I've been doing a lot of explaining what our curriculum is like and what we do." Despite the difficulties, Eli is overcoming every challenge with a positive attitude. "Principal Patricia Ceja and all the staff at Fruitvale have been incredibly welcoming and helpful. They have made me feel a part of the Fruitvale family!"
We can't wait to see our students' progress and growth at Fruitvale and are excited to be a part of the collaborative work in the Oakland community to boost student success. While we have had a strong start to our academic year, we are in urgent need of volunteers to serve more than 1,000 students here in the Bay Area. If you're interested in volunteering at Fruitvale, or another of our 32 centers, please sign up here!