June 15, 2018
Celebrating growth and accomplishments at the end of the school year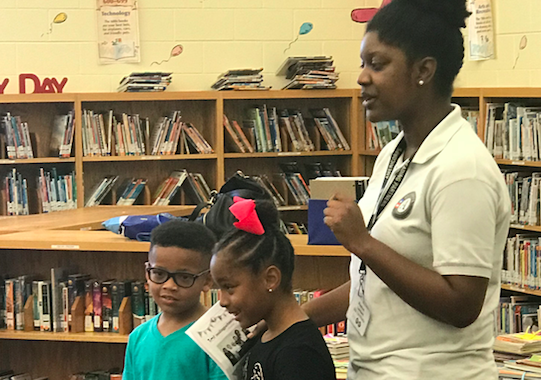 Reading Partners Charlotte is celebrating its end of the school year in a BIG way. As we complete our second full year, we've made tremendous strides to serve our school partners and the Charlotte community through programming and community engagement.
As a pilot program, we served four schools, and in 2016-2017, we grew our school base to six schools. During this school year, Reading Partners Charlotte served eight school partners including  Joseph W. Grier Academy, Oakdale Elementary, John Motley Morehead STEM Academy, Nathaniel Alexander Elementary, Sterling Elementary, Stoney Creek Elementary, Sugar Creek Charter, and Tuckaseegee Elementary. Because our Title I schools are stationed primarily in remote locations and need additional resources, Reading Partners has answered the call in supporting approximately 300 students this year in kindergarten through fourth grades as a second-tier one-on-one intervention with an emphasis on foundational reading skills: letter recognition, vocabulary, phonemic awareness, comprehension, and fluency.
To date, over 80 percent of our students have met their growth goals and have been served by a robust number of tutors. With the help of this volunteer support, students have increased confidence, are actively engaged in the reading lesson, make connections to their personal experiences, are eager to take books home to build their personal library, and demonstrate a growth mindset. These measurables strengthen reading skills and confidence as noted by one of our principals and Americorps team members below:
Principal Cheryl Turner at Sugar Creek Charter School states, "My teachers comment on the confidence of their students when it comes to reading." Turner recognizes the growth of the students particularly from where they started at the beginning of the year.
Site Coordinator Thomas Keeter expresses, "In working with student Amaree, he always wanted challenging words to spell, and was always excited to read and learn about the topic we were focusing on in the curriculum. He was eager to learn more."

Site Coordinator Kat Reyes shared, "Student Cesar came out of his shell. At the beginning, he wouldn't say a word, but by the end he was openly answering questions during the tutor read aloud and smiling whenever he improved during fluency. His confidence in reading improved as he was able to read more and more words during fluency."
Literacy Lead Clara Kress mentioned, "A special moment was when student Kinsley was able to tell me what 'sequence of events' and 'summary' were in the same lesson. She struggled with comprehension, but she is doing so much better than when we first started working together."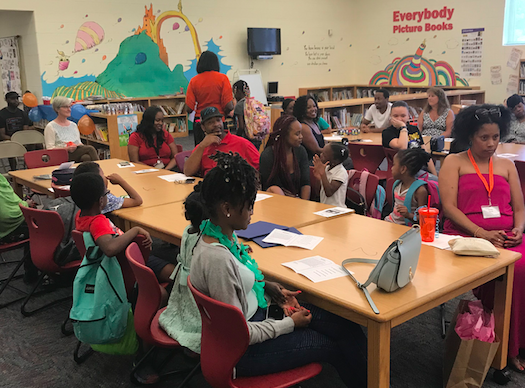 For these growth experiences, we celebrated the wonderful work of our students and volunteers and the mutual bonds that they've shared toward their reading goals. Plus, we invited families to experience their child's achievements and meet the wonderful people who have invested time with their son or daughter. Thankfully, over 450 attendees joined these festive occasions and special moments at our individual reading centers.
To make sure that reading continues and is applicable over the summer break, backpacks filled with books which were donated by tutor volunteers, individual supporters, and community partners like the Art Institute of Charlotte, Charlotte Mecklenburg Library, Pediatric and Adolescent Dentistry (Warner Robbins, GA), Power 98's Level Up and Learn Book Drive, Steps N Motion Dance Studio, and more.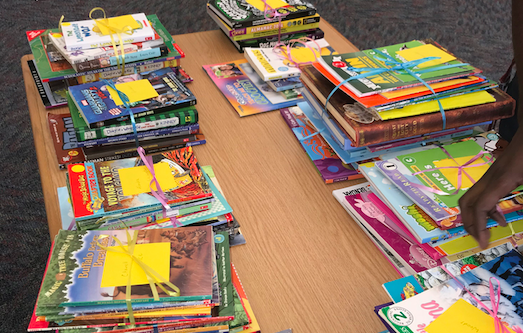 Additional highlights that captured our year consisted of Brand Awareness and Community Engagement:
With these opportunities, we were able to capitalize on broad awareness and engagement to increase our volunteer presence to support our students.
Finally, we'd like to thank our Americorps team members who've dedicated a year of service to our organization and the Charlotte community. They carry Reading Partners' core values (Reading Matters, Big Challenges Are Our Thing, Volunteers Get Results, Data Drive Decisions, Together We Are Better, Laughter Keeps Us Going) to heart.