September 18, 2019
Readers helping readers: student collects 2,000 books for Reading Partners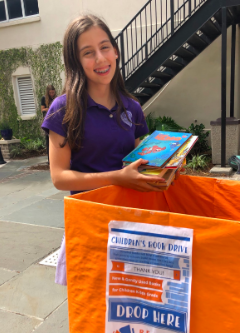 Nina, a middle-schooler at Ashley Hall School, needed a service project for her Bat Mitzvah that would make a real difference and pique her interest. When her mother, Mindelle, received an email from Reading Partners South Carolina asking for support towards After the Bell, a campaign to provide summer reading backpacks and Take Reading Home books to low-income students. Mindell and Nina were both struck by the statistic that "in low-income neighborhoods, the ratio of books per student is one book per 300 children."
Like many voracious young readers, Nina always has a book to read, whether from the library or bookstore. It was hard for her to believe there could be so many students in Charleston without books in their own homes, or who have so few book options. Nina and Mindelle knew this was the perfect opportunity to get involved for her Bat Mitzvah project. She could rally her personal network of friends, family, and classmates to collect books for fellow young readers. 
Nina shadowed a tutor at Mitchell Elementary where she saw the Reading Partners program in action and got to work with a kindergartener who was learning basic literacy skills. During her visit, Nina perused the  Take Reading Home books available to students and learned more about the importance of choice for young readers. Students who get to choose their own books are more motivated, read more, and show increased literacy skills. Reading Partners supplied Nina with a list of suggested books to donate, focusing on our youngest readers (grades K–2) and diverse characters that represent our students' gender, race, and family life. 
Soon after her visit to a reading center, Nina set up donation boxes at her school and synagogue. She asked friends and family to contribute new or gently used children's books. The response was tremendous with Ashley Hall students of all grade levels contributing books—filling the provided donation boxes with more than 850 books. Donation boxes left at Kahal Kadosh Beth Elohim, Nina's synagogue, and generous donations from friends and family collected an additional 1,200+ books. With just a desire to help other young readers, Nina managed to collect more than 2,000 books for Lowcountry students!
Some of these children's books were distributed to summer campers attending at Arthur W. Christopher Community Center. The remaining books were added to the Take Reading Home component of Reading Partners' program. Take Reading Home is designed to fill students' home libraries, with each child taking home between 20-30 books throughout the school year.
Nina's passion and dedication is a great reminder that anyone with the will and passion can make a difference. By sharing her project with her faith and school networks, Nina inspired her community to rally behind her passion for books and reading. 
Over the course of the school year, Reading Partners gives out more than 22,000 books to build students' home libraries. If you are interested in joining Nina by donating new and gently used children's books, you can host your own book drive year-round. Call the Reading Partners office at (843) 860-3915 to learn more.