September 18, 2019
Mayor declares Sept. 16 Reading Partners Day in Tulsa as volunteers push for new recruits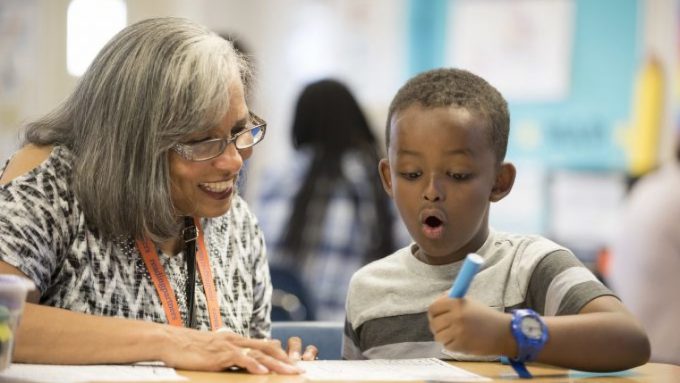 Originally posted on Tulsa World by Kelsy Schlotthauer.
Reading Partners Tulsa kicked off a record-breaking year of tutoring on Monday, and Mayor G.T. Bynum declared the date Reading Partners Day in celebration. Mayoral Deputy Chief of Staff Christina da Silva, who read aloud the proclamation in Bynum's absence, emphasized the importance of third-grade reading proficiency. Students who read proficiently by the time they finish third grade are four times more likely to graduate from high school, paving a path to a brighter future.
Over the past six years, Reading Partners Tulsa has grown to accommodate more than 1,700 students with about 1,900 volunteers in more than 55,000 one-hour tutoring sessions at 28 reading centers across the city.The numbers are not only record-breaking for the Tulsa branch but also for the organization's national network, which includes Los Angeles, New York City and Seattle.
Tulsa Public Schools Superintendent Deborah Gist, who volunteers as a reading partner, said being a tutor is fun and makes a difference in the lives of students. Although TPS faculty and staff work toward student excellence every day, "we can't do it alone," she said.
Gist stressed the importance of the district's investing in organizations like Reading Partners, which have a multiplying effect, and expressed gratitude to fellow volunteers while extending the invitation for more community members to join.
Garrett Mills, president and CEO of Chandler Hospitality Group, said he volunteered as a tutor for the first time this past school year. A father of two young boys, Mills said the thought of children falling short of their reading goals because they have no one to help them at home drove him to volunteer. Mills said many parents aren't able to spend the recommended amount of time reading at home to their children.
I have a first-grader, and the mandate from the teacher is every night you need to be reading with your student. The reality is a lot of kids don't get that.
Mills said. Mills said life can get busy and that he was sometimes tempted to make an excuse to miss a session, but the program is worth the sacrifice of an hour a week, he said.
Tutors work with the same students all year, and Mills said he enjoys getting to see them make progress.
"In the end it was very rewarding," Mills said. "I never regretted going and spending the time."