June 25, 2015
Reading Partners expands to Minnesota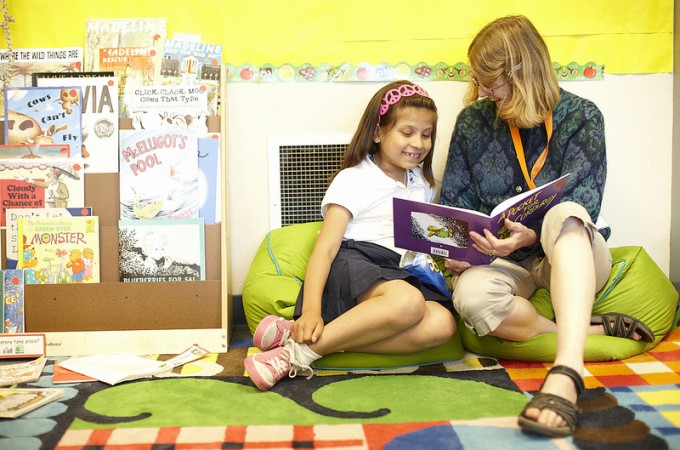 Reading Partners expands to Minnesota, names Karen Casanova to head operations
(Minneapolis/St. Paul, MN) June 25, 2015 —– Reading Partners, a national nonprofit that trains community volunteers to provide literacy tutoring to elementary school students, is expanding operations into Minnesota with the launch of Reading Partners Twin Cities.  The literacy organization has been providing proven volunteer-led one-on-one reading support to underserved public elementary schools since 1997.  The program is expected to serve 240 students in six schools in the Twin Cities area in its debut year. Reading Partners is looking to recruit and train over 400 community volunteers to support the proven, evidence-based program.  Reading Partners' expansion to Minnesota is supported by a generous grant from the Greater Twin Cities United Way.
Minnesota has an excellent track record of bringing in high-quality, proven programs to support its educational goals,
notes Reading Partners CEO Michael Lombardo.
"Minneapolis and St. Paul are tremendously civic-minded, with a terrific pool of volunteers who are committed to building great communities. We look forward to working in partnership with community members and organizations to help raise reading achievement."
According to 2014 statistics from the Minnesota Department of Education, fewer than four in 10 St. Paul  and Minneapolis third-graders are meeting key benchmarks for success in reading and reading comprehension. Reading Partners is partnering with Minneapolis and St. Paul school districts, as well as with other local nonprofit organizations in their efforts to ensure more students are obtaining grade-level reading skills.
An independent randomized control trial, considered the gold standard of research, found the volunteer-driven program to have positive and statistically significant impacts on student reading proficiency. The study also found Reading Partners to be effective for a wide variety of students from different grades and baseline reading achievement levels, for male and female students, non-native English speakers and students of different ethnicities.  In addition, researchers found the program to be implemented with fidelity. The study showed that for every $1 invested, the Reading Partners volunteer program model delivers over $2 in literacy resources to students.
Target veteran to oversee operations
Karen Casanova has been named executive director of Reading Partners Twin Cities and will direct its Minnesota operations.  She joins the organization from Target, where she served for nearly a decade as part of the corporate social responsibility team, including managing a portfolio of arts partnerships and providing strategic direction for employee volunteerism.  Casanova most recently directed the company's K-12 education investments in the Midwest and Northwest regions, including in the Twin Cities.  She is a lifelong resident of Minneapolis.
"Karen's combination of program, development and volunteer management experience with mission-driven organizations is ideal as we launch Reading Partners in the Twin Cities," notes Lombardo.  "She will be instrumental in helping us build strong partnerships with the education, policy and funding communities committed to raising the reading achievement of students who struggle with reading."
All students in Minneapolis and St. Paul have the right to obtain a high quality education. Reading proficiency is the critical first step on the path to future educational success,
says Casanova.
"Reading Partners has a tremendous track record and a proven, evidence-based curriculum that will make a meaningful and measurable difference for our students in Minneapolis and St. Paul."
Reading Partners Twin Cities is looking for volunteers to commit to at least an hour a week to work individually with children who struggle with reading. To learn more, email volunteerTC@readingpartners.org.