August 17, 2018
Reading Partners Joins Washington, DC Schools in Producing Strong Improvement on PARCC for the Third Straight Year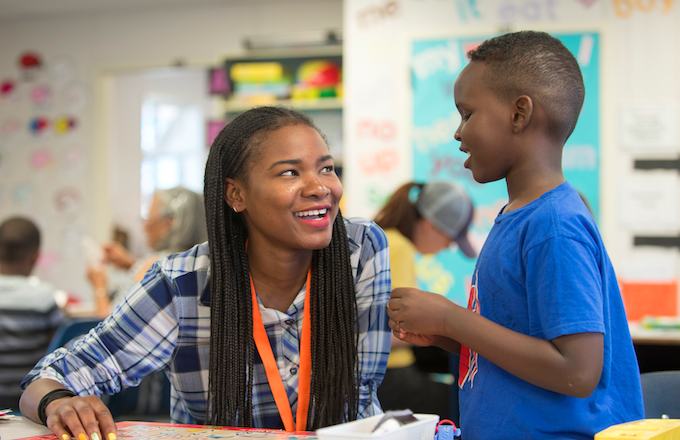 For Immediate Release
Contact:         
Karen Gardner
Senior Executive Director, Reading Partners Washington, DC
(202) 701-9110  | karen.gardner@readingpartners.org
READING PARTNERS JOINS WASHINGTON, DC SCHOOLS IN PRODUCING STRONG IMPROVEMENT ON PARCC FOR THE THIRD STRAIGHT YEAR
The early literacy nonprofit looks for more community tutors in 2018-19
(Washington, DC) August 17, 2018
Reading Partners—a nonprofit that deploys over 1,000 community volunteers to work one-on-one with young readers in 19 DC schools—joins DCPS in recognizing another year of growth in literacy scores for the city's at-risk youth. But Reading Partners Senior Executive Director Karen Gardner says there's work to be done in order to ensure all students in the district have access to critical literacy skills and can become proficient readers.
"As the new school year launches, Reading Partners needs at least 600 more community tutors in order to ensure this promising upward trend for DC K-4th grade students continues," Gardner says.
In the 19 schools served by Reading Partners, the average improvement of English language arts PARCC scores in 2017-18 was 3.5%, outpacing the average improvement across DC for grades 3 and 4 by approximately 0.5%. This aligns with the results Reading Partners saw from the 962 K-4th grade students enrolled in their program last school year; 88% of these students met or exceeded their literacy growth goals.
"We believe that all children have the fundamental right to learn to read, but access to this opportunity is essential," says Gardner. "For eight years, Reading Partners has partnered with DCPS and the DC Public Charter Schools to provide individualized reading instruction. Our work is powered by community members who serve as one-on-one tutors with our students."
Student results in 2017-18 continued a strong trend for Reading Partners DC
In the Washington, DC region:

962 students were matched with 1,043 community volunteers at 19 partner schools who delivered over 38,000 tutoring sessions (an average of 39 tutoring sessions per student over the course of the year).

Among Reading Partners' youngest students in Washington, DC, 95% mastered key foundational reading skills needed to read at grade level.

Based on survey responses, 91% of principals report improved school-wide reading progress, 100% of teachers report Reading Partners is valuable to their school and 98% of volunteers were satisfied with their Reading Partners experience.

Learn more about Reading Partners' impact in Washington, DC here.
More volunteers needed in Washington, DC in the 2018-19 school year
With only approximately one out of five of DC's fourth graders from low-income homes reading on grade level, this leaves thousands of students in Washington, DC who need reading support. If students do not learn to read proficiently, they do not have an equitable chance to succeed in school or in life. Each new volunteer that Reading Partners engages helps more students develop the foundational reading skills needed to power their learning in all other subjects in school.
In the 2018-19 school year, Reading Partners aims to match 1,100 community volunteers with over 900 struggling readers in Washington, DC. By tutoring a student one-on-one for as little as one hour a week, volunteers can make an impact that can quite literally alter the course of a child's educational experience and life.
One tutor shared, "My happiest moment with my student was when we were working on summarizing stories. My student was so excited because he immediately understood the lesson, and the joy on his face made me know that I was doing something right."
To become a volunteer with Reading Partners, please visit readingpartners.org/volunteer today.
###
About Reading Partners
For 20 years, Reading Partners has empowered students to succeed in reading and in life by engaging community volunteers to provide one-on-one tutoring. Since its founding, the national nonprofit organization has mobilized nearly 55,000 community volunteers to provide proven, individualized literacy tutoring to more than 50,000 elementary school students in under-resourced schools across ten states and the District of Columbia. Visit readingpartners.org to learn more about our program impact, or connect with us on Facebook, LinkedIn, Twitter, and Instagram.