September 23, 2021
Reading Partners LA Area to continue supporting students through online tutoring while returning to in-person program model where possible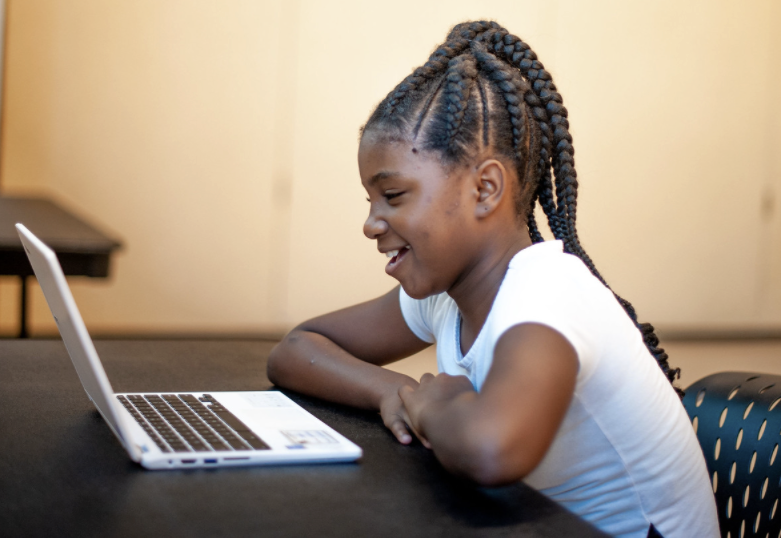 For Immediate Release
Contact:
Annie Chin
Senior External Relations Manager, Reading Partners Los Angeles area
annie.chin@readingpartners.org, 510-206-7407
Nonprofit's 2020-21 impact results show that its innovative online program, Reading Partners Connects, positively impacted students last year 
(Los Angeles, CA) September 22, 2021 
Reading Partners is ready to support student learning no matter what this school year brings
With the COVID-19 Delta variant spreading in communities across the country and vaccine timelines for young children still undetermined, no one knows exactly what to expect from the 2021-22 school year. Given the many variables at play, Reading Partners knows that a hybrid approach to tutoring will ensure that students will be able to receive much-needed literacy support regardless of public health circumstances. Where it is feasible to do so safely, Reading Partners will offer its traditional in-person tutoring program with community volunteers working one-on-one with students in a dedicated reading center in local public schools. In cases where in-person tutoring is not possible, Reading Partners Connects will allow volunteer tutors to work remotely with individual students in real time. Reading Partners Connects offers the same research-based curriculum materials, scripted lessons, and coaching that support volunteers through the traditional tutoring model.
Students need Reading Partners more than ever
The widespread school interruptions of the past few years have exacerbated pre-existing opportunity gaps (with pandemic-related learning loss disproportionately impacting Black and Latinx students and students experiencing economic disadvantages). Reading is foundational—the ability to read transforms lives and empowers children and communities to thrive. When students can read on grade level by fourth grade, they become well-positioned to graduate from high school, access higher-education, and contribute to an increasingly information-based world. Reading Partners is committed to ensuring that all students receive equitable access to the literacy education they deserve and rigorous research has proven that Reading Partners helps students significantly increase reading proficiency.
2020-21 results show that Reading Partners' innovation helped positively impact students
Each year, Reading Partners publishes reports highlighting student performance for the national organization and for each of its 12 respective regions across the country. The Impact & Innovation reports for the 2020-21 school year have recently been posted on readingpartners.org and include the following highlights.
In the Los Angeles area: 

425 students at 13 partner schools and other community-based locations were matched with 514 community volunteers who delivered a total of 12,897 tutoring sessions over the course of the year.

100% of tutoring sessions were delivered online via Reading Partners Connects.

Facing historic educational disruptions, 90% of K-2 Reading Partners students and 81% of all Reading Partners students met or exceeded their primary literacy growth goal.

Despite the heavy shift to an online tutoring platform, and because volunteers received a collective 3,714 hours of training last year (including many new focus areas), 99% of volunteers were satisfied with their experience.

Learn more about Reading Partners' impact in the Los Angeles area here.

Learn about Reading Partners' national impact here.
Community involvement will allow Reading Partners to maximize student support
The impressive student results highlighted in the 2020-21 Impact & Innovation report are fueled by the generous participation of thousands of community volunteers and donors. In the 2021-22 school year, Reading Partners will provide direct literacy tutoring and support to 12,000 students nationwide and 567 students in the Los Angeles area across its various learning environments.
To become a volunteer with Reading Partners, please visit readingpartners.org/volunteer and to financially support Reading Partners' mission centered on educational equity and opportunity for all students, please visit readingpartners.org/donate.
Photo of a student and volunteer tutor in a reading center engaging in Reading Partners' traditional tutoring program (Photo Credit: Reading Partners)
###
About Reading Partners
For over 20 years, Reading Partners has helped empower students to succeed in reading and in life by engaging community volunteers to provide one-on-one tutoring. Since its founding, the national nonprofit organization has mobilized over 70,000 community volunteers to provide proven, individualized literacy tutoring to nearly 70,000 elementary school students in over 450 under-resourced schools across ten states and the District of Columbia. Visit readingpartners.org to learn more about our program impact and our Reading Partners Connects online program innovation, or connect with us on Facebook, LinkedIn, Twitter, and Instagram. Reading Partners is a proud AmeriCorps service partner and has been endorsed by the New York Times.